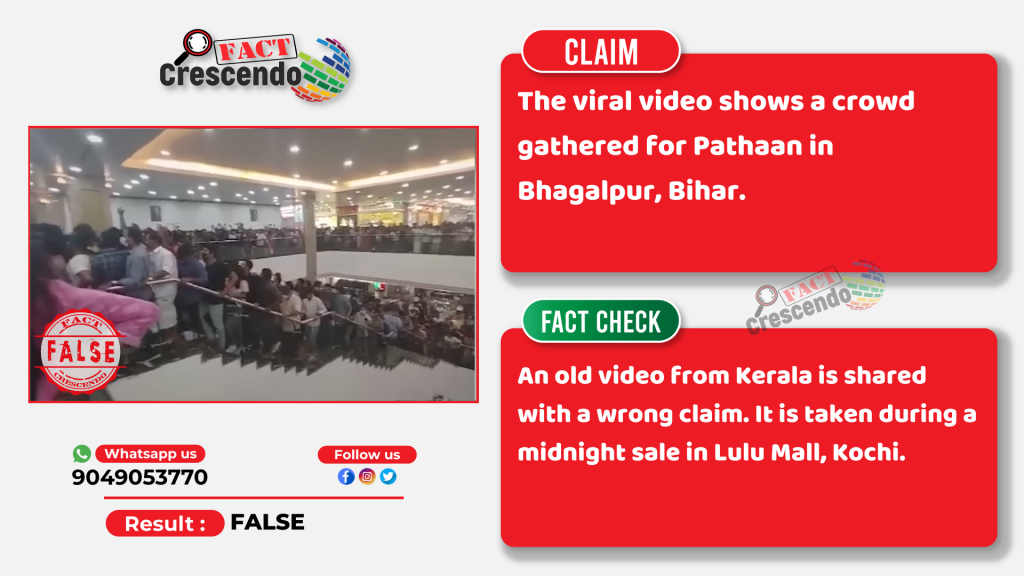 Shahrukh Khan starring Pathaan film released on 25 January with a thunderous response from the audience. Social media is abuzz with videos of fans dancing in the theatre celebrating the film star's comeback after a four-year hiatus.
Amidst all of it, a video of a huge crowd has been shared as a massive turnout of people for Pathaan.
Fact Crescendo received the viral video on our WhatsApp Tipline (9049053770) with fact-check requests.
We found that the viral claim is false. This is an old video that has nothing to do with Pathaan.
WHAT'S THE CLAIM?
A 25-second clip shows an enormous crowd on multi-floor stairs in a mall. It is claimed that the video is from Bhagalpur, Bihar where thousands of people gathered to watch Pathaan.
The caption along with the video reads: "After the posters were torn by some people of Boycott gang in Bhagalpur but now you can see Pathaan movie has spread its charm in #Bhagalpur Never seen such craze before. Craze for Shahrukh Khan is unbelievable."
The same video is also shared in the name of the Pentagon mall in Haridwar.
FACT CHECK
A reverse image search on the key frames of the video led us to the same videos available on YouTube for six months.
Various news outlets reported that a massive crowd erupted in a mall in Kerala for a midnight sale.
News Tak shared the same video along with other clips from the scene on their YouTube channel.
The video is from Lulu Mall in Kochi. Thousands of shoppers made their way into the mall to avail of a special 50 percent discount, NDTV reported on 11 July 2022.
The mall was open to the public from 11:59 pm on 6 July till the dawn of 7 July. Videos shared on social media showed thousands of people scrambling to get the best deals or waiting in never-ending queues.
The purpose of this sale was that the public could experience nightlife with less traffic, where they can purchase their daily needs in a more peaceful atmosphere, said Joy Shadanandan, regional director of the LuLu Group.
Jhoome Jo Pathaan
Despite the threats from fringe groups and a call for a boycott on social media, the Pathaan movie was released on more than 5000 screens in India.
Social media was flooded with videos of long queues outside and people dancing inside the theatres. Fans were seen cutting Pathaan-themed cakes and bursting firecrackers before entering the cinemas.
The film opened with a record Rs. 100 crore box office collection worldwide on its first day of release.
CONCLUSION
An old video from Kerala is shared with the wrong claim. The viral video does not show a crowd gathered for Pathaan. It is taken during a midnight sale in Lulu Mall, Kochi. 
(If you also come across any such videos and images you think are falsely viral, send them on our WhatsApp Helpline (9049053770) or tag us on Facebook, Twitter, and Instagram.)

Title:Old Video from Kerala Lulu Mall Viral As Huge Crowd Gathered for Pathaan Film
Fact Check By: Mayur Deokar
Result: False