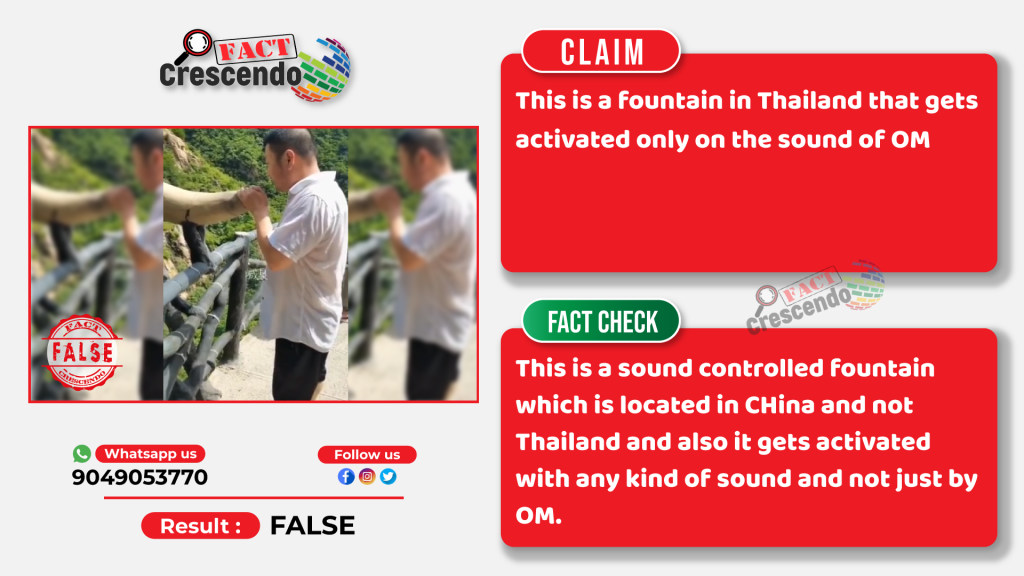 A video is going viral on social media in which a person can be seen saying something into a microphone. The next moment a fountain got activated and a jet of water was shot to a great height.
It was claimed that this is a fountain in Thailand that gets activated on the sound of OM and water flies higher than the height of the mountain.
However, Fact Crescendo found the claim to be false. This fountain is located in China and gets activated on any sound and not just OM.
What's the Claim?
Sharing the video, social media users are claiming that "There is a spring of water under a mountain in Thailand. If the word *Om* () is uttered from the mountain in front of this mountain, the fountain of water will fly even higher than the mountain. Surprisingly, only by chanting *OM* this wonderful sight is created. Not by any other word."
Fact Check-
A keyword search on Google led us to a similar video uploaded on YouTube by New China TV Channel on 14 November 2018. The video's footnote states that the location of the fountain is Cangshan Mountains in North China's Shanxi province. In this video we saw that the fountain got activated after people came to this place and uttered some words. Many people could be heard shouting 'Aaaa' and not OM. 
We also found a video on YouTube channel called Himalaya Music Fountain.The Himalayan Music Fountain Company has entered into an agreement with the Hunan Tourism Corporation to install a sound-controlled fountain at the Millennium Mercury Cave.
It is installed with a voice control system, when people input sound through a microphone , the sound is converted to signals and passed to the control system, finally to control the water spray height by control system.
On 15 November 2018, China Xinhua News posted a video of the fountain. It was mentioned in the description, "Shout your stress out and make a spout at Cangshan Mountain in north China's Shanxi Province"
Conclusion:
Fact Crescendo found the claim to be false. This is a sound controlled fountain which is located in China and not Thailand and also it gets activated with any kind of sound and not just by OM.

Title:Is this a fountain in Thailand that activates on the sound of OM? Know the truth.
Fact Check By: Siddharth Sahu
Result: False