The audio of Indian Patriotic song Jai Ho India sung by Vicky Parekh added to the dance video of an American talent show by editing
A video showing contestants dancing to India's patriotic song on an American channel talent show has gone viral on social media. In the video we can see contestants perform amazing dance moves to India's patriotic song "jai ho India".The caption shared along with this video states, "A heart throbbing truth filled and exquisite dance skit on India's patriotic song presented in an American talent show!!"
Fact Check-
We began our investigation by conducting a reverse image search on Google using the video frames, and the results led us to a longer version of the viral video uploaded on YouTube on Jun 28, 2018 with the caption "ZURCORAH Aerial Dance Group GOLDEN BUZZER America's Got Talent 2018".
The description continues ZURCORAH GOLDEN BUZZER – AGT America's Got Talent 2018 Host Tyra Banks picked her favorite act the Austrian acrobatic dance troupe Zurcaroh awarding them teh first Golden Buzzer of Season 13.
Here you can hear that its audio is different, it is not a patriotic song of India that can be heard.
Acrobatic dance troupe Zurcaroh
The Zurcaroh acrobatic group of was founded in 2009 by Brazilian Peterson da Cruz Hora. With the formation of this show group, Peterson brought a new form of gymnastics to Vorarlberg – a mixture of dance, gymnastics and acrobatic elements. The various choreographic routines fascinate the audience with their colorful costumes and amazing stage designs. Zurcaroh presents diverse cultures and facets of our Earth through expressive dance and spectacular acrobatic components, accompanied by rousing rhythms. The performance of this group is always a high point at balls, celebrations, work parties or other events, triggering mass excitement and leaving behind a lasting impression. For a few moments, the audience is carried away into a magical world.
A search using this clue shows that the Facebook page of the dance troupe details several of their performances, including one on America's Got Talent. But it is also significant that they have not used India's patriotic song anywhere.
America's Got Talent
America's Got Talent is an American reality television series (AGT) on the NBC television network. It is a talent show that features singers, dancers, magicians, comedians, and other performers of all ages competing for the advertised top prize of US$1 million. The show debuted in June 2006 for the summer television season and is returning for an eighteenth season in 2023. The performance will be judged by a panel of judges including Simon Cowell, Heidi Klum, Mel B and Howie Mandel.
Patriotic song of the viral video
When we searched the internet for the Indian patriotic song in the viral video of the post, and we discovered that it is Jai Ho India song sung by Vicky Parekh.
So it is clear that the audio of the patriotic song in this YouTube video is being mixed with the American talent show dance. India's patriotic song was absent in the dance of American talent show.
Conclusion-
Fact Crescendo found the viral video to be edited. The audio of Indian Patriotic song "Jai Ho India" sung by Vicky Parekh added to the dance video of an American talent show by editing.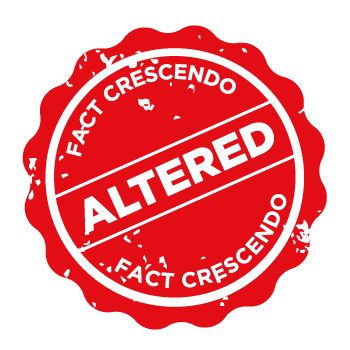 Title:India's patriotic song in an American talent show?
Fact Check By: Usha Manoj
Result: Altered