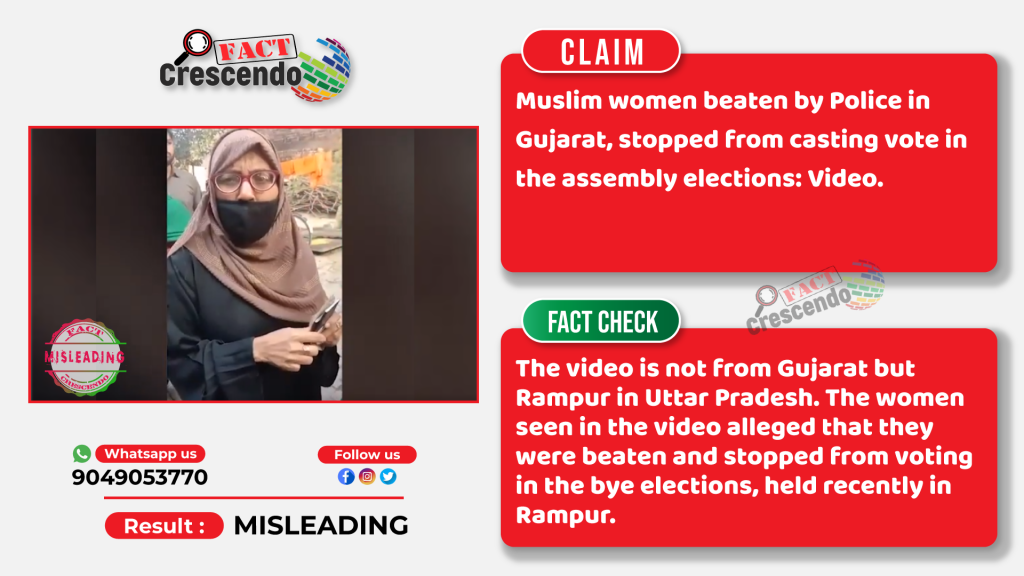 A reel showing some women displaying their wounds and alleging that Police stopped them from casting their votes is going viral on Facebook. Text etched over the video says that this incident happened in Gujarat during the recent assembly elections.
However, when we investigated the incident, we found that the incident happened in Uttar Pradesh and not Gujarat.
Viral Reel
In the video above, we can see a group of men and women alleging that Police beat them up and stopped them from casting their votes. The text on the video reads as follows: "Gujarat election me gunda gardi (Hooliganism during Gujarat election)."
Many have reacted to the reel and some have even accused the Gujarat government and the state Election Commission for turning a blind towards the woes of the voters and acting in a biased manner.
However, is this incident true? Let's find out.
Fact Check
We searched the keywords related to the video on Google and we found an article on a website named clarionindia.net. The article reports, "During Rampur's Lok Sabha bypoll in Uttar Pradesh, Muslim voters alleged that they were driven away by the men in uniform when they had gone to polling booth to cast their vote.In the video the voters are recounting how they were assaulted, thrashed, abused and driven away and showing the injuries on their body parts as a result of the assault."
If you listen to the video carefully, we can hear the women saying in Urdu, "…yeh zulm karoge tum hum Rampur walon ke sath". The translation of the statement is as follows: ' why would you inflict such atrocities on the people of Rampur?".
This can also be heard in a report published by Maktoob media on their Facebook page. Maktoob media reports that Muslim voters alleged police brutality assaulted to stop them from voting.
Samajwadi Party's official twitter handle had also alleged that their voters were not allowed to vote. They also posted a few videos of people arguing with the policemen. One of their tweets can be seen below:
The bye election for the vacant assembly seat of Rampur was held on Dec 5 this year. It was during this election, the incident seen in the reel took place. The incident has no relation with Gujarat assembly elections, which were held at the same time.
Conclusion
The incident seen in the viral video is not from Gujarat but from Rampur in Uttar Pradesh. Muslim women in Rampur alleged that they were beaten up and not allowed to vote in the bye elections held on 5th Dec this year.

Title:Viral Video of Muslim Women Allegedly Assaulted by Police during Voting is from UP and not Gujarat
Fact Check By: Harish Nair
Result: Misleading