The video does not show Diwali celebrations in Delhi but shows a video of fireworks in Italy.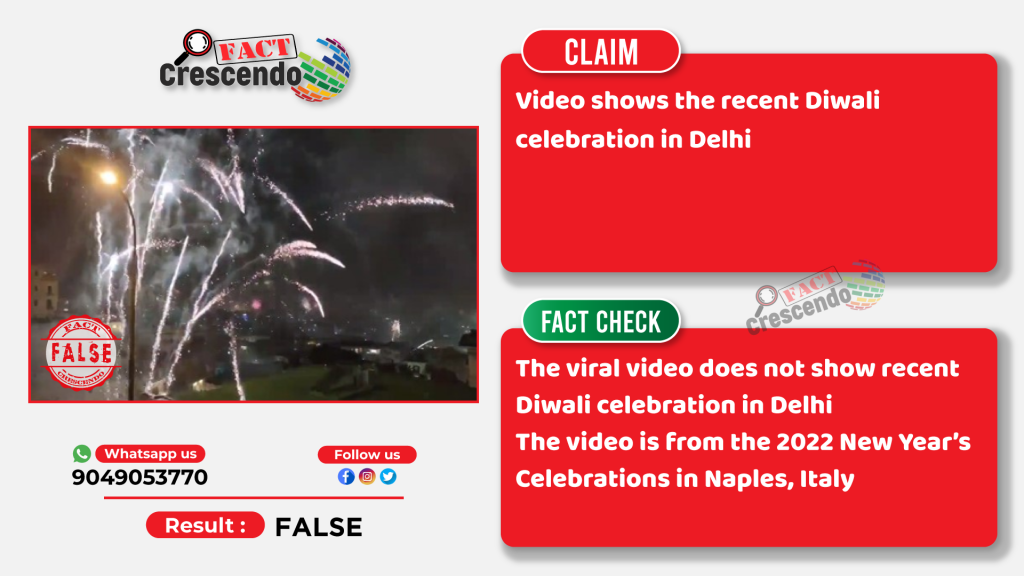 The Delhi government, led by the Aam Aadmi Party (AAP), reinstated a total ban on the production, sale, and use of all types of firecrackers until January 1, 2023, including on Diwali, citing air pollution. While some made comments accusing it of "hurting Hindu sentiments."
Amidst this, a stunning video of fireworks over a city is widely circulating on social media. Users claim that this video shows the Diwali celebrations in Delhi
The caption of the video states, "Seems all of Delhi is going to be behind bars for the next 6 months. Btw, Happy Diwali to all Delhiites #firecrackers #crackerban."
The same video is also shared on Facebook. 
Fact Check-
We began our investigation by running a reverse image search on Google, which led us to a Tweet by Steve Hanke, a Professor at John Hopkins University, on January 3, 2022, which included this video. The description states, "The Mayor of Naples, Italy cited COVID as the reason to ban fireworks on New Year's Eve. But the Neapolitan were having none of it. Watch as fireworks light up the Italian night this past NYE"
On January 4, 2022, the same video is posted on YouTube with a description. NAPLES, ITALY DEFIES THE MAYOR'S FIREWORKS BAN DUE TO COVID
Thus, it is clear that the viral video is neither recent nor from Delhi. The video is from the 2022 New Year's celebrations in Naples, Italy. When the Mayor of Naples banned the use of fireworks in the city, citing COVID-19, residents protested by bursting massive fireworks.
Taking a cue from this, we ran a keyword search whose results led us to some media reports. According to La gazzetta italiana The mayor of Naples, Gaetano Manfredi, signed an unprecedented ordinance for the Campania capital which imposed "a ban on the use of fireworks, firecrackers, barrels, rockets, and similar pyrotechnic devices throughout the city this past Near Year's Eve but the bans were widely ignored, and skies were still lit up with displays throughout the evening".
Conclusion-
Fact Crescendo found the claim made along with the viral video to be False. The video does not show a Diwali celebration in Delhi. The video shows a New Year's celebrations in Naples, and it has been on the internet since January 2022.

Title:New Year Fireworks video from Italy shared as 2022 Diwali celebration in Delhi.
Fact Check By: Usha Manoj
Result: False