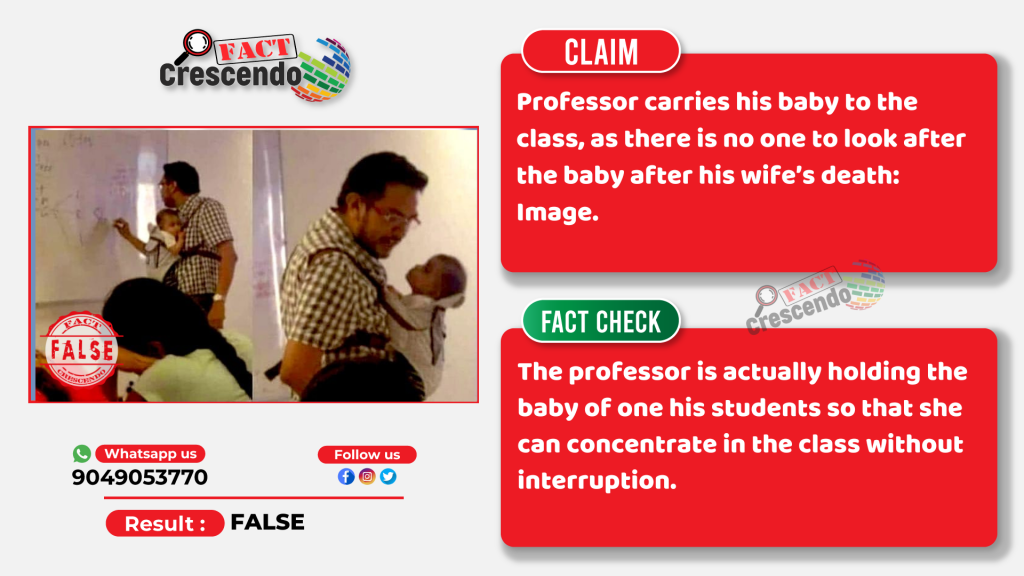 A photo of a teacher teaching his class with a baby latched on to his chest is going viral. Social media users claim that the baby is the Professor's child, he brought her to the class because child's mother is dead, and there is no one to look after the child.
However, we found that the story shared along with the photo is not accurate. The baby seen in the image, along with the professor, is one of the student's baby. Read further to know the true story behind the image.
Viral Photo and False Story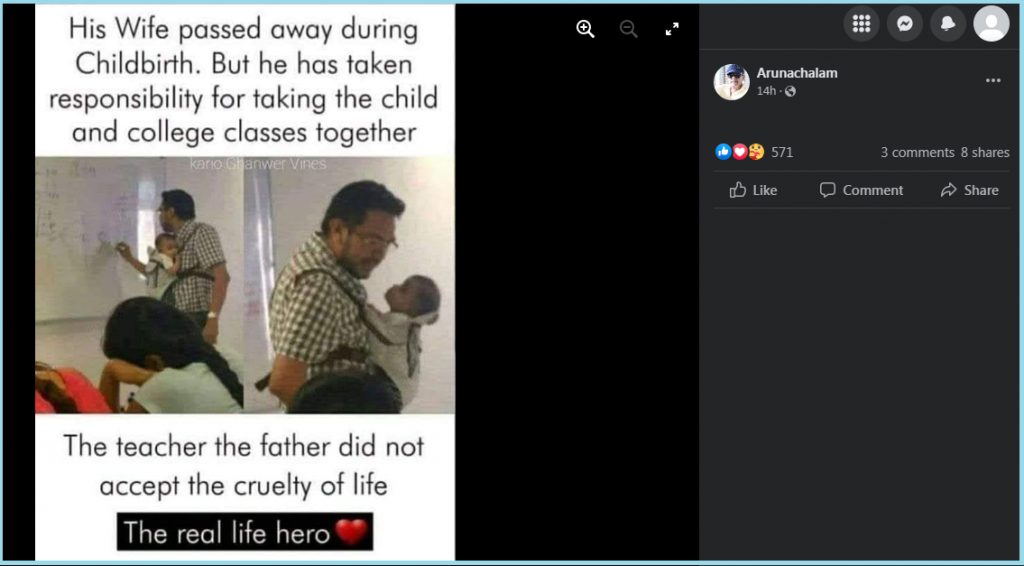 The poster given above shows a Professor teaching his class while carrying a baby in a baby carrier. The poster says the following about the photos: "His wife passed away during Childbirth. But he has taken responsibility for taking the child and college classes together. The teacher the father did not accept the cruelty of life. The real life hero."
You can see multitude of posts on Facebook making similar claims about the photo in the screenshot given below: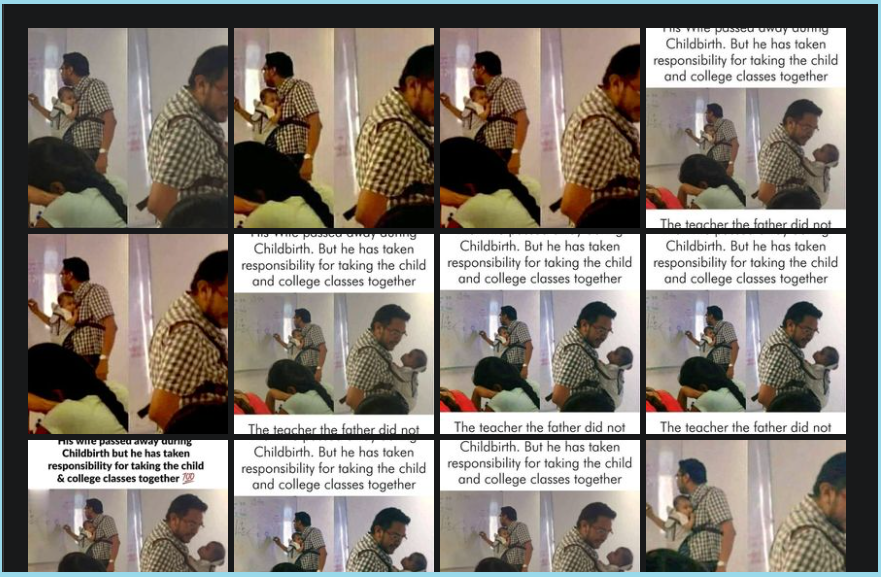 Let us verify if the story is true and learn the actual story behind these photos.
Fact Check
We used Google reverse image search and found an article published by CNN in Spanish. The article contains the viral images; however, the reason behind the professor carrying the baby is different.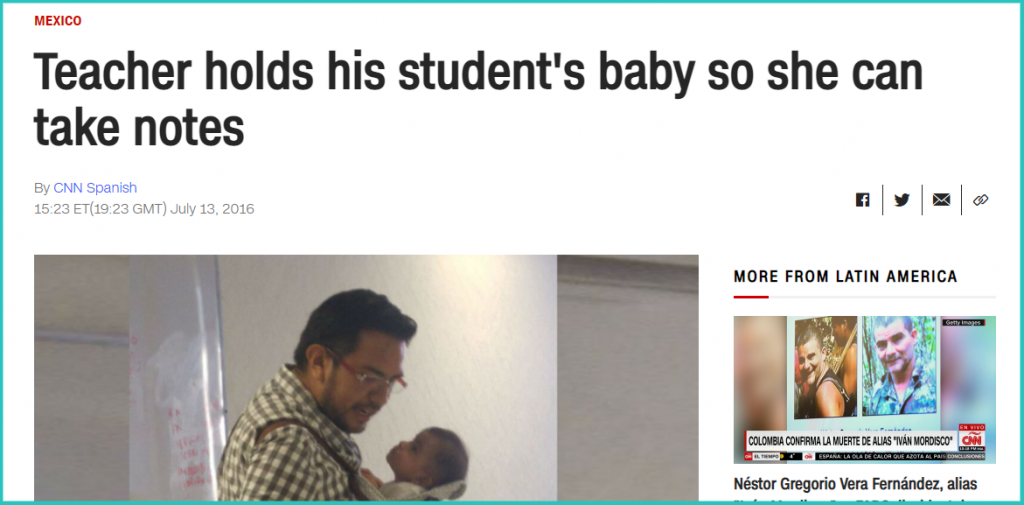 Read the article here – CNN Español
As per the article, the teacher carried the baby so that the baby's mother, who is one of the students, could take notes in the class. The name of the professor is Moises Reyes Sandoval, a law professor at the Inter-American University for Development, UNID, in Acapulco.
Moises had shared these photos on his Facebook profile and explained that he carried the baby to allow the baby's mother to take notes in the class without interruption. The caption of his post in Spanish is roughly translated as such:
"I have a student, who has not dropped out of school despite her different roles, that's why I decided to carry her son, without interrupting the class to take notes. #acapulco"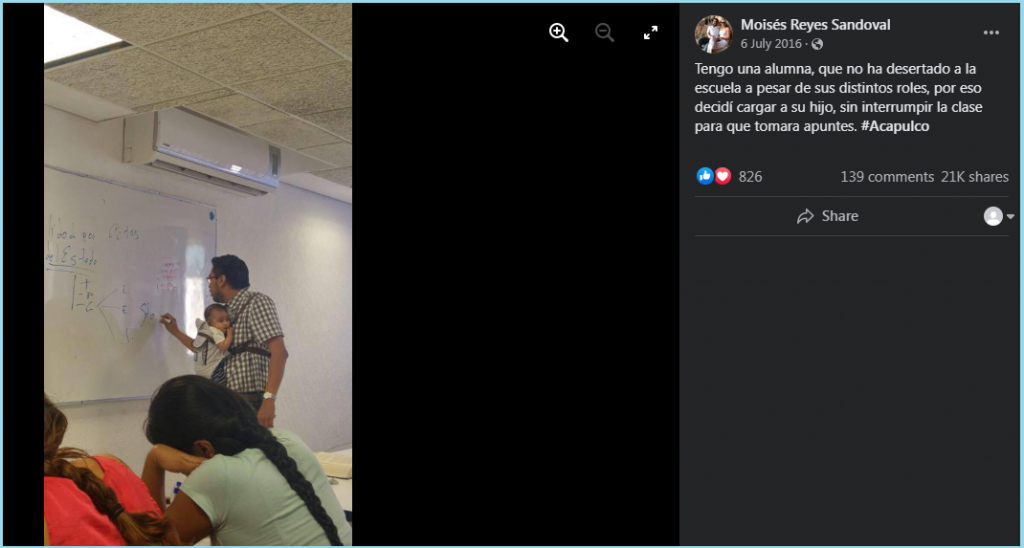 The CNN report also mentions that the name of the baby's mother is Yalena Salas, she is 22 years old and works to take care of her grandmother and her baby while studying. She continues to study despite so many responsibilities only to not swell up the numbers of school dropouts in Mexico.
Read in Malayalam | ഈ അദ്ധ്യാപകൻ കുഞ്ഞിനെ തോൾസഞ്ചിയിൽ ചേർത്തു പിടിച്ച് ക്ളാസ്സെടുക്കുന്നത് എന്തുകൊണ്ടാണ്…?
Conclusion
The professor seen carrying a baby in the viral pictures is not the baby's father. The baby is one of his student's and he was carrying the baby so that his student can take notes without any interruption. Hence, the story that the professor brought his baby to work, as there is no one to look after her is not true.

Title:Photo of a Mexican Professor holding a baby while teaching a class goes viral with a false claim…
Fact Check By: Harish Nair
Result: False