The video is not of the Gir forest. It shows the pride of lions in Mala Mala Game Reserve in South Africa.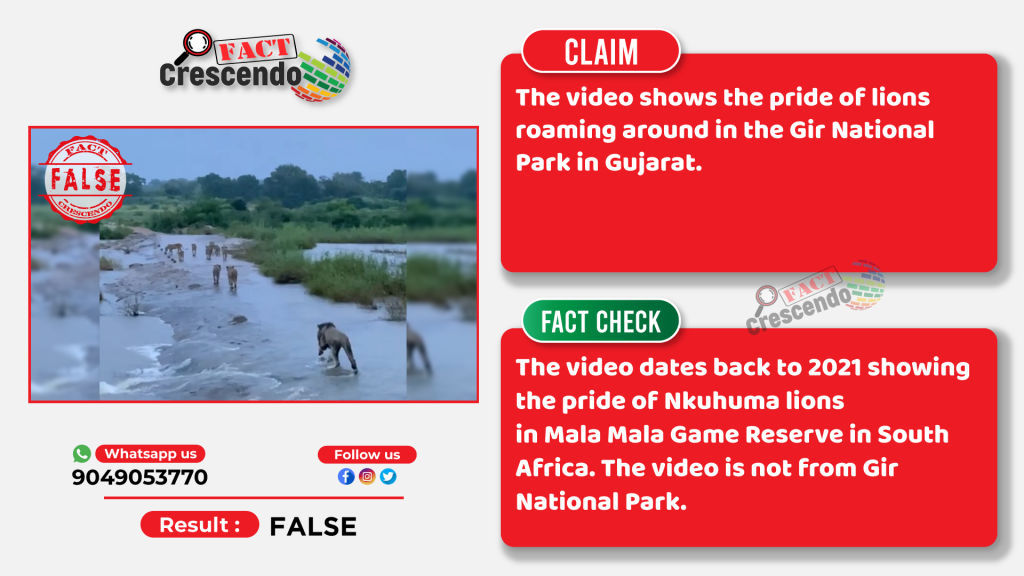 Amidst the ongoing monsoon season in India, a video of a pride of lions crossing a stream is widely circulating on social media with the claim that the video is from Gujarat. Users claim that the video was shot at Gir National Park in Gujarat.
The caption of the viral post mentions, "The family of lions at Gir went out on a walk in the monsoon! The family of the king of the jungle went out to enjoy the rain in #Gujarat #Gir lions in monsoon. #lions #Gujarat)
(Hindi: #मानसून में सैर पर निकले गिर के शेरों का परिवार! #गुजरात ने झमाझम बारिश का मज़ा लेने निकला जंगल के राजा का परिवार! #Gir lions in #monsoon. #lions #Gujarat)
Tweet Link | Archive Link | Facebook Post | Archive Link
Fact Check–
We started our investigation by running a reverse image search on Google on one of the keyframes. We found that this video had earlier gone viral in 2021 with the same claim. Civil Servant Sanjay Kumar posted this video as a scene from Gir forest after a cyclone.
Dr. Rajiv Kumar Gupta, Additional Principal Secretary, Forest and Environment Department of Gujarat had earlier made the same tweet. However, we found that he had issued a clarification of the same and stated that he had falsely shared this video as Gir forest and he apologizes for the same. News18 reported this incident in 2021.
The tweet reads, "It is regretted that a wrong video was posted along with a statement of Lion safety in Gir landscape. PCCF (Wild Life) Sh Shyamal Tikadar has apologized for his lapse & indiscretion. Inconvenience & confusion caused is sincerely regretted with an assurance of double caution in the future."
In the apology note, Tikadar had accepted that he had shared the video with Dr Gupta. In the note, on behalf of the Wildlife wing of Gujarat Forest Department, Tikadar assured that after the cyclone, most of the lions in the Gir landscape have been tracked and found safe.
Where is this video from?
We found that this video is from South Africa's Mala Mala Game Reserve. They posted the same video on their Instagram page on 13 February 2021. This post mentions that it shows the pride of Nkuhuma pride lions who were spotted roaming around in the Mala Mala Game Reserve. You can see the video here.
Conclusion-
Fact Crescendo found the claim made along with the viral video to be False. The video does not show the pride of lions roaming around in the Gir National Park in Gujarat. The video dates back to 2021 showing the pride of Nkuhuma lions in Mala Mala Game Reserve in South Africa. The video is not related to the Gir forest.

Title:Video from South Africa shared as pride of lions spotted in the Gir forest.
Fact Check By: Drabanti Ghosh
Result: False