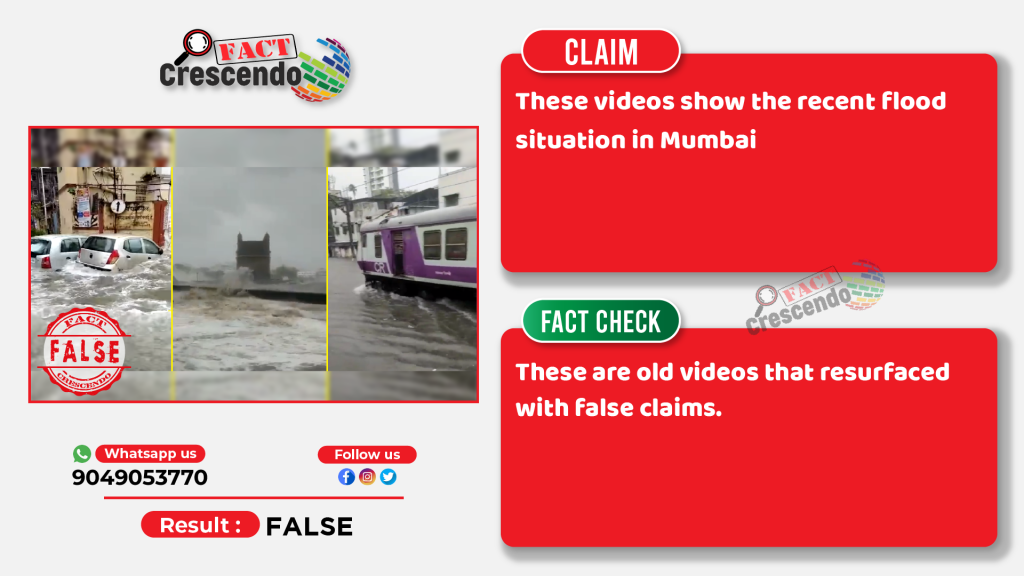 Over the past few days, Mumbai along with other parts of Maharashtra have been receiving extremely heavy rainfall. The India Meteorological Department (IMD) has even issued a red alert for the city and its suburbs today.
With rain comes the onslaught of videos showing the city inundated in waist-deep water. Although, some of the viral videos are old and do not show the recent situation in Mumbai.
Our readers tagged us on social media and forwarded such videos on our WhatsApp FactLine number (9049053770).
VIDEO NO.1
A video showing waist-deep water on the road is claimed to be of a recent flood in Mumbai. The viral video has garnered more than 10.6 million views on Facebook.
FACT CHECK
A google reverse image search on the keyframes of this video revealed that it is a two-year-old video.
Many YouTube channels have shared the same video in 2020. You can check them here, here, and here.
A user uploaded the video with information that it is from Grant Road, Mumbai.
With the help of Google Maps, we geo-located this video. It was taken in the Kama Baugh area of Grant Road. To be precise: Khetwadi road in No. 14 colony.
The below comparison matches the video to the Google Map location.
On 23 September 2020, Mumbai received more than 300 mm of rainfall.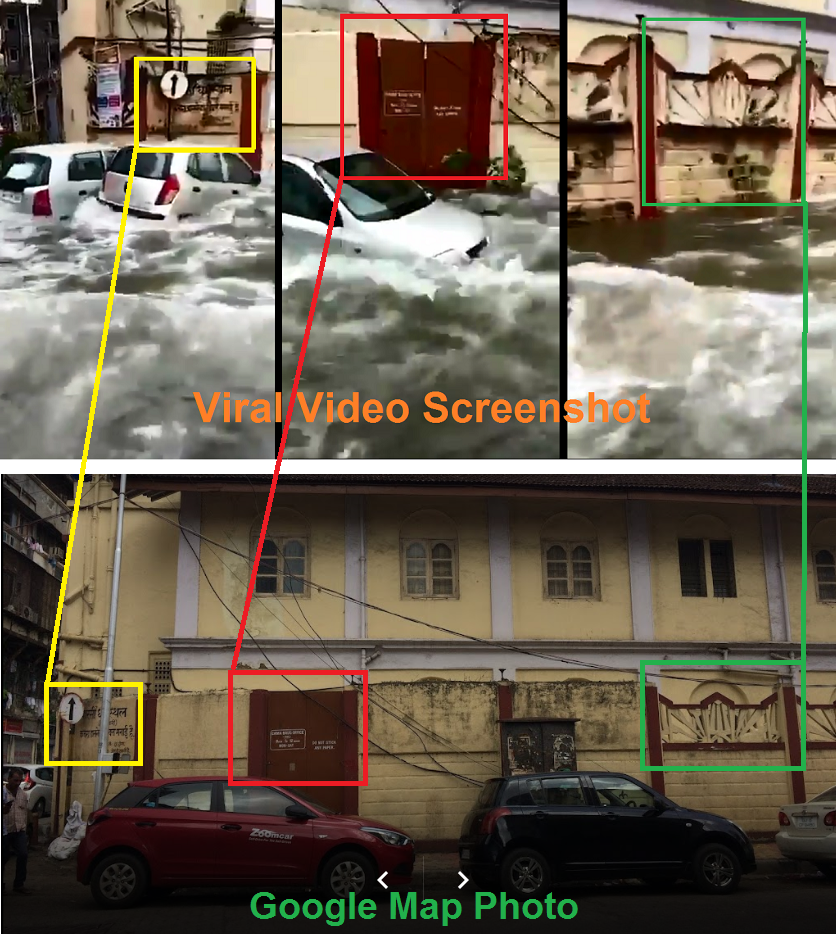 Visit – Google Maps
VIDEO NO. 2
A video of a local train running through flood water is also not from this year. It is available on the internet since July 2021. Here is one example from 20 July 2021.
VIDEO NO. 3
Video of high sea waves lashing at Gateway of India is also old. It was taken when Cyclone Tauktae moved up to the coast of Mumbai. Here is another video of that time.
The viral video is available on the internet since then. Here is one example from 18 May 2021.
VIDEO NO. 4
Video showing the drastic situation of flood near New Noor hospital in Kurla is not the recent one. It was first reported last year.
Here's the example from 19 July 2021.
VIDEO NO. 5
Video of the enraged Arabian Sea near Gateway of India was also from 2021. ABC tweeted this video on 19 May 2021 reporting that Mumbai's waterfront and the landmark Gateway of India, were inundated, as Cyclone Tauktae moved up India's west coast.
WHAT'S THE CURRENT SITUATION?
India's weather department has issued an orange alert for the city and its neighbouring districts, predicting heavy to very heavy rains over the next five days, reports BBC.
A video shows Andheri Subway waterlogged as rain continues to lash the city.
CONCLUSION
Hence, it is clear that old videos are being peddled in the name of ongoing downpours in Mumbai. Sharing unverified videos during the crisis spread unnecessary fear among the people.

Title:Mumbai Rains: Old Videos Revived As Current Waterlogging and Flood Situation in the City
Fact Check By: Mayur Deokar
Result: False