The original image shows Rahul Gandhi standing with Hardik Patel in 2019. The viral image is edited.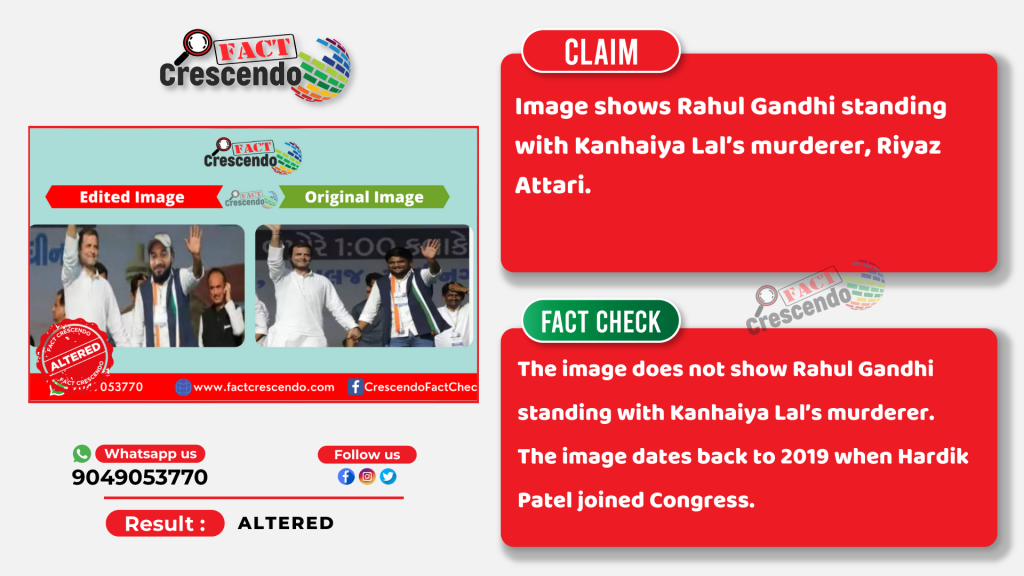 The barbaric murder of Kanhaiya Lal, a tailor in Rajasthan's Udaipur has sent shockwaves across the nation. Riyaz Attari and Mohammad Ghaus, the two accused, were arrested soon after. Kanhaiya's death has stirred a communal unrest in the country.
Amidst this, an image showing a man standing with Congress leader Rahul Gandhi is widely circulating on social media with the claim that the murderer of Kanhaiya Lal had connection with Congress and Rahul Gandhi. Users claim that the man standing with Rahul Gandhi is Kanhaiya Lal's murderer.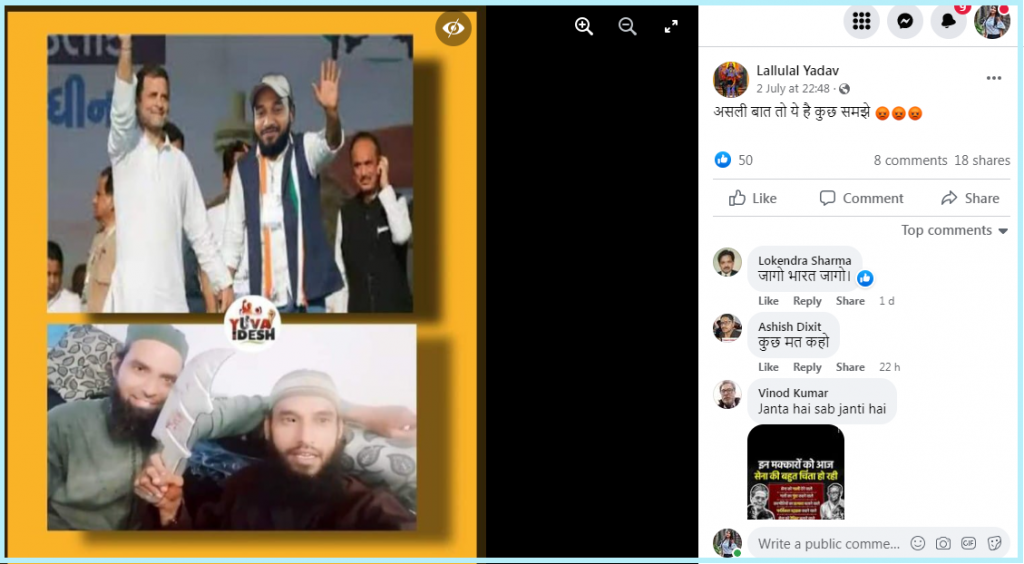 Fact Check-
A google reverse image search revealed to us that the viral image is digitally edited. We found that Times of India had published the original image on 13 March 2019. The image shows Rahul Gandhi standing with Hardik Patel when he joined Congress in Gandhinagar, Gujarat. Another version of this image was also posted by Outlook.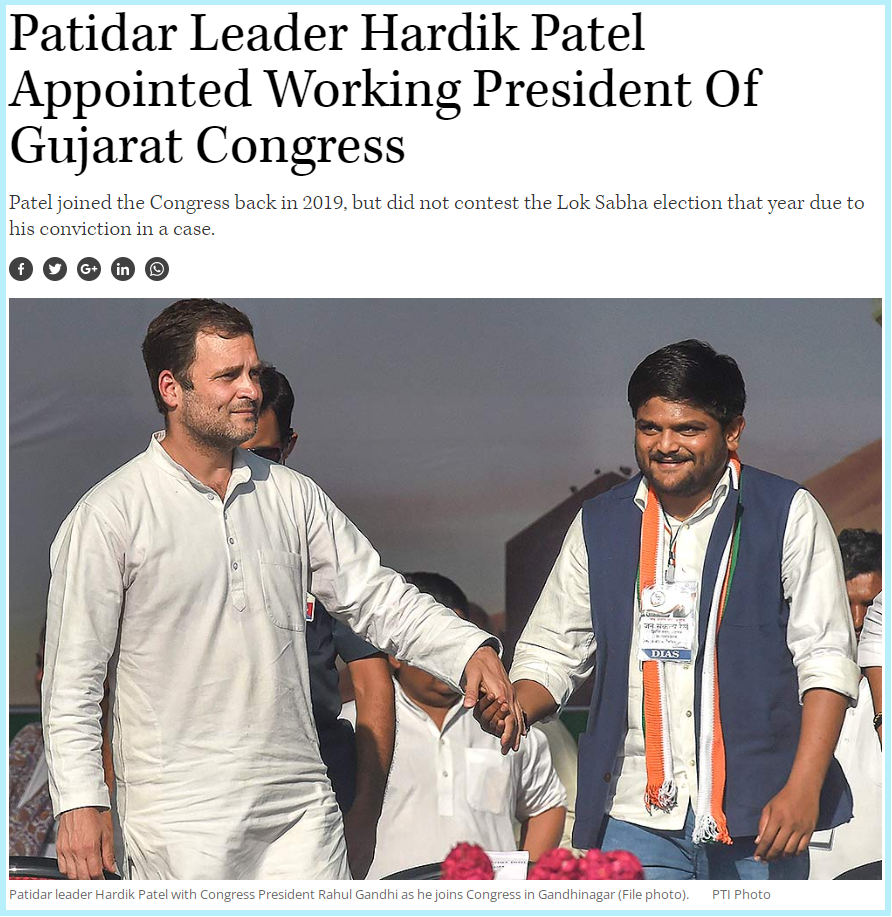 The caption of the image states, "Patidar leader Hardik Patel with Congress President Rahul Gandhi as he joins Congress in Gandhinagar."
Below you can see a comparison image between the original photo and the viral photo. This makes it clear that the viral image is edited. The original image shows Hardik Patel and not Kanhaiya Lal's murderer standing with Rahul Gandhi.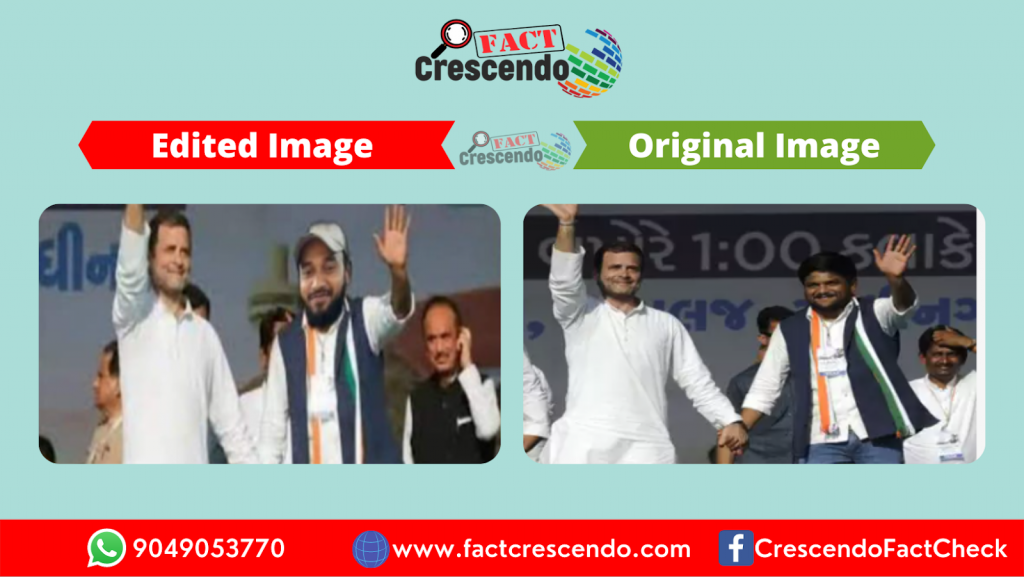 We also found a video footage of this incident posted by ABP News in 2019. The caption of the video states, 'Gujarat Quota Leader Hardik Patel Joins Congress." According to the description of the video, Patidar quota agitation leader Hardik Patel had joined the Congress in the presence of party president Rahul Gandhi and UPA chairperson Sonia Gandhi. 
Hardik Patel had recently joined the Bharatiya Janata Party after differences with the Congress leadership. There were allegations that Riyaz Attari has links with the BJP after Congress leaders shared images of him attending events organized by BJP. There were pictures of the accused with senior BJP leaders as well. However, BJP has denied these allegations claiming that the killer was trying to infiltrate into the party and was never a member.
Conclusion-
Fact Crescendo found the viral image to be edited. The edited image is being shared to falsely allege that Kanhaiya Lal's murderer had ties with Congress party and Rahul Gandhi. The image dates back to 2019 when Patidar leader Hardik Patel joined Congress. The original image shows Rahul Gandhi standing with Hardik Patel.
Title:Edited image shared to show Rahul Gandhi standing with Kanhaiya Lal's murderer
Fact Check By: Drabanti Ghosh
Result: Altered