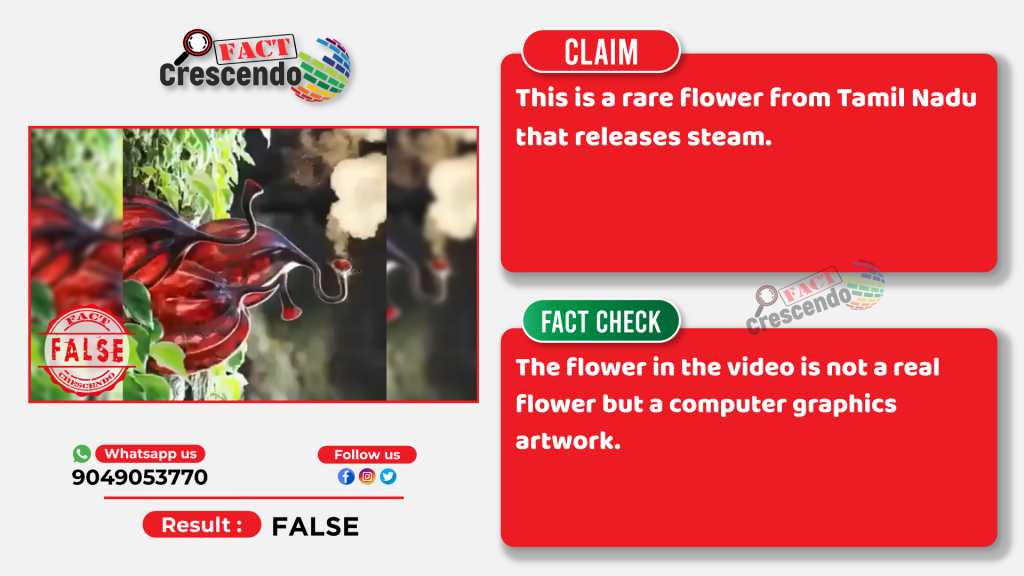 A video of a flower releasing pollen particles is widely circulating on social media. Users are claiming that the name of the flower is Unghu Pawaee which is a very rare flower that grows in Tamil Nadu.
Readers of Fact Crescendo requested a fact check by sending this video to our WhatsApp Factline Number 9049053770
However, Fact Crescendo found that the video is not of a real flower but computer graphics.
What's The Claim?
Sharing this video, users are claiming that the name of the flower is Unghu Pawaee which is a seasonal plant that grows in Tamil Nadu. This plant releases steam at regular intervals like the railway's steam engine.
The same video was shared by Dr. Roy Kallivayalil, a Professor of Psychiatry. In his tweet, he mentioned that the name of the flower is Oodhu Paavai which is a medicinal plant and is found in the dark rainy forest of Tamil Nadu.
FACT CHECK
A watermark – Luke Penry Exr – can be spotted at the bottom of the video. A keyword search led us to Luke Penry's Instagram account. According to which, he is an animation artist.
We found the same video shared by him on his Instagram on 16 September 2021.
The name of the video is Jungle Pipes. He also mentioned software names in the caption that he used to create this video. Hashtags like VFX, Motion Graphics, etc. were also mentioned.
Luke Penry also shared the same video on 25 September 2021 on his Twitter account saying it is available for sale on the Foundation app as NFT art.
According to the information provided along with the video on the Foundation website, this video is creating confusion in India where people thought it to be a rare medicinal flower called Oodhu Paavai which is on the verge of extinction.
CONCLUSION
Fact Crescendo found the claim to be false. The flower in the video is not a real flower but a computer graphics artwork.

Title:UNREAL: Computer Generated Video Viral As Rare Flower from Tamil Nadu
Fact Check By: Siddharth Sahu
Result: False