ABP News has clarified that the viral screenshot is edited.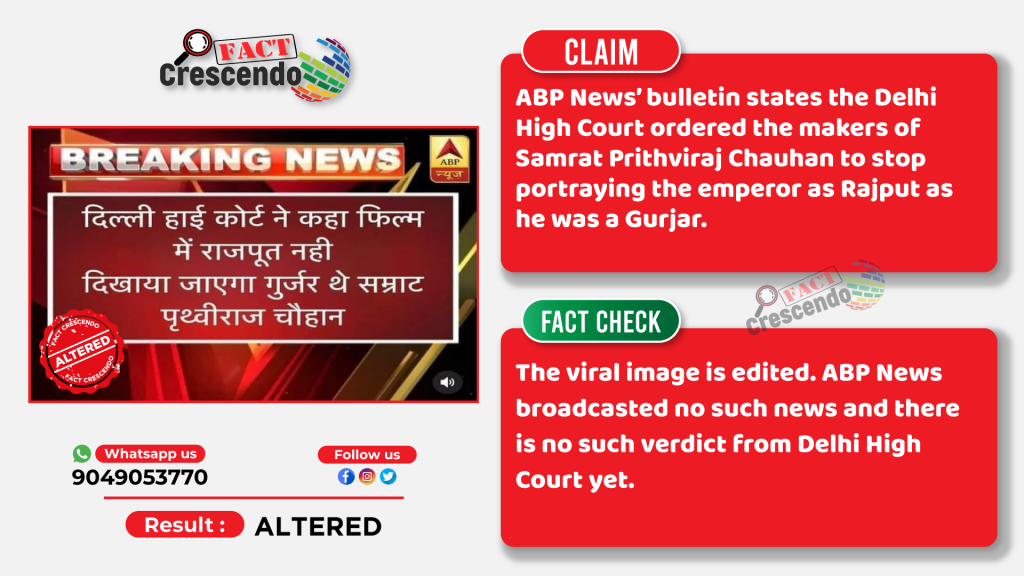 After the release of Akshay Kumar's recent film Samrat Prithviraj Chauhan, a screenshot of ABP News is widely circulating on social media. Users claim that the Delhi High Court has recognized Prithviraj Chauhan as a Gurjar King in their judgement. Further, the court has issued directions to the filmmakers of Prithviraj Chauhan not to depict him as a Rajput king in the film.
The screengrab of ABP News mentions, "Delhi High Court has announced that Prithviraj Chauhan was a Gurjar king and not a Rajput king."

The caption of the post mentions, "Salute to the Gujjars, their struggle is over and they have won. But there is Bavle Jats whose ancestors Ramlal Khokhar Jats killed Chauhan's murderer Ghori, but in the movie Samrat Prithviraj Chauhan, 'चार बांस चौबीस गज अंगुल अष्ट प्रमाण' couplet made a nefarious attempt to erase the history of Jats but no Jat is speaking. Shame on Jats."

(Caption in Hindi: गुर्जरों को सलाम, उनके संघर्षो की जीत हुई। लेकिन बावले जाट है जिनके पुरखों ने रामलाल खोखर जाटों ने चौहान के कातिल गोरी को मारा, लेकिन सम्राट पृथ्वीराज चौहान फिल्म में चार बांस चौबीस गज अंगुल अष्ट प्रमाण दोहे से जाटों के इतिहास को मिटाने की नापाक कोशिश की लेकिन कोई जाट नहीं बोल रहा। शर्म आनी चाहिए जाटों को।)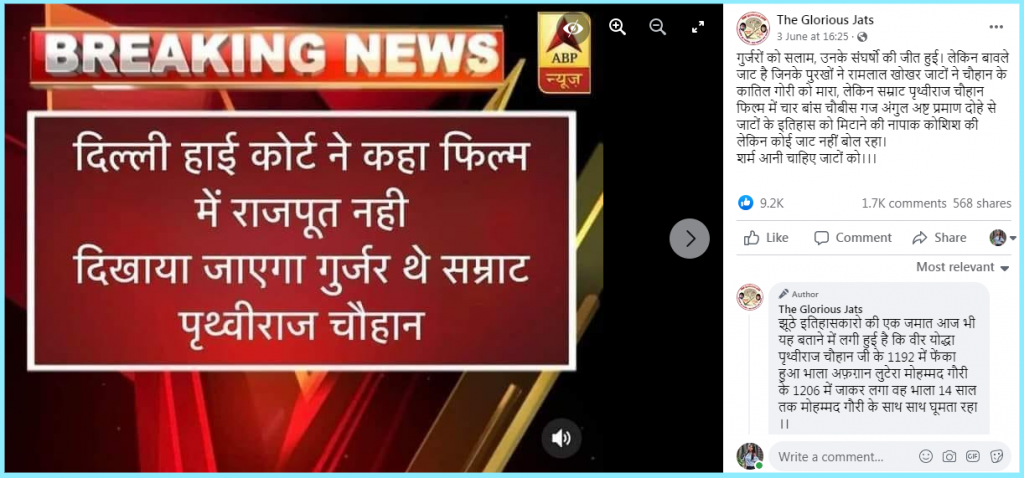 Fact Check-
We started our investigation by running a reverse image search on Google whose results led us to a Facebook Post by ABP News stating that the viral screenshot is digitally edited. The post reads, "A fake screenshot in the name of ABP news is going viral. No such news has been broadcasted on ABP news channel." They posted the same clarification on Twitter as well.
Further, we also searched for relevant news reports but we could not find any similar reports on the 'ABP News' YouTube channel and on their official Twitter handle.
We also compared the "Breaking News" template seen in the viral image with the original "Breaking News" template by ABP News. We observed several differences between the original template by ABP News and viral screenshot. We can clearly see the font difference in the spelling of "पृथ्वीराज." This clearly shows that the viral image is edited.

We have also observed that the viral screenshot has used the old logo of ABP News. Below you can see a comparison between the new and old logo of ABP News.

Conclusion-
Fact Crescendo found the viral image on social to be altered. ABP News did not broadcast any such news as claimed in the viral post. The image is edited and ABP News has clarified the same.
Title:Edited ABP News screengrab on Prithviraj Chauhan shared as real.
Fact Check By: Drabanti Ghosh
Result: Altered