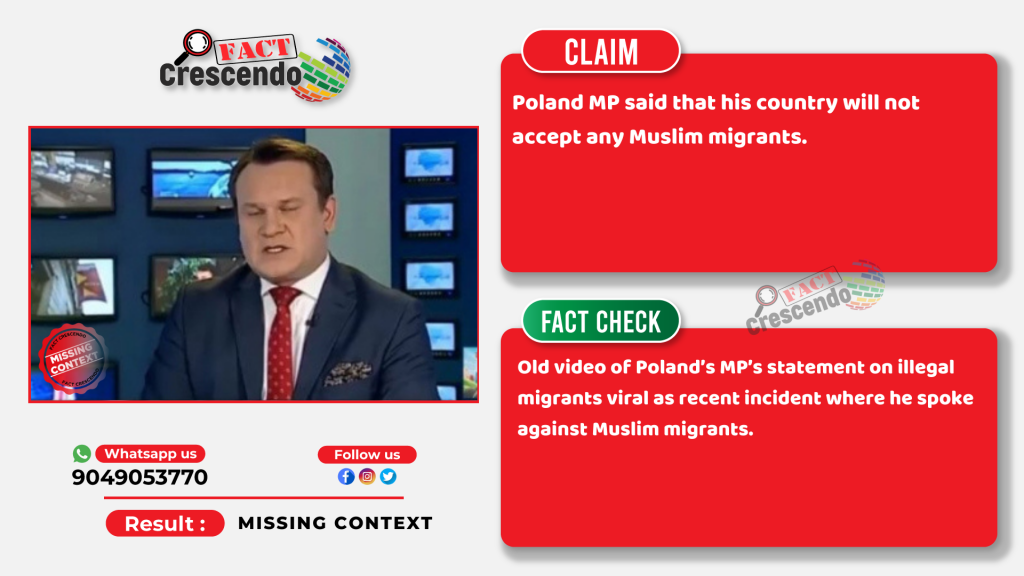 Citizens of Ukraine are fleeing to the neighbouring countries after war between Russia and Ukraine started. According to BBC around 3.6 million citizens moved to neighbouring countries fearing the loss of their lives due to ongoing war between both nations.
In the backdrop of this an image of Poland's MP Dominik Tarczynski's interview with media is going viral in social media. It was claimed that Dominik made a statement saying, "We can accommodate two million Ukrainian refugees but will not accept even one Muslim migrant."
However, Fact Crescendo found this post out of context.Dominik Tarczynski's old statement regarding illegal Muslim migrants shared as Poland decided not to accept Muslim migrants during current war between Russia and Ukraine.
Other users also shared video of the same claim that can be seen here and here
Fact Check:
First, we ran Google Reverse Image Search on the viral image. This led us to Channel 4 website where we came across this same video which was telecasted on 18 June 2018. In this eight minute video Poland's MP can be seen explaining regarding migrants from 1.48 minutes onwards. In this video Poland MP Dominik and German Green Party MEP Barbara Lochbihler participated in a discussion on migrants. Dominik in this video can be heard saying "It's not about refugees but illegal immigrants. There is a difference between illegal immigrants and refugees. If you are asking me about how many Muslim illegal immigrants Poland took then it's none. Not even one will come to Poland if it's illegal. We took over two million Ukrainians who are peaceful in Poland. This is what our people are expecting from the government and this why Poland is so safe, we don't have terrorist attack. We can be called populists, nationalists, racists; I don't care, I care about my family and my country."
After searching using relevant keywords, we came across a tweet from Dominik Tarczynski where he uploaded same video with caption It's as simple as that!
Poland has a long history regarding Muslim migrants into the country. On 1 December 2018 Sunday Guardian Live reported that Poland's former Foreign Minister Witold Waszczykowski emphasised "a democracy without adjectives" nation. Poland earlier assigned seventeen lakh visas for migrants from Ukraine and Belarus but to avoid a mix up of Christian and Muslims in the country Poland will not let Syrian and North African refugees to migrate.
According to UAWIRE, Poland Prime Minister stated that they will not accept Muslim migrants from Middle East and North Africa
Although Poland remained firm on its decision of not allowing Muslim migrants to settle in the country, the viral video was shared in context of current Russia-Ukraine war when it was actually an old video from 2018.
When Did War Between Russia and Ukraine Start?
Russia started its invasion in Ukraine on 24 February 2022 attacking constantly on many cities. Russian forces were seen capturing cities like Kherson, Kharkiv, Kyiv, Mariupol etc. There were talks between the two nations to come to a mutual understanding but it failed after Ukraine denied surrendering.
The viral video has no connection with ongoing war between Russia and Ukraine. This video was from 2018 where Poland's MP in an interview was talking about his country's stand when it comes to migration of people from other countries.
Conclusion: 
Fact Crescendo found the viral claim to be out of context. Old video of Poland's MP's statement on illegal migrants viral as recent incident where he spoke against Muslim migrants.
Title:Poland's MP's Old Statement About Not Accepting Muslim Migrants Viral out of context. 
Fact Check By: Siddharth Sahu
Result: Missing Context