The video is a software made recreation of an Ethiopian Airlines flight that crashed in March 2019.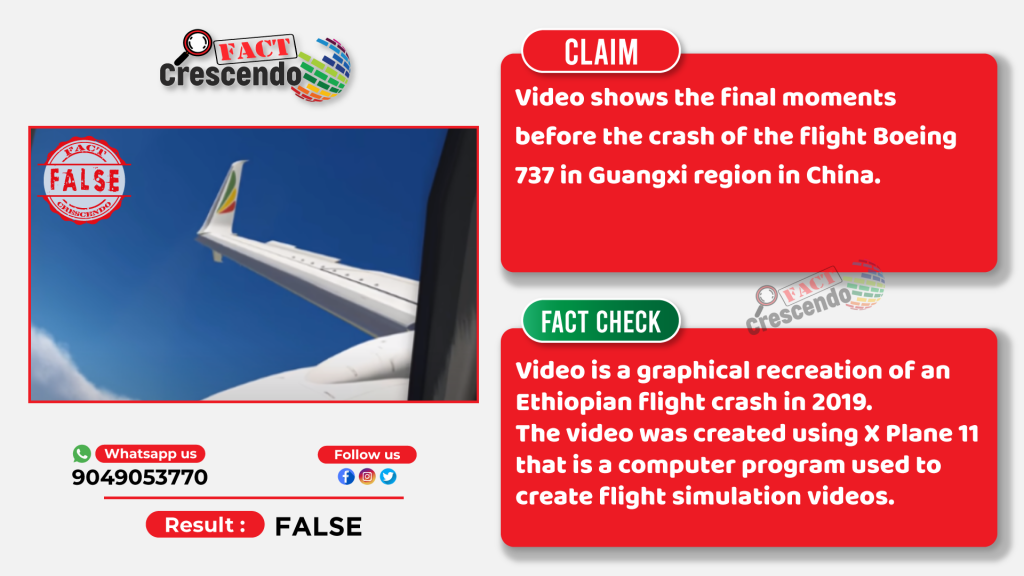 On Monday, 130 people lost their lives as a Boeing 737 plane of China Eastern Airlines crashed in the Guangxi region of China. In the backdrop of this, a 10-second video is widely circulating on social media that claimed to show the final moments before the crash of the flight Boeing 737. Users who shared the video, claim that the video was recorded from inside the plane.
The caption of the post states, "BREAKING: A Boeing 737 just crashed in southern China. This was one of the last moment recorded on the plane. Maybe the only moment. Viewers' discretion advised."
Fact Check-
We started our investigation by carefully observing the video where we noticed the logo of Ethiopian Airlines.
Keeping this in mind, we ran a keyword search on YouTube that led us to the same video posted on 11 March 2019. The caption of the video reads, "Ethiopia Plane Crash, Ethiopia Airlines B737 MAX Crashes after take-off, Addis Ababa Airport [XP11]" The video was created using X Plane 11 that is a computer program used to create flight simulation videos.
The description of video states that this is not what exactly happened. This is only a software simulated flight crash for Ethiopian Airline flight ET302. This video is a recreation of crash that took place in March 2019. However, the description has stated that the video does not show the exact recreation.
The viral video can be seen from 9 minutes 30 seconds on the YouTube video.
What happened to Ethiopian Airlines flight 302?
Ethiopian Airlines Flight 302 was a scheduled international passenger flight from Addis Ababa Bole International Airport in Ethiopia to Jomo Kenyatta International Airport in Nairobi, Kenya. On 10 March 2019, the Boeing 737 MAX 8 aircraft crashed near the town of Bishoftu six minutes after take-off, killing all 157 people aboard.
Conclusion-
Fact Crescendo found the claim made along with the viral video on social media to be False. The video being shared as the recent Chinese aircraft crash is the simulation video of an Ethiopian Airlines flight that crashed in 2019.
(If you also have any suspicious messages, posts, photos, videos or news, send them to our WhatsApp Fact line Number (9049053770) for Fact Check. Follow Fact Crescendo on Facebook, Instagram and Twitter to read the latest Fact Check.)

Title:Simulation video shared as final moments of Boeing 737 plane before its crash in China
Fact Check By: Drabanti Ghosh
Result: False