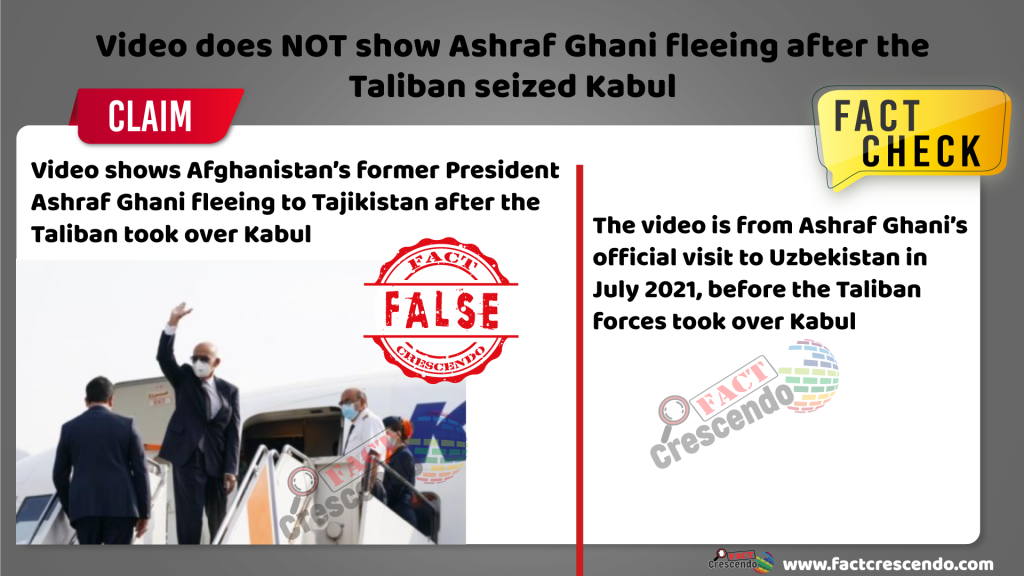 Soon after the Taliban seized the capital city of Afghanistan, Kabul, social media was flooded with misinformation related to this incident. One such video showing the former President of Afghanistan Ashraf Ghani boarding a flight and waving goodbye to others. The claim made along with this video is that President Ashraf Ghani fled Afghanistan leaving the citizens in chaos after the Taliban seized the capital city of Kabul. Further the post claims that Ghani fled to Tajikistan.
The caption of the post mentions that "Afghanistan President Ashraf Ghani earlier was filmed as he boarded his plane to flee to Tajikistan as the Taliban had took over Kabul."
This video is also going viral on Twitter which mentioned, "#BreakingNews President Ashraf Ghani leaving Afghanistan in a hurry to Tajikistan following the Taliban surrounding Kabul. #Afghanistan #Kabul #Taliban
Fact Crescendo has witnessed a lot of misinformation going viral on social media post the capture of Afghanistan by Taliban forces. You can read all our Fact Checks below:
Fact Check-
We started our investigation by breaking the video into small keyframes with the help of InVid We Verify tool and ran a Google reverse image search for the same. The results led us to the same video published by an Afghanistan television network channel named TOLO News on their official Twitter handle on 15 July 2021. The report states that Ashraf Ghani was leaving for a two-day visit to Uzbekistan from Kabul.
The caption of the video states "President Ashraf Ghani left Kabul this morning for a two-day visit to Uzbekistan, the Presidential Palace said. #Afghanistan."
Upon a further key word search we found a similar image on the website of Islamic Republic of Afghanistan. The website states that this image shows President Ashraf Ghani leaving from Kabul for Uzbekistan on 15th July 2021. The website states that he went there to participate in the International Conference "Central and South Asia: Regional Connectivity; Challenges and Opportunities".
We can see that the President is wearing the same clothes as seen on the viral video. The website further mentions that "President Ghani will separately meet with his Uzbek counterpart Shavkat Mirziyoyev and representatives of the participant countries on the sideline of the conference to discuss deepening ,enduring and friendly relations and expanding bilateral cooperation between Afghanistan and those countries within the framework of Afghanistan's new chapter of cooperation."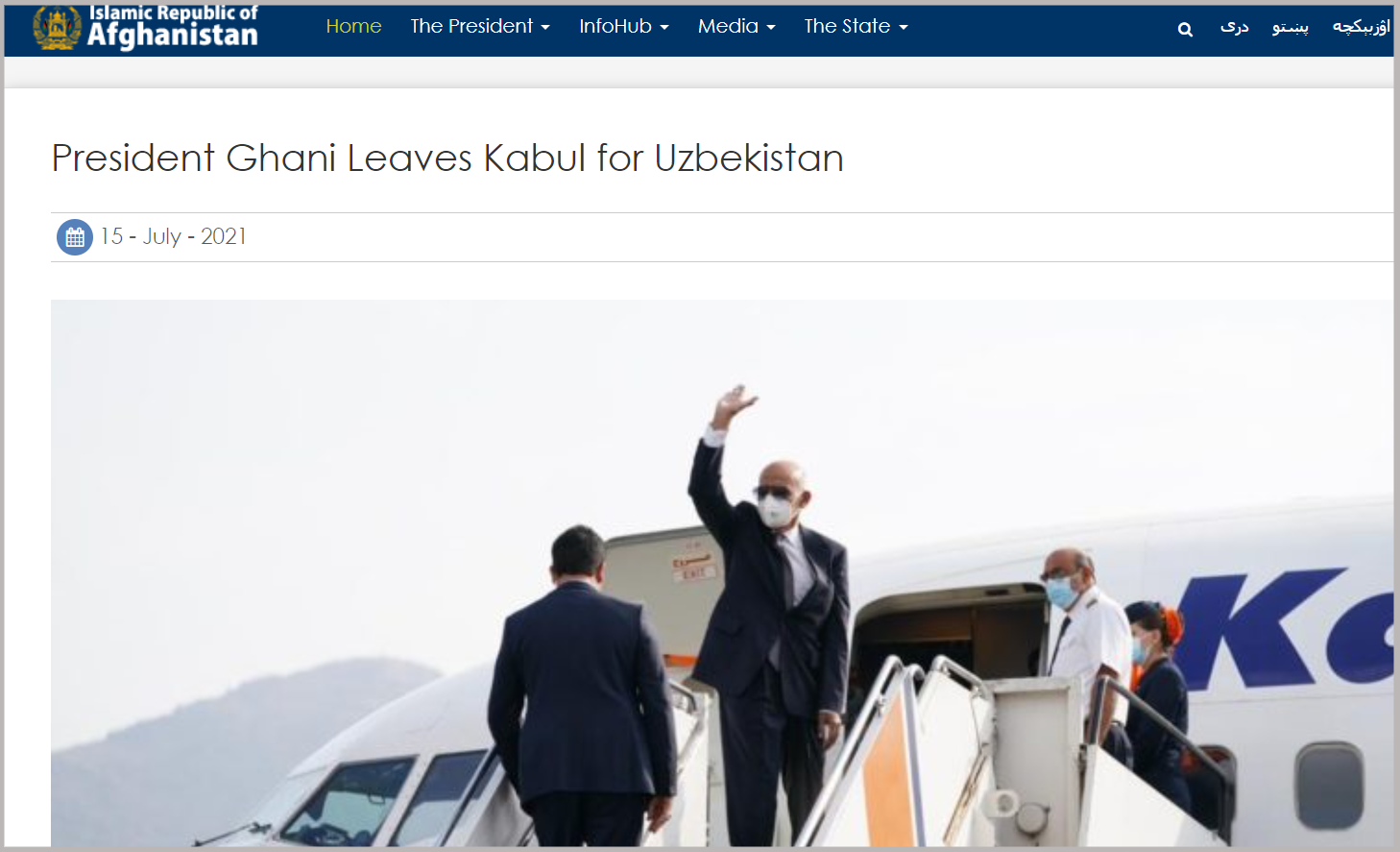 According to Reuters, Taliban insurgents entered the Afghanistan capital Kabul on Sunday, 15th August 2021.
Conclusion- Fact Crescendo found that the above-mentioned claim made along with the video is False. The viral video shows Afghanistan's former President Ashraf Ghani going for a visit to Uzbekistan in the month of July 2021 while the Taliban captured Kabul on 15th August 2021. The video dates back to July 2021 before the Taliban forces took over Kabul..
Title:Video does NOT show Ashraf Ghani fleeing after the Taliban seized Kabul
Fact Check By: Aavya Ray
Result: False