The video is old. It shows a procession led by AHP founder Praveen Togadia in 2018 demanding for the construction of a temple in Ayodhya before the Supreme Court's verdict in 2019.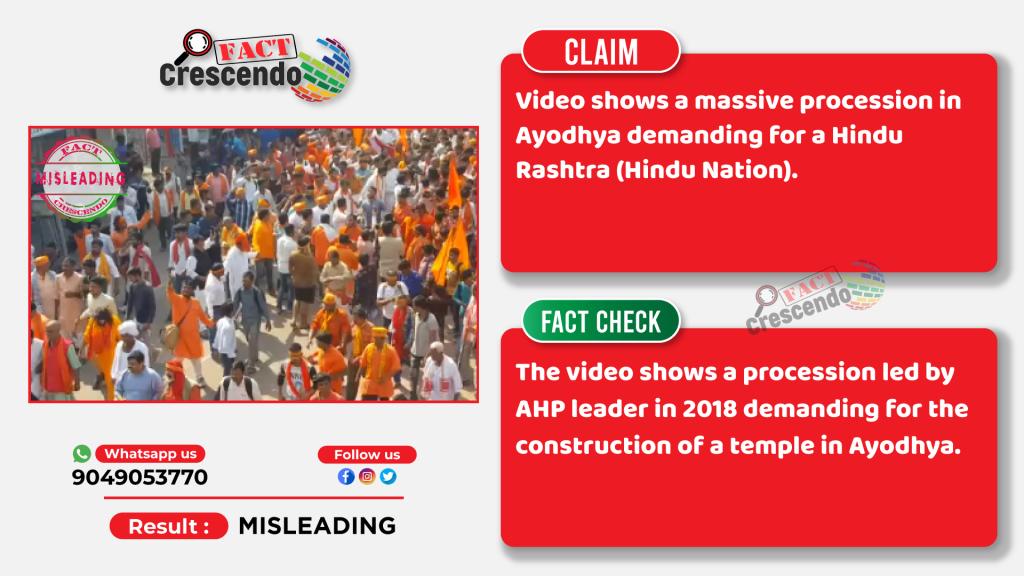 After BJP's win in Uttar Pradesh, a video is circulating on social media claiming a massive procession organized in Ayodhya demanding for a Hindu Rashtra (Hindu Nation).
The caption of the video reads, "Demand for Hindu Rashtra started in Ayodhya, Jai shree ram"
This video is widely circulating on Facebook.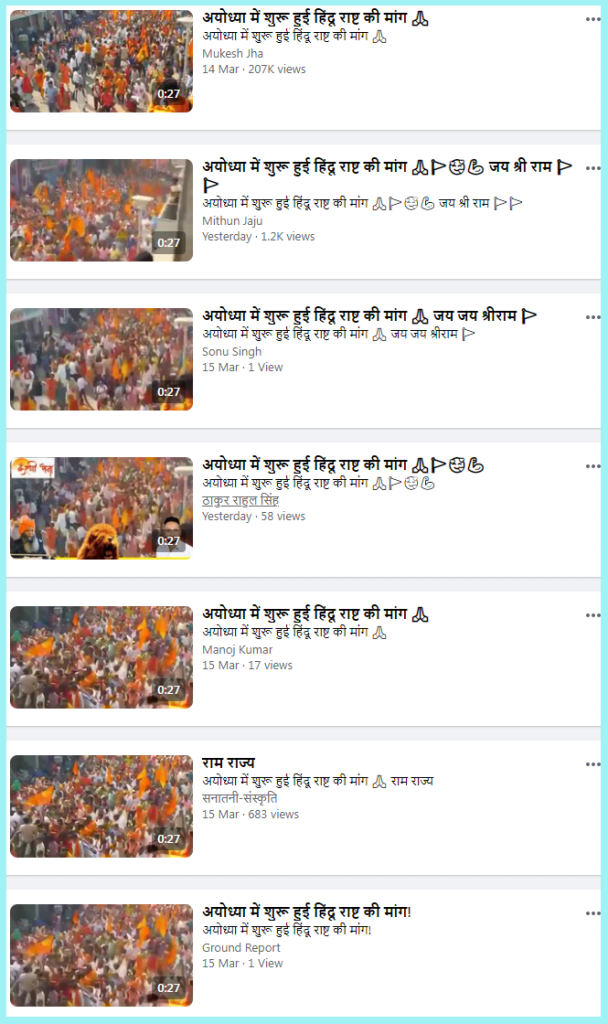 Fact Check–
We started our investigation by running a Google Reverse image search on one of the screenshot of the viral video. The results led us to a clearer version of this video posted by a Facebook user on 24 October 2018 with the caption "Ram devotee in Ayodhya on the way to Parikrama."
Another Facebook user shared the same video stating the following "I am proud that the last movement for the construction of Ram Mandir took place under the leadership of Shri Praveen Bhai Togadia ji in October 2018, I was lucky to be a part of it. Jai Shri Ram Hindu is ahead."
Taking a cue from this, we ran a keyword search on YouTube that led us news reports on this procession by New18 UP Uttarakhand and In Khabar. The description of the video reads, "The supporters of AHP leader Praveen Togadia clashed with cops after the administration prevented them from performing Ramkot Parikrama, this as section 144 is in force in Ayodhya to curb attempts to disturb law and order."
AntarRashtriya Hindu Parishad's founder Dr. Pravin Togadia tweeted about this procession led by him in October 2018. In the press release, he clearly mentioned that their major demand is construction of the Ram Mandir in Ayodhya.
The tweet says, "In today's press conference on AHP's march to Ayodhya on Ram temple, press release and support documents have been given to the media. The resolution passed by the BJP in Palanpur (Himachal Pradesh) in 1989: If there is a majority in the Parliament, then by law in the Parliament. Will build Ram temple in Ayodhya."
Please note that this procession was carried out in 2018 before the Supreme Court had in November 2019 allowed the construction of Ram Temple on the disputed site in Ayodhya. SC directed the centre to commission a Trust to build the Ram temple. The SC also directed the Centre to allot an alternative 5-acre plot to the Sunni Waqf Board for building a new mosque at a prominent place in the holy town in Uttar Pradesh.
Conclusion-
Fact Crescendo found the claim made along with viral video on social media to be Misleading. The video is not a procession held recently in Ayodhya for declaring India a 'Hindurashtra'. The video of a procession led by AHP leader in 2018 demanding for the construction of temple in Ayodhya.
(If you also have any suspicious messages, posts, photos, videos or news, send them to our WhatsApp Fact line Number (9049053770) for Fact Check. Follow Fact Crescendo on Facebook, Instagram and Twitter to read the latest Fact Check.)

Title:Old and Unrelated Video Shared as Massive Rally in Ayodhya for Declaring India a 'Hindurashtra'
Fact Check By: Drabanti Ghosh
Result: Misleading