Anastasia Lenna clarified that she is not a part of the Ukrainian military. The images were captured when she was playing airsoft.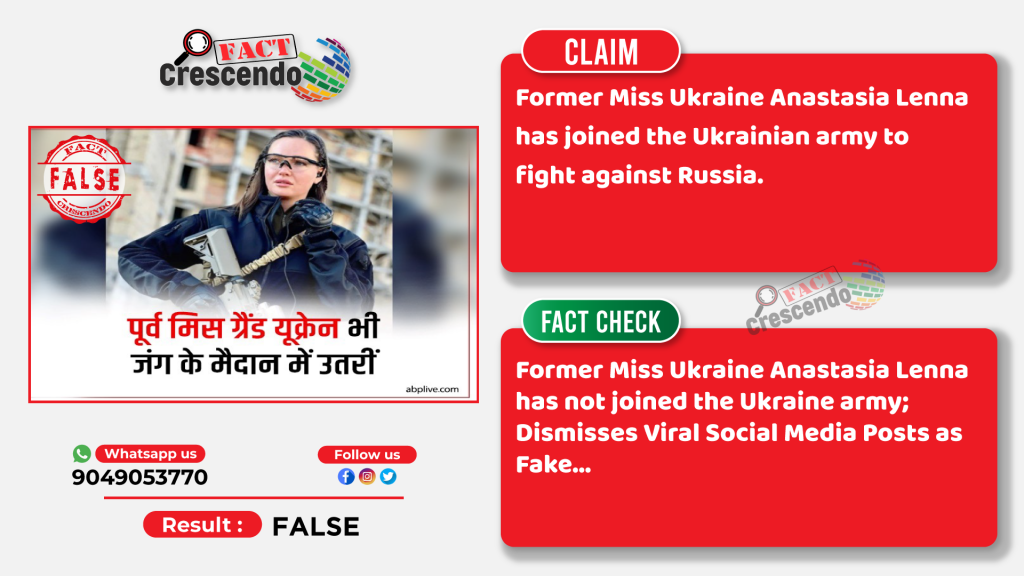 After Russia announced its military operation in Ukraine, videos and images of blasts and attacks populated on social media platforms. In the backdrop of this, an image is circulating on social media claiming Ukraine's most beautiful woman and former Miss Grand Ukraine Anastasia Lenna has joined the Ukraine army to fight against the Russians in order to defend her country. The image in circulation shows Lenna suited up in combat gear with a gun in her hand.
This news was also reported by Navbharat Times, Zee News Rajasthan, ABP News and Republic Bharat.
The caption of the post reads, "Ukraine's most beautiful woman and former Miss Grand Ukraine Anastasia also took the battlefield. Anastasia joins Ukrainian forces to defend her country against Russian attack. Anastasia Lena was representing Ukraine at the Miss Grand International Beauty Contest in 2015. Lena said on her Instagram account that she picked up weapons to protect her 'home'.#RussiaUkraineWar #UkraineRussia #RussiaUkraineConflict #MissGrandUkraine #AnastasiaLenna #India #ABPNews #HindiNews"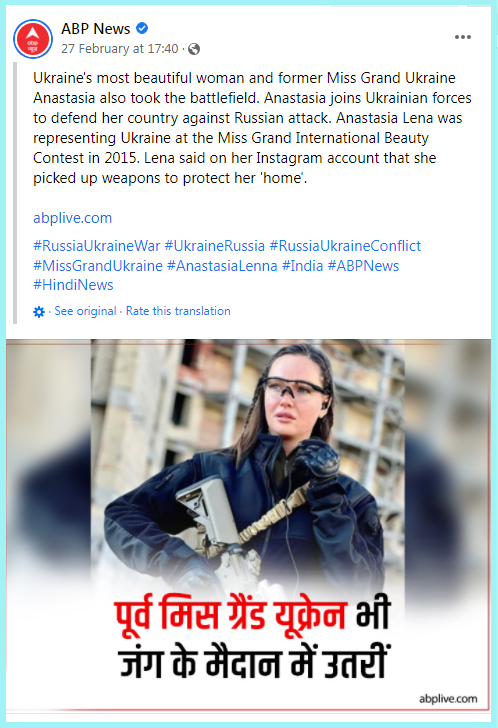 Fact Check-
We started our investigation by running a Yandex reverse image search on the viral image, whose results led us to the official Instagram account of Anastasia Lenna who had posted the image on 22 February 2022 with the caption "#standwithukraine #handsoffukraine."
Moving on, we found a video posted by Lenna on 28 February where she clarified that she is a normal civilian and not a part of the military. Further, she wrote that she is fond of playing Airsoft and all the images on her profile with guns and artillery shows her playing airsoft. In the post further, she mentions how suddenly the Russians have attacked Ukraine and she prays to free her country from the Russians.
Scrolling through her profile, we found several images of her playing airsoft wearing clothes similar to military and carrying guns that you could watch here and here.
What is Airsoft?
Airsoft is a team game in which participants eliminate opposing players by tagging them out of play with spherical plastic projectiles shot with mock air weapons called airsoft guns. It is very similar to paintball in concept.
Who is Anastasia Lenna?
Anastasia Lenna is the former Miss Ukraine and who represented her country in the Miss Grand International beauty contest in 2015.
Conclusion-
Fact Crescendo found the claim made along with viral image on social media to be False. Former Miss Ukraine Anastasia Lenna has not joined the Ukraine army to defend her country against Russia. The images were taken while she was playing airsoft and has been shared with a misleading context.
(If you also have any suspicious messages, posts, photos, videos or news, send them to our WhatsApp Fact line Number (9049053770) for Fact Check. Follow Fact Crescendo on Facebook, Instagram and Twitter to read the latest Fact Check.)

Title:Former Miss Ukraine Anastasia Lenna has NOT joined the Ukrainian army
Fact Check By: Aavya Ray
Result: False