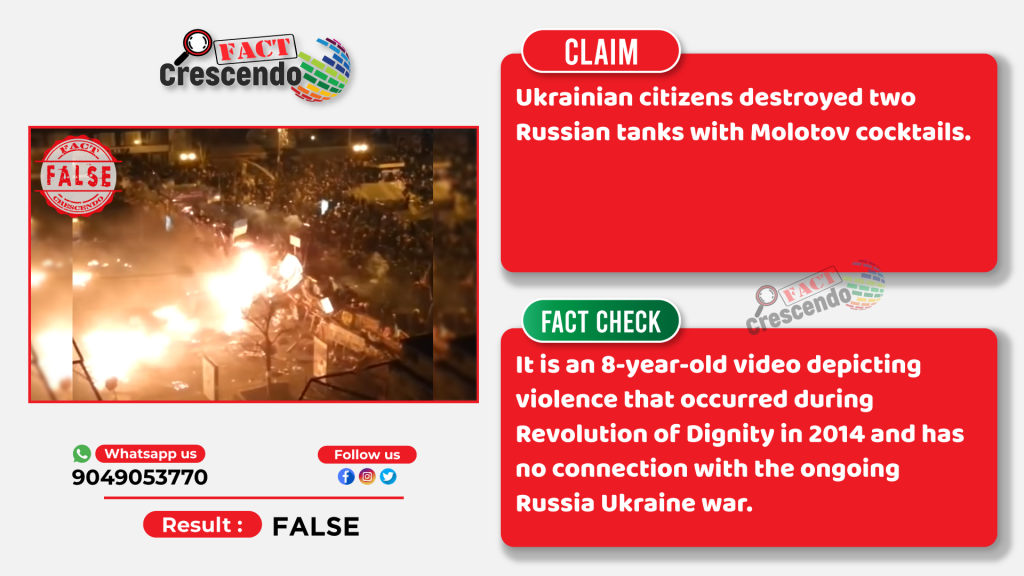 As the war between Russia and Ukraine is raging on, old and unrelated posts and videos went viral on social media.
In one such video, it is claimed that Ukrainian citizens destroyed two Russian tanks with Molotov cocktails.
However, Fact Crescendo found the claim to be false. The viral video is from 2014 in Ukraine during the Revolution of Dignity protest.
WHAT IS THE CLAIM?
On 26 February, Tiprasa Times Now shared the video claiming that "Ukrainian citizens destroy two Russian tanks with Molotov cocktails (Petrol, Gasoline) in Kyiv. They are using the guerrilla war tactics to counter the Russian army in their capital."
FACT CHECK
Google Reverse Image search revealed that the viral video is available on the Internet for many years.
In a Facebook video posted in 2018, you can see the same visuals between the 5.25 to 5.30 minutes mark.
The caption says, "Four years ago, the worst stage of the Revolution of Dignity took place in Ukraine- the shooting of the Heavenly Hundred. On February 18-20, 2014, more than a hundred people died in the centre of Kyiv, more than a thousand were injured, several dozen went missing and hundreds were arrested and tortured."

Taking a cue from this, we ran a keyword to search in Google. As a result, we found a YouTube video uploaded on 20 February 2014. The caption with the video says that the visuals are from Kyiv, Ukraine.
Berkut Special Forces and the Troops of the Ministry of Internal Affairs attempted to disperse the protesters on Independence Square by force. Social activists and thousands of ordinary citizens continued to oppose the decisions and actions of President Viktor Yanukovych and the government of Mykola Azarov..
WHAT' THE REVOLUTION OF DIGNITY?
According to Encyclopedia of Ukraine, large-scale public protests against the rule of President Viktor Yanukovych resulting in his departure from office, his replacement by Petro Poroshenko, and repeal of his most odious decisions such as the AA (Association Agreement) process.
CONCLUSION
The viral video does not show Ukrainian citizens destroying two Russian tanks with Molotov cocktails. It is an 8-year-old video depicting violence that occurred during the Revolution of Dignity in 2014.

Title:2014 Protest of Dignity Revolution Video Shared As Ukrainian Citizens Destroying Russian Tanks
Fact Check By: Siddharth Sahu
Result: False