This video is from Rome showing a malfunctioning escalator in 2018. It has no relation with the ongoing war between Russia and Ukraine.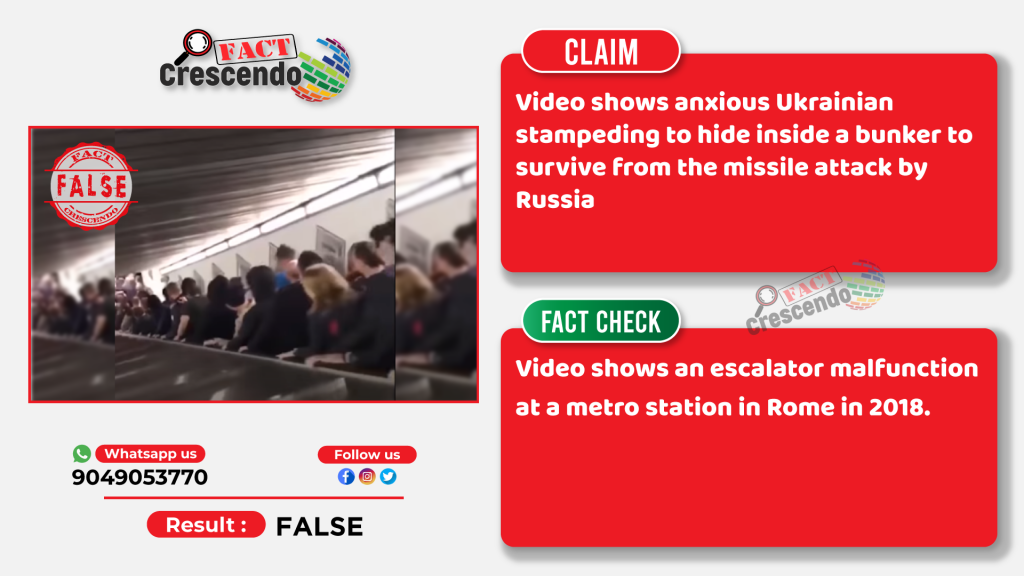 As Russian and Ukrainian troops are battling in Ukraine, images and videos claiming to be from the warzone have flooded the social media and mainstream media. Many of such videos and images were found to be old and unrelated to the ongoing situation in Ukraine.
One such video showing people running down from an escalator in panic and pushing the ones standing in front of them has gone viral on social media. Users claim that this video shows people in Ukraine stomping and running over each other in panic to hide inside a bunker to survive a missile attack by Russia.
The caption of the viral post states, "This isn't people fleeing from Afghanistan or Syria. This stampede is to duck under a bunker to survive a possible missile or nuclear attack by Russia on Ukraine. #UkraineRussiaCrisis #nuclearwar #worldwar3 #RussiaUkraineConflict #RussiaInvadedUkraine."
Fact Check-
We started our investigation by running a Google reverse image search on the screengrab of the video, whose results led us to the same video published on YouTube by Global News on 24 October 2018. The caption of the video states "Scary escalator malfunction inside Rome metro leaves soccer fans seriously injured." The description of the video mentions that the escalator drastically sped up, sending soccer fans piling on top of each other. At least 20 people were injured in this escalator malfunction inside a metro station in Rome, Italy. The station was full of Russian fans headed towards Rome's Olympic Stadium where CSKA Moscow were set to play AS Roma in the Champions League.
The Guardian News also posted this video on 24 October 2018. According to them, "A crowded escalator sped up before collapsing at a Rome metro station on Tuesday. Authorities have opened two investigations after 24 CSKA Moscow football fans were injured. One man had to have his foot amputated after the incident. In the footage, the escalator seems to speed up suddenly, hurling people down the staircase."
This news also published by several other organization in 2018 such as CNN, The Independent, WION, CBC News. All of them mentioned that this incident took place in Rome where an escalator malfunctioned at a metro station injuring several people.
Conclusion-
Fact Crescendo found the claim made along with the viral video on social media to be False. The video does not show panicked Ukrainian citizens running for shelter in bunkers to escape from the missiles launched in Russia. The video is from Rome showing an escalator malfunction in a metro station in 2018.
(If you also have any suspicious messages, posts, photos, videos or news, send them to our WhatsApp Fact line Number (9049053770) for Fact Check. Follow Fact Crescendo on Facebook, Instagram and Twitter to read the latest Fact Check.)

Title:2018 video of an escalator accident viral as anxious Ukrainian rushing to bunkers after Russia's attack
Fact Check By: Aavya Ray
Result: False