Samajwadi Party leader Rajesh Yadav's PRO has provided Fact Crescendo the original video. The video getting viral is edited and a complaint against it has been registered with the police.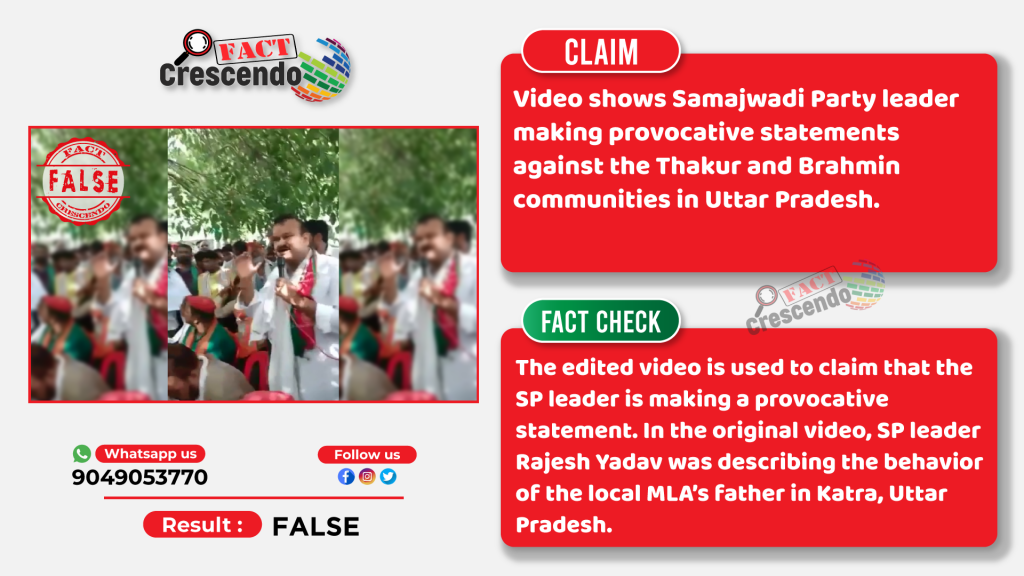 As voting began in Uttar Pradesh, a video is being widely circulated on social media claiming a Samajwadi Party leader is making provocative statements against the Thakur and Brahmin communities in Uttar Pradesh.
In the video, the SP leader states that if their party (SP) comes to power in UP, "Thakur will be called Thakuratha, Pandit will be called Panditha". Further, he also adds that when Samajwadi Party comes into power and forms a government, they will kill everyone belonging to these communities.
Several users have claimed that the SP leader is Rajesh Yadav, Samajwadi Party's candidate from Katra assembly seat in Shahjahanpur district of Uttar Pradesh.
The caption of the video states "Listen Thakur and Pandits who vote for Samajwadi Party,
After the Samajwadi government comes, Thakur will be called Thakurta, Pandit will be called Pandita, and the Samajwadi government will do the work of killing everyone by ressuring them."
Fact Check-
We started our investigation by running a keyword search on Google that led us to a tweet made by Shahjahanpur Police as a reply to one of the users on Twitter who posted the viral video. They mentioned that the viral video is misleading and the victim SP leader has registered a case at the Sadar Bazar police station.
Thus, we contacted SP leader Rajesh Yadav's PRO Ajit Yadav who confirmed to us that the viral video is edited that has been made by clipping and rearranging parts of a the video of Yadav's speech. He said that the speech is almost a year old. Rajesh Yadav has never made such comment related to the Pandit and Thakur communities of Uttar Pradesh. We have already registered a complaint against this at the Sadar Bazar police station.
Further, Ajit Yadav provided us with the original video that can be viewed below. In the original video, Samajwadi Party leader Rajesh Yadav can be heard describing the behaviour of the local MLA's father in Katra during a public programme. Rajesh Yadav was actually explaining that the local MLA's father addresses Thakurs and Pandits as Thakurthas and Panditas. While describing the atrocities and problems created by goons in Katra, Rajesh Yadav said that if the SP government will come to power in UP, their government will take all the goons to task. He can be heard clearly speaking about disciplining goons who are causing nuisance in the area. The video of this speech has been clipped and then joined together to falsely suggest that Rajesh Yadav had made a casteist comment.
You can view a comparison video between the edited video and the original video provided to us.
Ajit Yadav also provided us with a complaint copy and a clarification video by SP candidate Rajesh Yadav.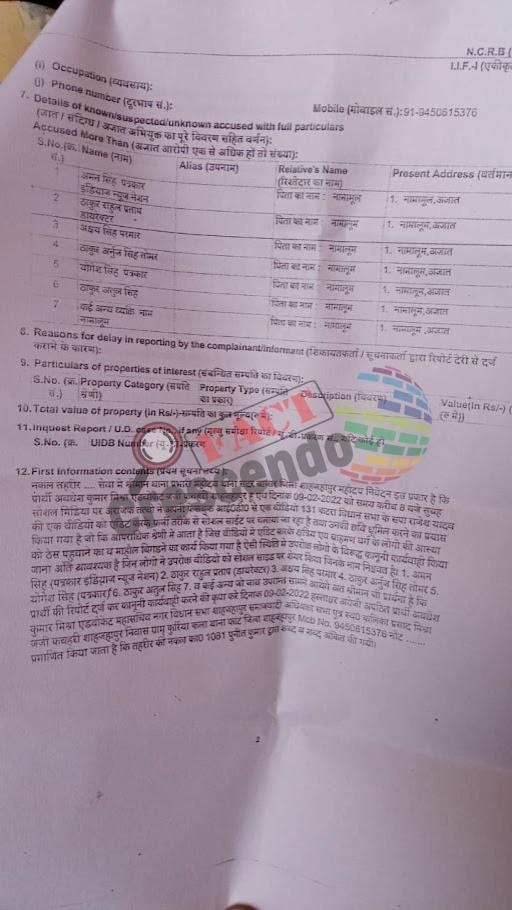 According to news reports, SP candidate Rajesh Yadav has also filed a complaint with the election commission stating that the viral edited video is being propagated to defame him
Conclusion-
Fact Crescendo found the claim made along with the viral video on social media to be False. Our investigation proves that Samajwadi Party leader Rajesh Yadav had not given any hate speech against Thakurs, Brahmins or any other community. A video of his old speech was edited by joining different clips of his speech together with a false claim.
(If you also have any suspicious messages, posts, photos, videos or news, send them to our WhatsApp Fact line Number (9049053770) for Fact Check. Follow Fact Crescendo on Facebook, Instagram and Twitter to read the latest Fact Check.)

Title:Edited video shared falsely to claim SP leader Rajesh Yadav vowed to kill Thakurs and Brahmins
Fact Check By: Aavya Ray
Result: False