The viral image is digitally altered. The original image shows Akhilesh Yadav holding a placard that mentions jobs and employment.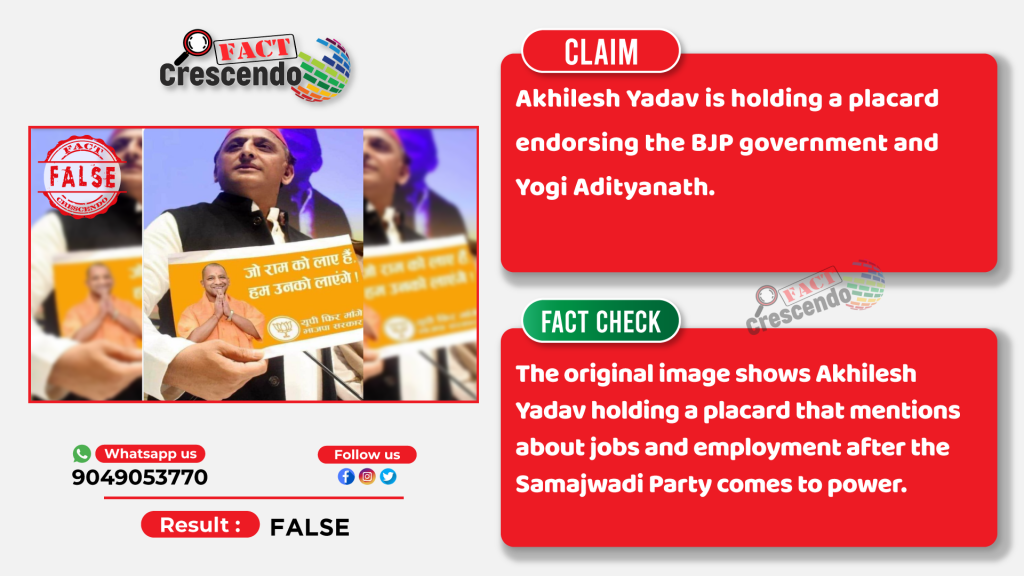 Leading up to the assembly elections in UP, social media has witnessed many viral content showing opposition leaders promoting the incumbent BJP government. Fact Crescendo has earlier debunked such images and videos and found them to be false.
On similar lines, an image showing Samajwadi Party President Akhilesh Yadav is widely circulating on social media. Akhilesh can be seen holding a yellow placard with the image of UP CM Yogi Adityanath that says, "one who brought back Ram, we will bring them back to power." Users claim that Akhilesh Yadav can be seen endorsing the BJP government.
This image was shared by BJP UP's spokesperson Harish Chandra Srivastava on his Twitter account.
The caption states "There was no doubt, there isn't. UP saying #आएंगे_तो_योगी_ही #बीजेपी_ही_जीतेगी Now even Akhilesh Yadav has made up his mind that "we will bring only those who have brought Ram"! The point of all #MannKiBaat is that again #BJP4UP government #Vote4BJP"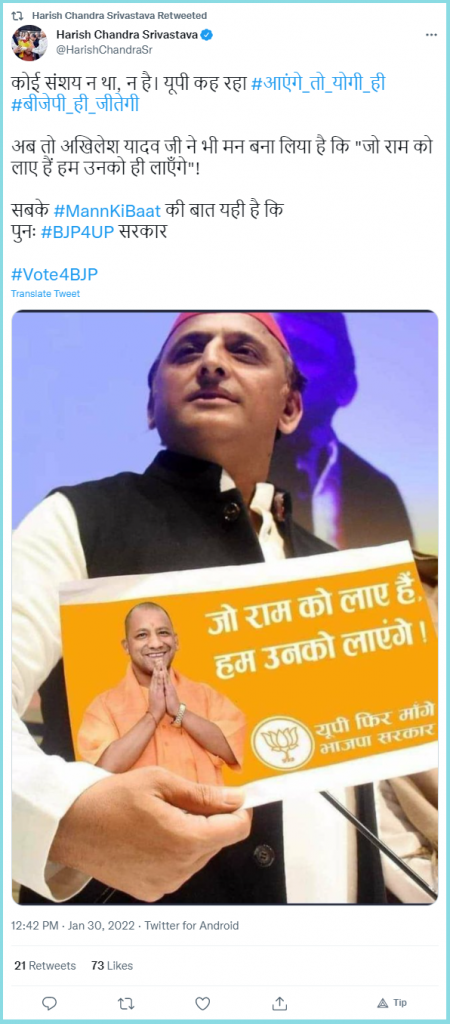 Tweet | Archive Link | Facebook Post
Fact Check-
We started our investigation by running a Google reverse image search on the image, whose results led us to the image posted by Samajwadi Party on their Facebook page on 22 January 2022. This post makes it very clear that the viral image is edited. We can see that originally Akhilesh Yadav was holding a red placard that read "नौकरी–रोजगार संकल्प श्रृंखला" (Jobs- Employment Resolution).
The caption of the Facebook post states that Samajwadi Party's national president and former Chief Minister Mr. Akhilesh Yadav has announced that 22 lakh youths in the IT sector will be given employment if Samajwadi party becomes government in the 2022 assembly elections.
This image was posted with another image showing Akhilesh Yadav holding the placard on Samajwadi Party's Twitter handle as well.
Below you can see the comparison image between the viral image circulating online and the original image, which makes it clear that the image is edited.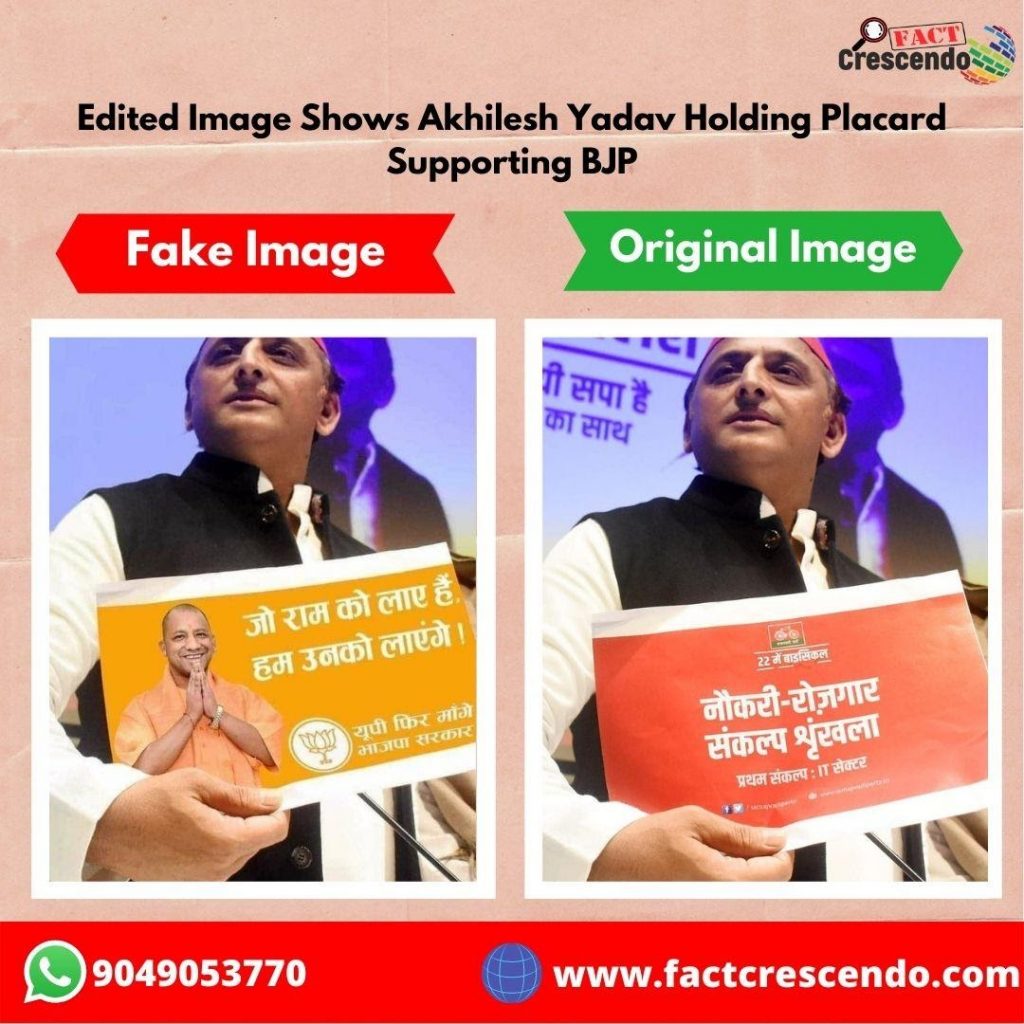 Conclusion-
Fact Crescendo found the viral image on social media to be digitally altered. Akhilesh Yadav was not endorsing BJP and Yogi Adityanath. The viral image is edited, the original image shows Akhilesh Yadav holding a placard that endorses Samajwadi Party promises once they come to power in Uttar Pradesh.
(If you also have any suspicious messages, posts, photos, videos or news, send them to our WhatsApp Fact line Number (9049053770) for Fact Check. Follow Fact Crescendo on Facebook, Instagram and Twitter to read the latest Fact Check.)

Title:BJP spokesperson shares edited image of Akhilesh Yadav holding a placard in support of Yogi Government.
Fact Check By: Aavya Ray
Result: False