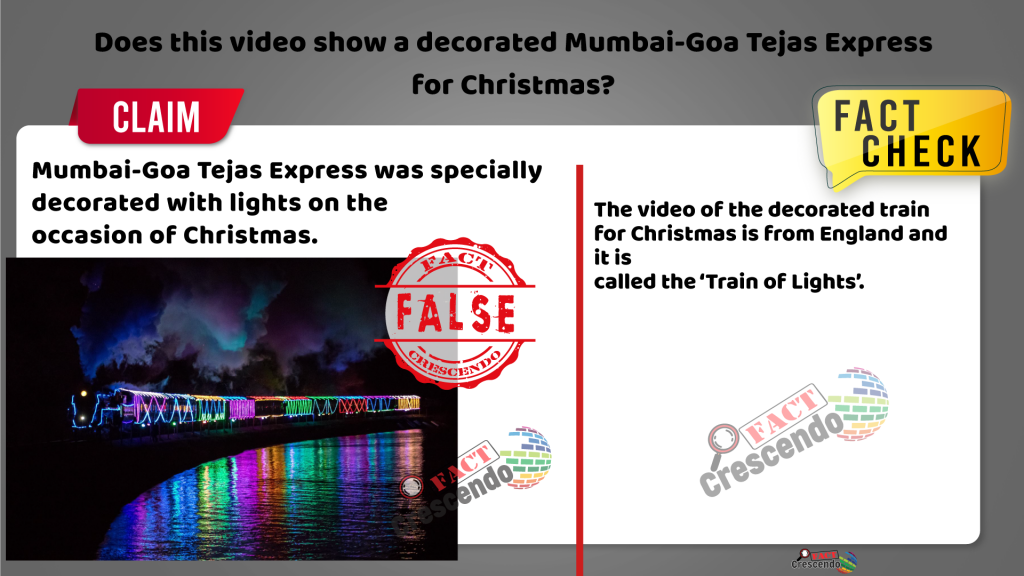 A picturesque video of a steam-engine train decorated with colorful lights is making rounds on social media with a claim that it is of Tejas Express that runs between Mumbai and Goa. It has been claimed that Tejas Express was specially decorated on the occasion of Christmas.
Readers of Fact Crescendo forwarded this video to our WhatsApp FactLine (9049053770) and requested to do a fact-check on it.
We found that the viral video does not show Tejas Express or any other train from India for that matter.
WHAT'S THE CLAIM?
A 52-second video shows a train, illuminated with lights, passing through a quaint route flanked by trees. The caption reads along with videos as – "[Tejes] express for Christmas & new year lighting Mumbai to goa."
The same video with a similar claim is also shared on Facebook.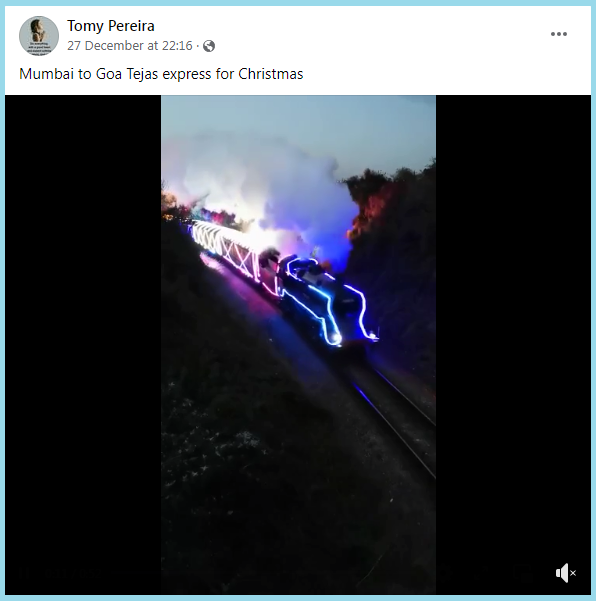 FACT CHECK
The Tejas Express is the first high-speed luxury premium train in India that started in 2017. It has a powerful diesel engine – WDP3A – that can run on the alternate and direct current transmission and has a powerful 16 cylinder four-stroke super turbocharge system.
It is clear that the train featured in the viral video has a steam-engine. It raises doubt about the veracity of the claims about this video.
Upon performing a Google reverse image search on the key-frames, our suspicion proved right. The video of this decorated train is from England.
We found the original video posted by Scott Williams, a South Devon-based photographer, who had uploaded it on his Facebook page on 24 November.
Williams informed that the video was taken in Goodrington, Paignton.
"The Train of Lights chuffing through Goodrington, Paignton earlier this evening. It is truly a magical sight watching it pass along the coast all lit up. Hoping to capture a few photos of the train on the countdown to Christmas," he wrote in the caption.
Original Post – Facebook
"This video was taken on the first official Train of Lights run of the season, with my two-year-old daughter heard in the background. It's a magical sight," Williams told Storyful.
He also captured photos of this "a truly a magical sight" on 19 December.
What is The Train of Lights?
It is an annual Christmas Train run by the Dartmouth Steam Railway in southwest England. The multi-award-winning Christmas experience and the UK's first steam train of lights.
This year, the Train of Lights was running from 24th November until 30th December 2021.
CONCLUSION
Hence, the video of the decorated train for Christmas is from England. It has been falsely claimed to be of Tejas Express that shuttles between Mumbai and Goa.
If you come across any suspicious content on social media, forward it to our WhatsApp FactLine (9049053770) for a fact-check.
Title:Does this video show a decorated Mumbai-Goa Tejas Express for Christmas?
Fact Check By: Mayur Deokar
Result: False