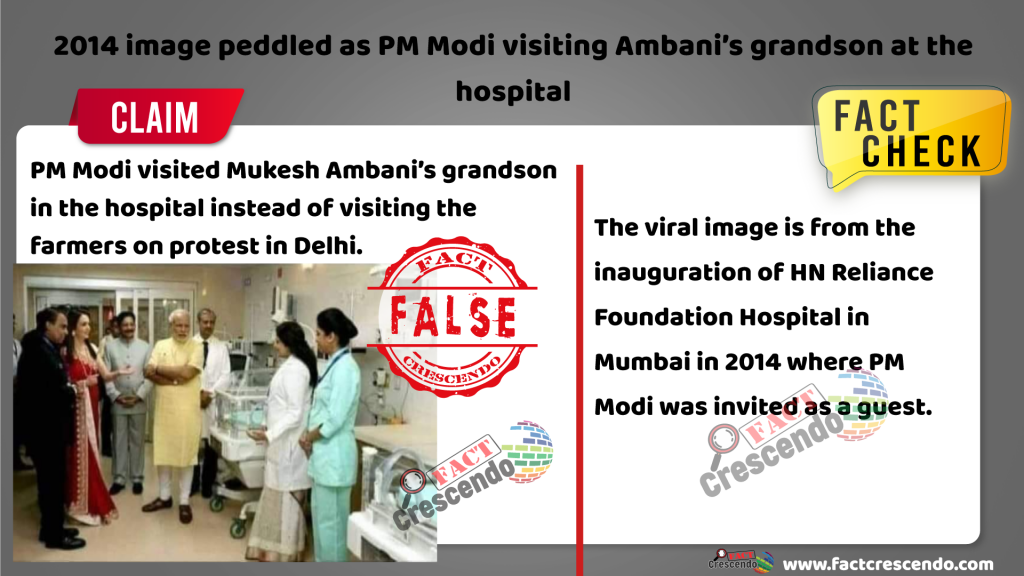 Social media is flooded with images and videos related to the ongoing Farmer's protest in Delhi. Thousands of farmers marched to Delhi protesting against the newly implemented Farmer's bill in 2020.Amidst this, an image is going viral on social media claiming that Prime Minister Narendra Modi visited India's richest man Mukesh Ambani's grandson at the hospital after he was born instead of visiting the farmer on protest in Delhi.
The caption of the post says "MODI visited hospital GRAND SON of AMBANI but no time to meet farmers."
Fact Check-
We started our investigation by running a simple Google reverse image search on the image which led us to the same image published by the Financial Express on 30th October 2014. The headline of the news article mentions , "PM Narendra Modi at inauguration of HN Reliance Foundation Hospital". The article contains several other images of the inauguration. The description below the viral image mention's that "PM Narendra Modi is welcomed by Reliance Industries' Nita Ambani and Mukesh Ambani on his arrival for the re-dedication and inauguration of HN Reliance Foundation Hospital in Mumbai." The viral image was picked from the gallery of images published in 2014 and is being circulated with a false and misleading claim on social media.
The Financial Express | Archive Link
Further we found that the same image was uploaded by Reliance Industries Limited on 30th October 2014 on their official Facebook page. The caption of the page mentioned that "Prime Minister Shri Narendra Modi at the state-of-the-art Neo-natal Intensive Care Unit at Sir H N Reliance Foundation Hospital."
PMO India's official Twitter handle also tweeted a video about this event on 25th October 2014 and mentioned that "PM @narendramodi has arrived at inauguration of Sir H.N. Reliance Foundation Hospital & Research Centre in Mumbai."
Thus, it is clear that the viral image on social media is from 2014 and has no relation with the current ongoing farmer's protest. We also searched for news reports related to Modi visiting the Ambani's grandchild at the hospital but we could not find any related credible news reports stating the same.
Conclusion- Fact Crescendo found the above-mentioned post to be False. The viral image is from 2014 when Prime Minister Narendra Modi was present at the inauguration of HN Reliance Foundation Hospital in Mumbai. 

Title:2014 image peddled as PM Modi visiting Ambani's grandson at the hospital
Fact Check By: Aavya Ray
Result: False