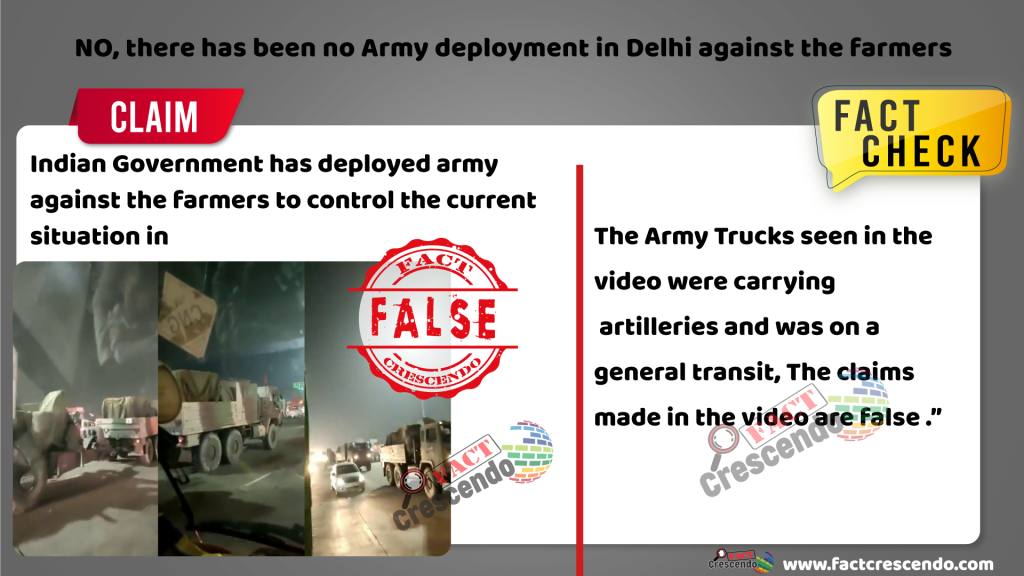 In the present times thousands of farmers are agitating in Delhi against the newly implemented Farmers Bill. Social media is flooded with misinformation related to the ongoing protests by the farmers. Fact Crescendo has been actively debunking the misinformation going viral with respect to the farmers protest. Recently, we came across a viral video on various social media platforms, which shows a convoy of military passing a toll plaza. The video is going viral on social media claiming that Indian Government has deployed army against the protesting farmers to control the current situation in Delhi.

The caption of the video mentions
"Army deployed against the farmers in Delhi to beat them up."
Fact Check-

We started our investigation by running a keyword search on Google to search related new articles on the viral video but we could not find any credible news report for the same.

Fact Crescendo contacted Nitin Wakankar, DG, Media and Communications in Ministry of Home Affairs who confirmed us that
"Army deployment doesn't fall under Ministry of Home Affairs but as per my knowledge Army deployment has not taken place against the farmers protesting in Delhi."

Fact Crescendo then contacted A. Bharat Bhushan Babu, Spokesperson of Ministry of Defence, who clearly stated that,
 "The video which is going viral claiming about the deployment of army against protesting farmers around Delhi is Fake. The army convoy seen in the video was actually carrying artilleries and was on a general transit, the convoy only had artillery machines on movement and the army trucks were not moving soldiers."

Conclusion- Fact Crescendo found the above-mentioned post to be False. The viral video on social media claiming to army deployment in Delhi against the farmers is being shared with a misleading and false narrative. There has been no army deployed by Indian government to curb the ongoing farmers protests in Delhi. Fact Crescendo urges its users to refrain from sharing any such misleading claims as this could disrupt peace and create panic. The viral video shows army truck-carrying artilleries.
Update– (11-12-2020) PIB Fact Check has also issued an official clarification on their Twitter account after Fact Crescendo seeked clarification on the viral video. The tweet clearly mentions that no army has been deployed in Delhi during the ongoing farmer protests. The claims on social media are false and baseless.

Title:NO, there has been no Army deployment in Delhi against the farmers
Fact Check By: Aavya Ray
Result: False