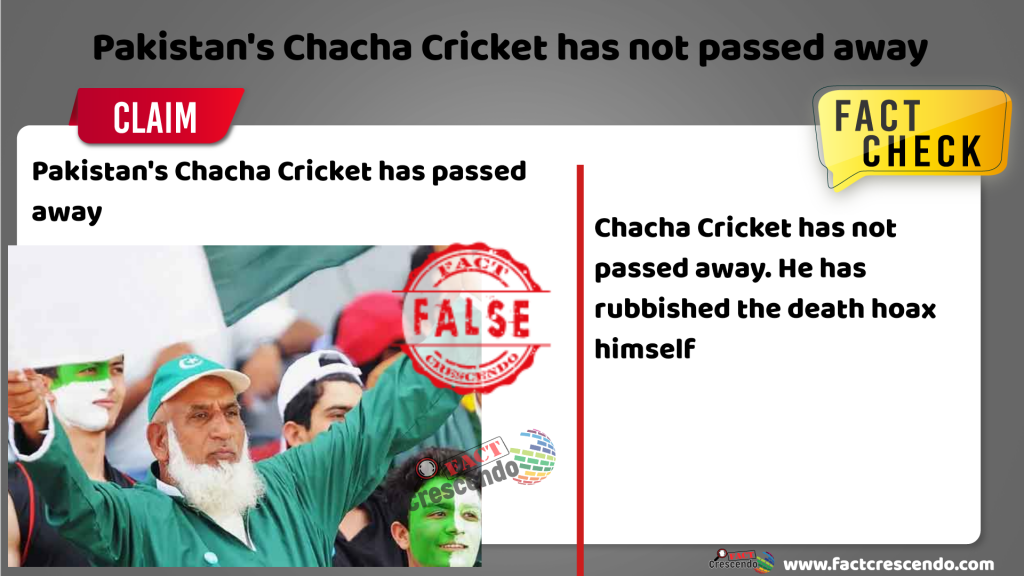 A Facebook post doing the rounds in Assam states that Veteran Pakistan Cricket Fan Chaudhry Abdul Jalil, known to cricket enthusiasts across the world as Chacha Cricket has passed away recently.
Jalil is known for his presence in every Pakistani cricket match in his signature green outfit, complete with a green hat embellished with the symbols of the Pakistan flag.
One such post was shared by Facebook user Bhaswati Baruah on November 21, 2020 at 10.53am with the caption "RIP". The original post was made by Facebook page Valley Update on November 18, 2020 at 19:47pm with the caption " إِنَّا لِلَّهِ وَإِنَّ إِلَيْهِ رَاجِعُونَ
Pakistani famous Cricket Chacha is no more with us May Allah Raise his Ranks in Jannah (Ameen).🤲🤲🤲🤲🤲🤲"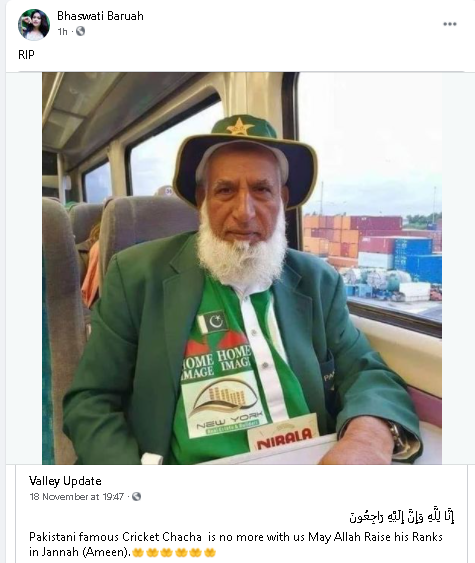 Original Link- Facebook | Archived Link
Fact Crescendo's Fact Check found that Jalil himself has rubbished the rumours. Let's check out how this rumor spread on social media and our investigation to debunk the rumor in details below:
Fact Check Methodology
At first we ran a Google search with relevant keywords and saw news reports that rubbish the claim.
Screenshot, article The Express Tribune
Original Link- The Express Tribune | Archived Link
One such report was published on the website of The Express Tribune on November 19, 2020 with the headline: "Alive and kicking: Chacha Cricket rubbishes death rumours" in which they've hyperlinked a post by Facebook page All Pakistan Drama Page which has a video by Jalil or Chacha Cricket himself saying that he very much alive.
In the video, uploaded on November 18, 2020, at 00:09am, Jalil says that nobody would be able to stop death when it comes. He also says that not approve of the rumours claiming he is dead, adding that he will keep waving Pakistan's flag till his last breath. The video was shared with the caption: "Alhamdulillah chacha cricket is doing fine and he is in good health ❤ please stop spreading fake news ."
Original Link- Facebook | Archived Link
Following this we ran a Google search with relevant keywords and found Chacha Cricket's official Twitter account where the same video has been pinned to the top with the caption
"Chacha Cricket Video Message.
Please avoid sharing fake news about Chacha Cricket death.
Alhamdulillah Chacha Ji is absolutely fine.
#chachacricket #ChachaCricket
#PakistanZindabad
@faizanlakhani @GhaffarDawnNews @bhattimajid @rasheedshakoor @aaliaaaliya
@TheRealPCBMedia https://t.co/5ucsvvatU6″.
Original Link- Twitter | Archived Link
Conclusion
Pakistan's popular cricket enthusiast Chaudhry Abdul Jalil, fondly known as Chacha Cricket is alive and the posts mourning his death on social media are hoax.

Title:Viral Rumors Claiming Pakistan's 'Chacha Cricket' is Dead Are Fake…
Fact Check By: Manjori Borkotoky
Result: False