As heavy rain's lashes out in Mumbai, several videos emerged on social media showing the sorry state of the flooded city. A particular video of vehicles hitting a huge water-filled pothole has caught the attention of netizens. Many have been sharing this video claiming that it is from Mumbai.
Fact Crescendo's investigation revealed that the viral video is not from Mumbai or India for that matter.
WHAT'S THE CLAIM?
Social media users are sharing the viral video with a caption that reads- Vehicle suspension testing machine installed successfully by BMC in MUMBAI.
(Archive)
The same video with a similar claims is being widely shared on Facebook as well.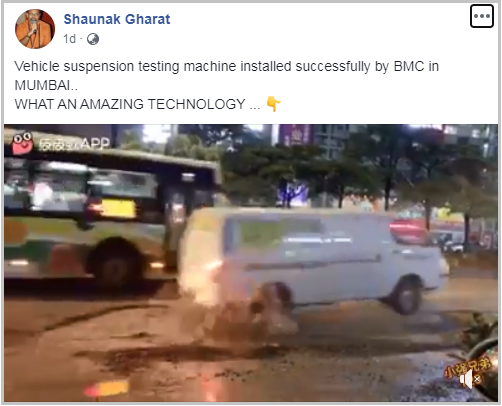 See original Post: Facebook | Archive
FACT CHECK
First of all, one can easily notice the Chinese app logo and text on the video. Why would a video (apparently) from Mumbai be taken from a Chinese app that is unavailable in India?
A simple reverse image search leads us to Chinese website. Surfing through them, we came across the original video posted by a user "Brother Xiaoqiang 123" (translated) on a popular social media site called BiliBili. He had shared this video on 15th July 2020. You can see it below.
Original Video: BiliBili
The user "Brother Xiaoqiang 123" has shared many videos of the same location, highlighting the bad condition of the road. He only shares videos of damaged roads.
On his account, he even requested his followers to send tips about such roads. He said he would personally shoot it and draw the attention of the municipal authorities to repair it.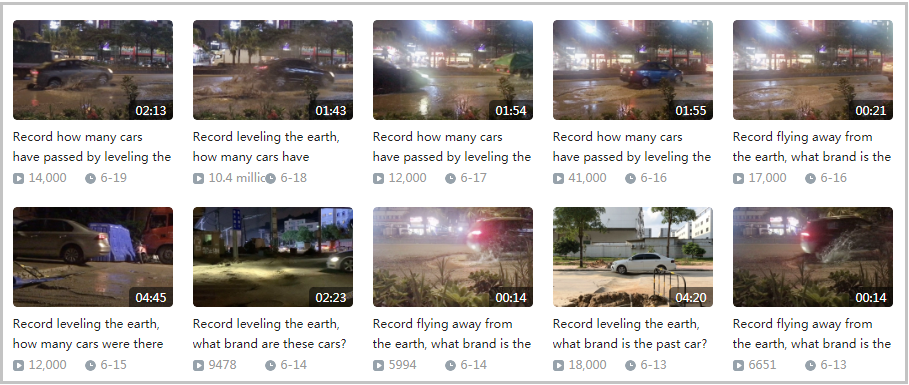 See original account: BiliBili
Taking a closer look at various videos from the same locations, we can notice that vehicles are using the right side of the road (RHT). But in India, we drive on the left side of the road (LHT). We can also see signage in Chinese.
These simple clues put a question mark on the credibility of the claims that state this video is from Mumbai.
With the Google Translators help, we went through the comments below the videos and there many users shared that the location of this video is Shijing Avenue in the Baiyun district of Guangzhou. Guangzhou is the capital and most populous city of the province of Guangdong in southern China.

CONCLUSION
All the above clues help us derive a conclusion that the viral video is not from Mumbai or any other city of India. It appears that the video is from China.
(If you come across any fake news, you can send us a fact-check request for it on our Chatbot helpline number 9049053770.)

Title:The viral video of the pothole-riddled road is not from Mumbai
Fact Check By: Mayur Deokar
Result: False