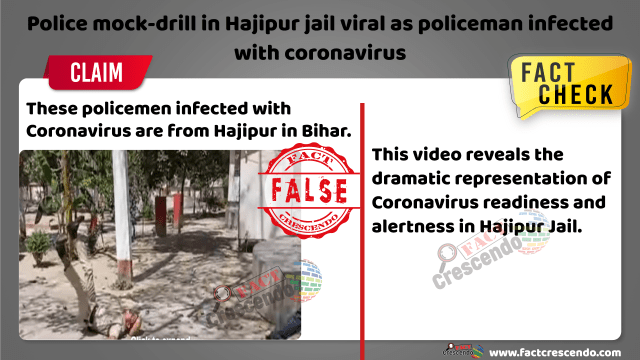 Many misleading and unrelated videos related to Coronavirus are being spread on social media. Another such video has been circulating on social media. In the video, we can see a policeman coughing and falling on the ground, after which a team of doctors goes to him and treats him carefully. Through this video, it is being claimed that this video is from Hajipur Jail in Bihar where a police constable has been infected with coronavirus.
Starting the investigation we contacted SP Dr. Gaurav Mangla of Vaishali district, he told us that "this video is being spread on social media with false claims. This video is actually from a recent mock drill. This mock drill was done by the police officers in Hajipur Jail."
After this we searched for news related to this mock drill. As a result, we found many YouTube videos which were uploaded on 12th and 13th of April, 2020. It is mentioned in the title and description of these videos that it shows the mock drill in Hajipur Jail.
Conclusion: We found the above post wrong after checking the facts. The viral video on social media is not about a coronavirus infected constable in Hajipur, but it is a mock drill to check the preparedness of coronavirus in Hajipur Jail. 

Title:Police mock-drill in Hajipur jail viral as policeman infected with coronavirus
Fact Check By: Aavya Ray
Result: False