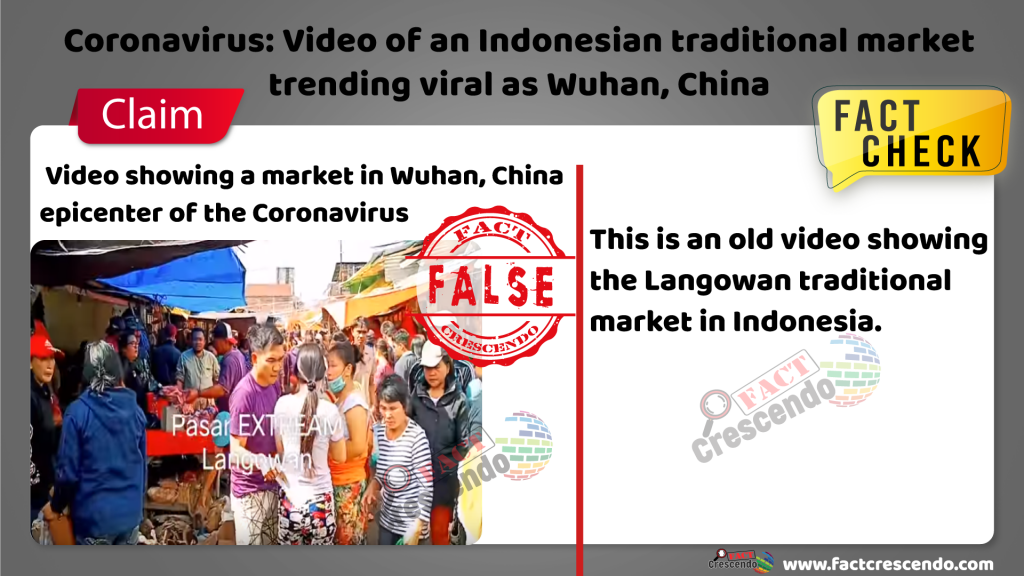 Hours after India confirmed its first positive case of novel coronavirus on Thursday, the World Health Organization (WHO) declared the novel coronavirus outbreak a public health emergency of international concern.

In the light of the health emergency concern, several false narratives are going viral on social media, which is creating a panic among the citizens of different countries. A video showing wild animals kept in unhygienic conditions and sold as exotic delicacies is being shared as a market in China's Wuhan region, epicenter of the Coronavirus. The post claims that the market, which sells animals as delicacies is where the Coronavirus originated.The new virus, which has caused panic in several countries, including precautionary measures by India, is said to have originated in Wuhan, China.
The video is trending viral on Facebook and WhatsApp and is being shared with the caption, "Wuhan market. China, the origin of the #Corona virus."
Our Fact Check-
We noticed ' Pasar Extream Langowan' written on the video in the first few frames. Next we searched for the same keyword on Youtube which resulted in the same video. The YouTube video uploaded on 20 July 2019 with the description as Extreme food in the world is available only at Langowan Market. The location of the video is mentioned as "Pasar Traditional Langowan".
A Google search with the keywords "Pasar Tradisional LANGOWAN" showed that this is a market place located in North Sulawesi, Indonesia.
At the 20-second mark in the video we noticed a building on the right with a board with writing in Indonesian which when translated to English reads Government of Minahasa Regency, Trade Department, Langowan Market Office.
A Google search showed that Langowan is a place in Indonesia's North Sulawesi region with majority of the population belonging to the Minahasan ethnicity.
With a simple Google search we found several image of Langowan Market in Indonesia on the Getty Images Website. We found a similar image on Getty as shown in the video. Since the pictures on Getty images matched with the scenes in the video, we can be certain that the video is from Indonesia and not from China. Below you can see a comparison between a screengrab from the video and the image available in on wire agency Getty Images.

Conclusion- Thus from the above facts we can say that an old video from Indonesia shot in July 2019 is being falsely shared as a Market in Wuhan, China which was the origin of the Coronavirus. This video has nothing to do with the Coronavirus or its place of origin.

Message for our Readers- If you come across any inaccurate information regarding the Wuhan Coronavirus, please send it to Fact Crescendo for a fact-check. You can contact us through WhatsApp on this 9049053770 number. We request you to know the facts before forwarding any message, image or videos.

Title:Coronavirus: Video of an Indonesian traditional market trending viral as Wuhan, China
Fact Check By: Aavya Ray
Result: False