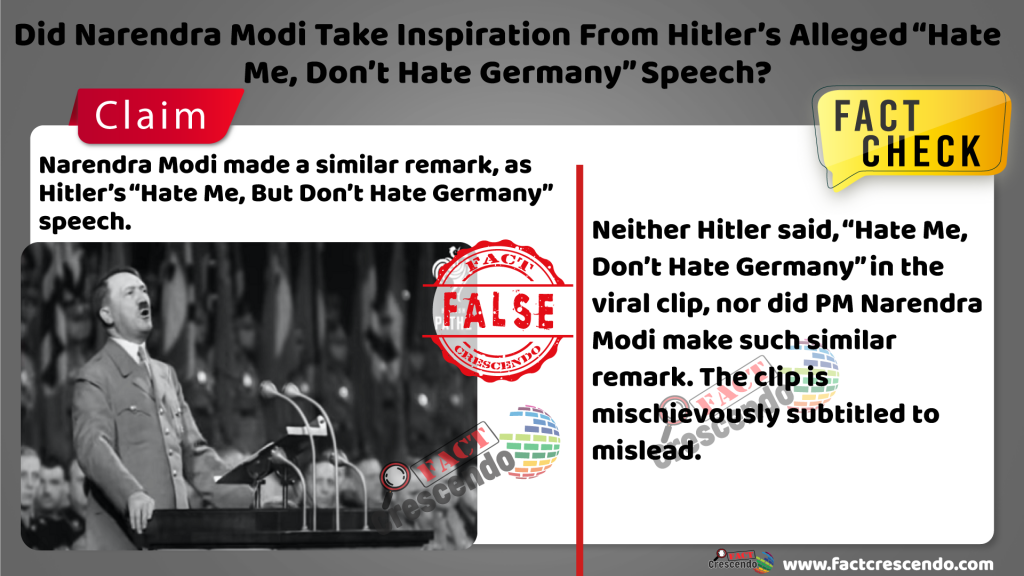 Prime Minister Narendra Modi's speech at Ramlila Maidan in Delhi sparked a heated debate on social media. While attacking the opponents of the Citizenship Amendment Act (CAA), he urged protesters not to damage public property; instead, burn his effigy to show their anger. Many news websites reported this speech under the title- "Hate Me, But Don't Hate India: PM Modi"
Many users on social media equated this quote to one of Hitler's speeches. In a widely circulated 15-second video clip, overlaid subtitles allegedly dub Hitler saying – I know who is hating me, Hate me it is your wish, But don't Hate Germany.
Many political parties and bollywood celebrities claimed the similarities between Modi and Hitler's speech by sharing this video. Youth Congress posted this clip on Twitter saying – "You hate me but don't hate the country – Prime Minister Modi. Hate me, but don't hate Germany – Adolf Hitler."
Another example:
Did Narendra Modi really take inspiration from Hitler's speech?
FACT CHECK
At first, we listened to Narendra Modi's speech given on Sunday (December 22, 2019). He said that – "…then you should abuse Modi, you should hate Modi. You can oppose Modi as much as you want. You despise Modi. Show your anger towards me. Hang my effigy in the town square and beat it with shoes. Burn Modi's effigy but do not burn public property. Do not torch auto rickshaws of poor men. Do not set a poor man's house on fire." (English Translation)
It is clear that he did not say "Hate me, but don't hate India" exactly. Only news reports carried such headlines. One of the samples you can see below.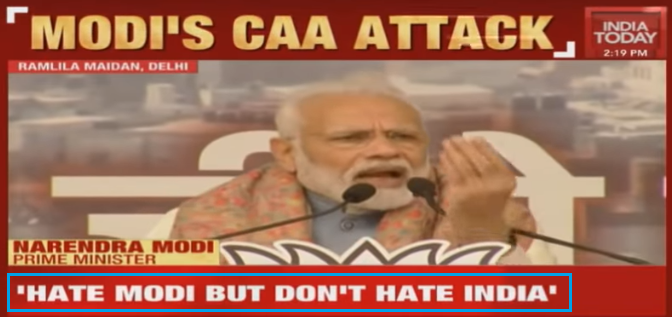 See the original video here – India Today
Then what about Hitler? Did he say "Hate me, don't hate Germany"?
The answer is "NO".
How?
The logo of British Pathé can be seen in the clip. We found a longer video of Hitler's speech uploaded by British Pathé on YouTube. The viral clip is extracted from this nearly two-minute video. You can see that in the first 23 seconds of the video below.
According to the title of this video, Hitler was addressing a Nazi rally in the winter of 1936. The British Pathé website does not contain any information about the exact date or place or occasion of the video. To ascertain that, we continued our probe.
One can see the banner at the beginning of this two-minute video that reads Winterhilfswerk 1936-37. The English translation of this German word says- Winter Relief (Organization).
Winterhilfswerk was an annual drive by the Nazi party to provide food, clothing, coal and other items to poor German citizens during the harsh season of the winter. It ran from 1933–1945 during the months of October through March. Hitler used to inaugurate the program every year in October.
This video could be from the opening of Winterhilfswerk of 1936-37.
Fact Crescendo found a news report of The New York Times published on October 7, 1936. According to it, Adolf Hitler had inaugurated the fourth annual National Socialist Winter Relief campaign on October 6, 1936 in Berlin.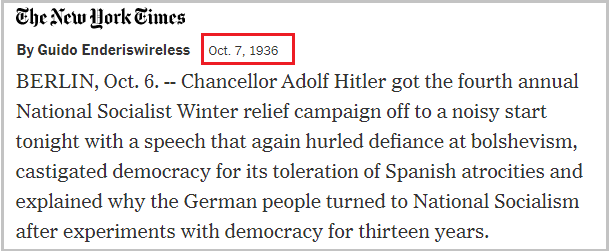 Read the original news – The New York Times
We also found the same two-minute video on the the Internet Archive website. According to its German title (1936 – Adolf Hitler – Eroeffnung des Winterhilfswerks); this video is from the opening ceremony of the Winter Relief campaign in 1936.
Now we know the date, place and occasion of the video. However, to understand what exactly Hitler said in it, we need to find the original speech transcript.
We were able to access a booklet published by the central publishing house of the Nazi Party. It is a collection of Hitler's speeches given at the inauguration of Winter Relief campaigns during 1933 and 1936. In this German booklet, there is a speech under the title: Die Rede des Führers zum vierten Winterhilfswerk 1936/37 (English: The Führer's speech on the fourth Winterhilfswerk 1936/37)
With the help of a German translator, we zeroed down the exact lines spoken in the viral video. As we know, the 15-second viral snippet is clipped from the longer two-minute video. It also starts mid-phrase. Therefore, to get full sense what Hitler said in the clip, we need to listen to first 23-second portion.

Read original Speech text – Speeches at Winter Relief Organization (1933-1936)
What Hitler says in German:
Es ist wirklich etwas Wunderbares, die Volksgemeinschaft so aufzufassen, nicht in einer Vereinsrede von einem Volk von Brüdern zu sprechen, sondern hineinzugehen in das Volk, alle feine Vorurteile allmählich zu überwinden und dann zu helfen und immer wieder zu helfen.
English Translation:
It's really a wonderful thing to understand the national community in this way, not to speak of a people of brothers in a club speech, but to go into the people, to gradually overcome all fine prejudices and then to help them again and again.
You can see the video with correct German and English subtitles here.
This clarifies that Hitler did not say, "Hate Me, But Don't Hate Germany" in the viral clip. He did not even speak anything of this sort in the whole 13-page speech given in 1936. We also searched for the German translation of the claimed quote (Hasse mich, aber hasse Deutschland nicht), but we did not come across anything that suggested Hitler ever said that.
The Clip is Not From 1937
In order to debunk wrongly subtitled clip, several media outlets erroneously concluded that the video of Hitler's speech was from 1937. This is not factually correct, though.
Fact Crescendo found an original ticket of the Winter Relief campaign opened on October 5, 1937. You can easily see 1937/38 written on the ticket produced below.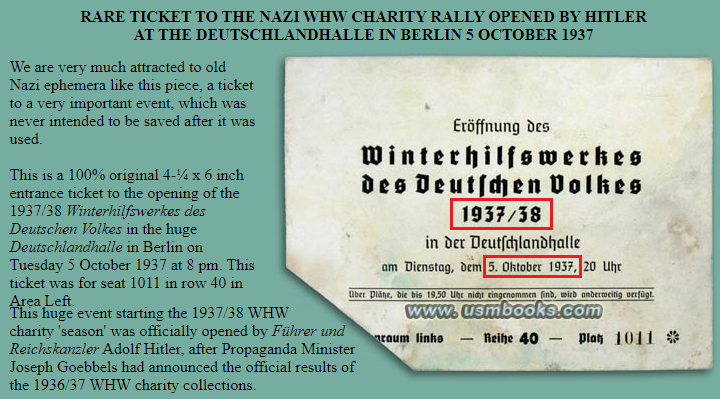 Whereas in the British Pathé video, the banner shown in the beginning reads 1936/37. We found a photo of the same banner on Getty Images. This photo was taken on October 6, 1936.
This ascertains the fact that the video is really from 1936, not from 1937.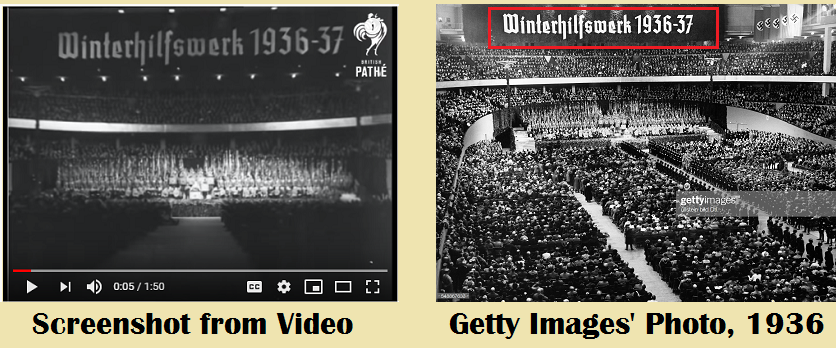 See original photo – Getty Images
You can see more photos of this event here and here.
Result
This makes us conclude that Hitler did not say, "Hate Me, Don't Hate Germany" in the viral clip. All he said in the clip was to shed prejudices and come forward to help fellow citizens. Thus the subtitles accompanied by the widely shared 15-second clip on social media provide wrong information to mislead.
It must be noted that "Hate Me, Don't Hate India" was not a verbatim quote from the speech of PM Narendra Modi. He did not say exactly those words in his Sunday speech in New Delhi. News websites gave such title to it.
UPDATE:
Taking notice of Fact Crescendo's fact-check, renowned newsreel archive British Pathé has updated the description of the video of Hitler's speech on their website. Earlier it does not contain any information about the exact date or place or occasion of the video. However, now they have updated it with information provided in this fact-check.

Title:FACT CHECK: Did Narendra Modi take inspiration from Hitler's alleged "Hate Me, Don't Hate Germany" speech?
Fact Check By: Mayur Deokar
Result: False