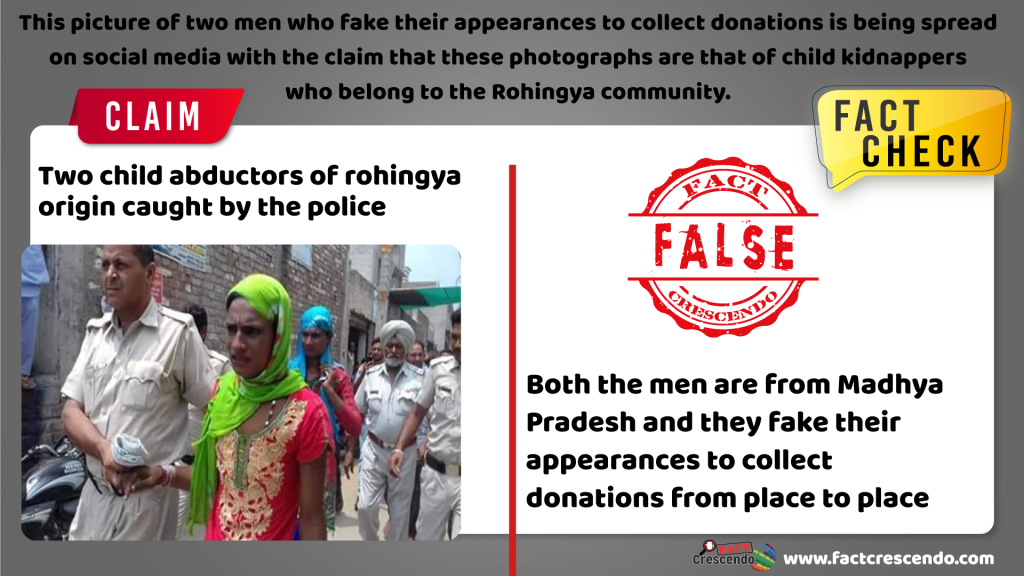 On August 2nd 2019, a Facebook user named निषाद एकता बिहार" posted a picture. In the headline of this picture it was written "be alert a team of 2000 Rohingya people have come to India who are involved in the abduction and selling of children and in some cases they use them as human sacrifices. Please spread this as much as possible.
In the below picture we can see the policemen taking away two men disguised as women. Through this picture it is being claimed that there is a group of Rohingya people in India who kidnap children and sell them or use them as human sacrifices. The police are seen arresting two of them in the picture.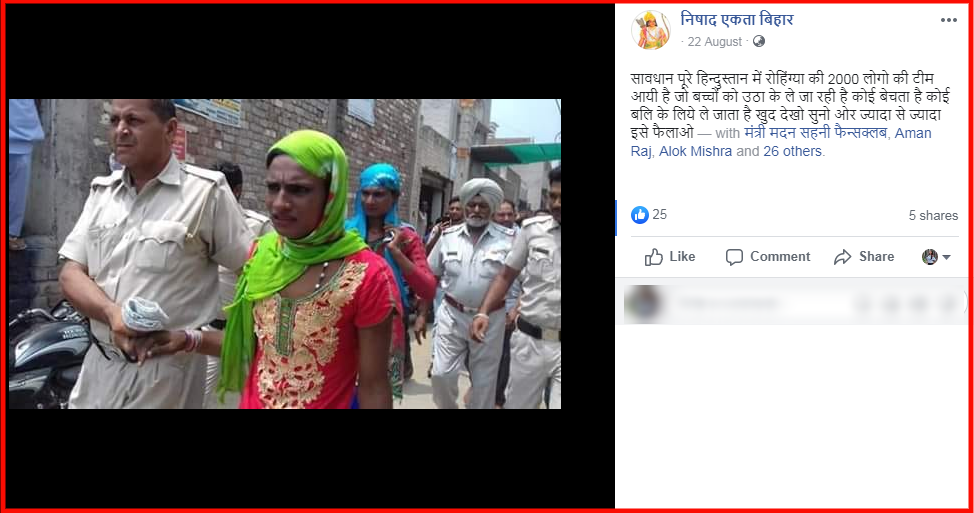 We started the investigation by taking a screenshot of the picture through Google Reverse Image Search. As a result, we found a news clip broadcasted on 5th August 2019 by Bharat News Live 24, according to which the incident is from a region called Ratia in Fatehabad district in Haryana. It is written in the description of this news that in Ratia District Fatehabad, two men dressed as women were caught and they were believed to be part of a child snatching gang. When people came to know about them, they were thrashed by some of the local people and then further handed over to the police on the spot.
After this we contacted Bharat News Live 24 who gave us a video related to this incident. In this video, we can see the police escorting these two people in a police van. From the car number of the police van, we came to know that this vehicle is registered in Hisar. SP Shiv Charan of Hisar told us that this vehicle has been allocated to the police operating in Ratia district.
After this we contacted Amar Singh, Munshi of Ratia police station. He told us that the incident is couple of weeks old and took place in Ratia city. He also told us that these two men are not kidnappers. People suspected that these two were child kidnappers so they started trashing and beating them. We further investigated them and found out that they both are not kidnappers. Both men are from Madhya Pradesh, they disguised themselves as women in order to collect donations.
Conclusion: After checking the facts, we found the above post wrong. The two men seen dressed as women in the picture are not kidnappers. But infact they had disguised themselves as women in order to collect donations. Also as clarified by the police both the men hail from Madhya Pradesh and have nothing to do with the Rohingyas.

Title:This picture of two men who fake their appearances to collect donations is being spread on social media with the claim that these photographs are that of child kidnappers who belong to the Rohingya community.
Fact Check By: Ruchika M
Result: False