On 9 July 2019, a Facebook user named Dandiswami Jaydevangashram posted this video. The heading of this post says Muslims in Bhopal calls for unity and protest against RSS and Bajrang Dal. In this video, the mob from Muslim community was criticized for raising slogans against Rashtriya Swayamsevak Sangh (RSS) . According to news published by Firstpost Tabrez Ansari was lynched on suspicion of theft in Jharkhand's Seraikela-Kharsawan district. Before taking into custody by Police, Ansari was mercilessly beaten till 4 hours and was allegedly forced to chant "Jai Sri Ram" and 'Jai Hanuman". Tabrez Ansari died after 4 days on 22nd June. This video claims that this incident happened after Tabrez Ansari was lynched on suspicion of theft in Jharkhand.
People can also be heard raising slogans in favor of Ansari saying that there will be a revolution. They were heard shouting "Allahu Akbhar" and "RSS murdabad". They were shouting several other slogans like "Tabrez ke hatyaaro ko goli maron , Naar-e- Takbeer zindabad, Allahu Akbhar, Half pant ke logo ko goli maaro, Tabrez tumhara khoon kranti laega".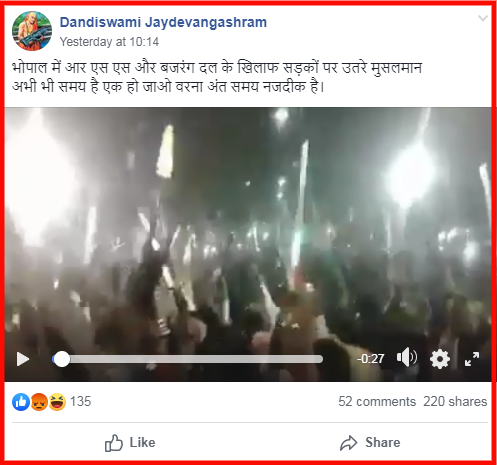 Initially in our investigation, we broke down this video using Invid Tool into small key frames. Using these key frames we conducted Google Reverse Image search. As a result, we found a YouTube video which was uploaded in 2017. The title of this video says "Muharram in Dehri 2017". Dehri is a city in Bihar. On breaking down the video, we found out that the video shows a Muharram procession in Dehri, Bihar and it is as old as 2017
The 27 second long video has no incendiary slogans like the ones raised in the viral video. On the contrary, a man can be heard making an announcement asking the crowd to keep moving forward and slowly. Towards the end, we can listen to the audio which is being addressed to the members of the Muharram community. A longer version of this particular Muharram procession has been uploaded by several other users on YouTube in 2017, which can be seen here.
We found that this particular video was uploaded on the internet way back before Tabrez Ansari died. The audio in the video has been tampered and the slogans are laid over.
We found another YouTube link in which this video has been shared using a different voice over. In the background of this video, a song on Baba Saheb Bheem Rao Ambedkar and slogans on Jai Bhim can be heard. This fabricated video was tampered and uploaded on YouTube in 2017.
We found another video in which groups of demonstrators were riding on motorcycles and shouting all those slogans that were used in the Muharram video that was made viral. The demonstrators were holding flags of Social Democratic Party of India. This party was formed in 2009.
Conclusion : After checking the facts, we found this to be a deceptive claim. The audio in the video has been fabricated. The aforementioned video is of a Muharram procession that was held in 2017 in which the people are seen carrying swords. The original audio has been tampered, to raise anti RSS slogans.

Title:This video was made viral after tampering its audio and inserting slogans against RSS
Fact Check By: Ruchika M
Result: False