Narrative on social media:
A Facebook page by the name of CPIM Commandos had shared an image of seriously wounded woman with injuries on her eyes and face claiming that the image of a female journalist, Nikita Rao who was attacked in Maharashtra for asking questions about development works carried out by Devendra Fadnavis led BJP coalition government in Maharashtra. The post claims that furious BJP workers thrashed the journalist for showing the audacity to ask questions to the government. Similar posts were found in Hindi and Marathi as well with a similar claim.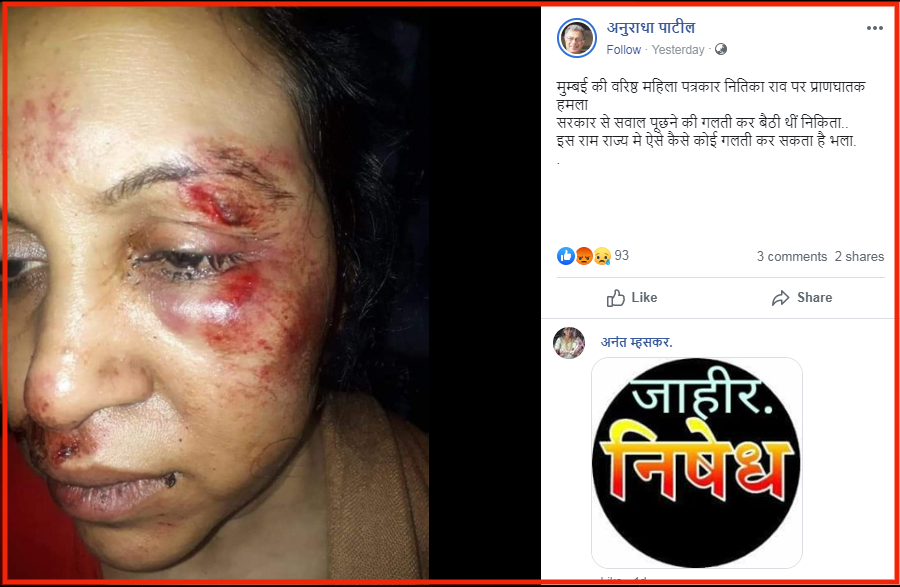 These posts claim that a female journalist Nikita Rao, was attacked in Mumbai after she asked question about the airplane that went missing at Indo-China border. In such a way, these images are being circulated around on Facebook with different narratives in different languages. Though the posts mention Nikita Rao as a senior journalist but no one has mentioned she works for which organization. Though the post was getting viral on social media, there was no buzz in the mainstream media about this serious incident. So, is this story true? Was a journalist named Nikita Rao attacked by BJP for asking questions against the government? Let's find out the truth.
Our Fact Check
We searched online for any news articles related with this incident but as mentioned earlier there were no such reports in the mainstream media. Only report we found out while searching on Google was about an incident that occurred last year in which a journalist from India Today group was attacked by devotees protesting against the entry of women in Sabarimala. Post which there were no news articles about a female journalist being assaulted for asking questions to the government about development. We searched on Google by her name and we found out an article by Asianet News, screenshot of which is given below:
In this article Asianet news states that the journalist was not attacked for political reasons or for being a journalist. She was attacked for her social activism. Asianet cites a report published by Fact Checking website Boomlive to which Nikita had given an interview and clarified the matter.
We found the fact check report published by Boomlive on their website, in which Nikita clarifies as follows: "I was fighting for the rights of a group of farmer in Kalyan who had been promised compensation by the owner of a building construction company. But after acquiring land, he refused to pay and was trying to scam the farmers. So I was defending the farmers' rights and had also confronted the builder. Four days ago, he sent his goons who attacked and beat me."
So it is evident that Nikita Rao was not attacked for asking questions to the government about development or missing airplane. Instead she was attacked by some goons which were allegedly sent by a local builder against whom Nikita was holding an agitation seeking compensation for farmers.
Conclusion
The claim made in the post that a female journalist was attacked in Maharashtra by BJP workers for asking questions to the government about development is false. The journo was injured in an attack which related to an agitation she was holding against a builder seeking compensation for farmers.

Title:Fact Check: Was a female journalist attacked by BJP for asking questions about development in Maharashtra…?
Fact Check By: Harish Nair
Result: False