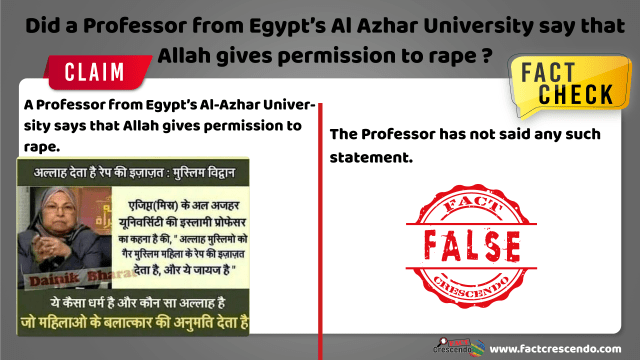 A Facebook user named 'Sandeep Singh Somwanshi' shared a post on 9 June 2019. The post as translated from Hindi quoted "If this is their religion, then it is poison for us brothers." As per this post's claim, a Professor from Egypt's Al Azhar University says that Allah gives permission to rape. Let us see what the facts are!
NARRATIVE ON SOCIAL MEDIA: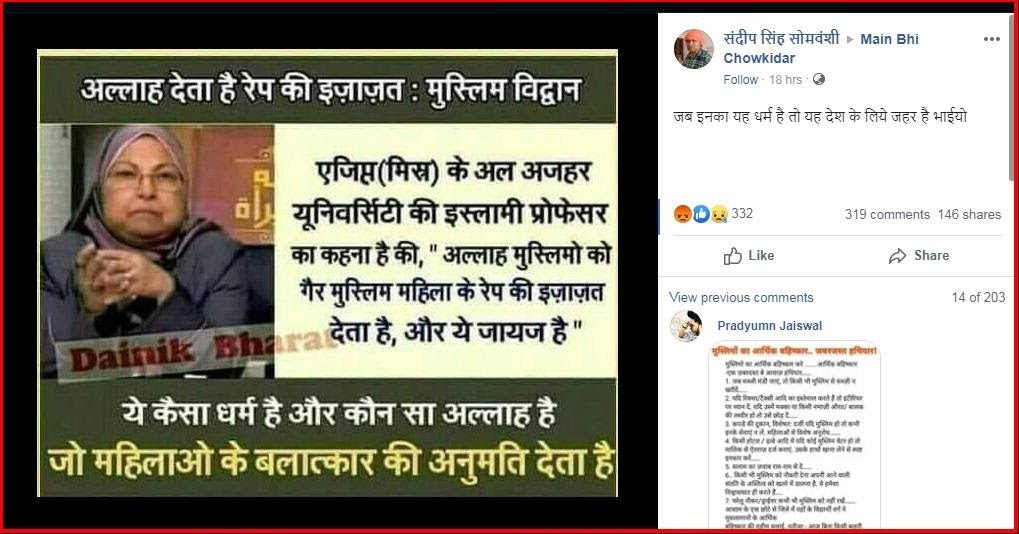 FACT CHECK:
We started our search by using 'Yandex' image search with the Photograph given in the post. What we got in the search is below: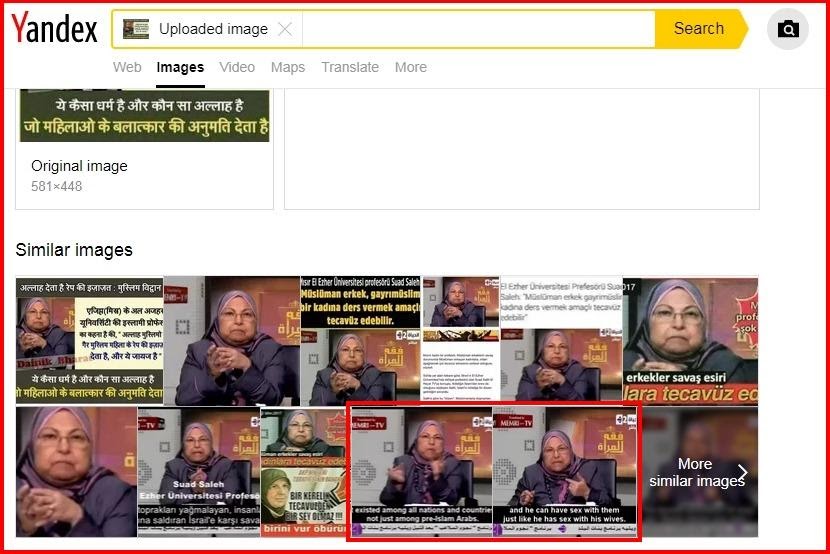 We found many narratives of with the same image of the Lady Professor, as shown in the post. Out of all the narratives, we found a website named 'Videoindirelim' in which we found the video depicting the same Lady Professor.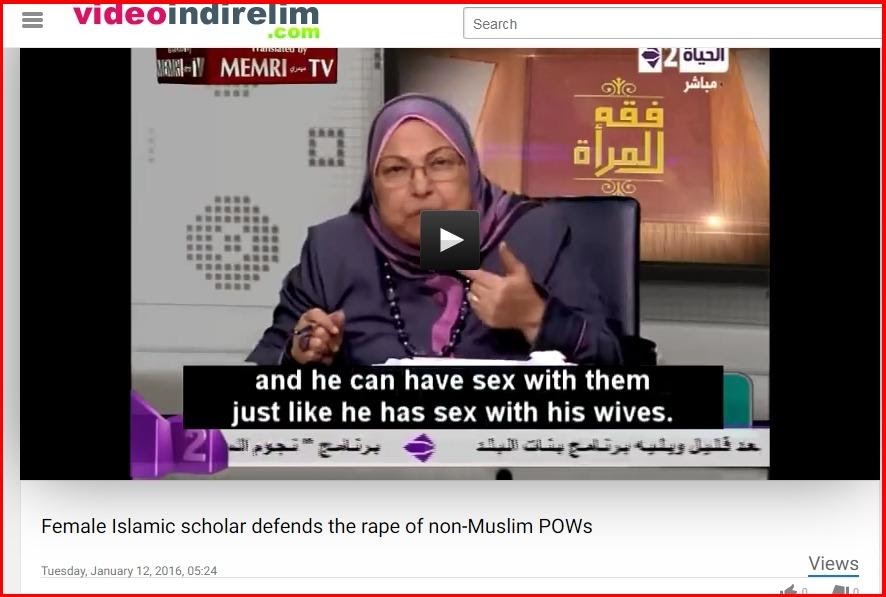 On 12 January 2016, this uploaded video was published with the headline "Female Islamic scholar defends the rape of non-Muslim Prisners of Wars". In this video, we saw 'MEMIRI TV' written on the top-left corner of the video screen.
We searched on 'Google' with 'Memri TV' key words and found the official website of this TV channel.

When we searched on this website, we came across a similar looking video published on 12 September 2014. The Video headline said Al-Azhar's Professor Suad Saleh: In a Legitimate War, Muslims can capture slave girls and have sex with them. This video was identical to the video shared by 'Videoindirelim'.

When we heard the video entirely, we found out that Professor Suad Saleh was stating the culture of Slave girls in the olden days. She stated that Slavery existed even before Islam. Anyone could trade in freeborn men and women. This was termed as 'Selling of Freeborn People'. She compared this to human organs or human trafficking carried out today.
When Islam emerged, (in order to put slavery in order) Islam stated that only if the war is a legitimate war, then only the prisoners from the war might be slaves. However, the war has to be legitimate and waged against the enemies.
She further said that these days some opportunists and extremists, who only harm Islam, say that they will bring woman as slaves from East Asia, seek permission from their wives and then keep the slave woman in the house to have sex with her.
However, she says that this is completely against Islam. Islam says, a woman is either a wife or a slave girl and you can own someone as your slave girl only if you catch the woman as a prisoner – through a legitimate war.
None of Allah's legal texts or Quran says anything related to this. It should not influence us at all. Nowhere in the video did we find her say that 'Allah gives permission for rape'. To read the entire article, please click on the link given below.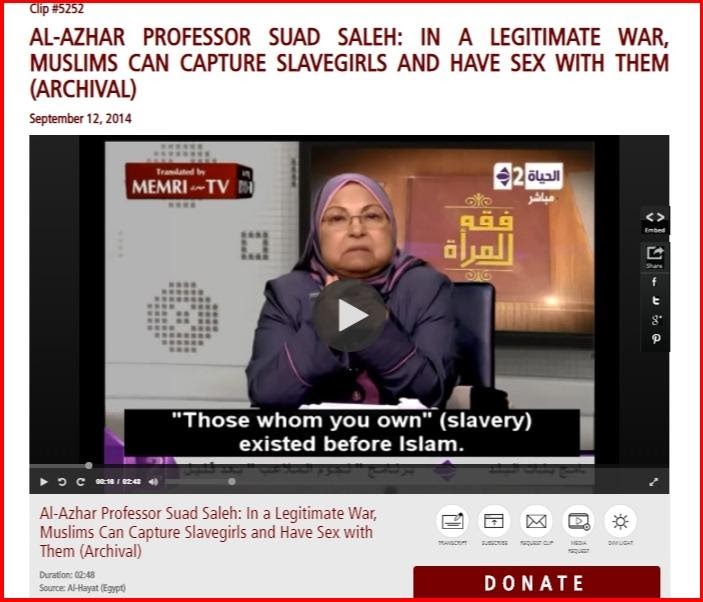 Based on the evidences we can confirm that the Lady Professor has not made any such statement.
IN CONCLUSION:
Fact Crescendo has fact checked and confirms that the photograph is being share in the post with a wrong narrative. We categorise the story as FALSE.
FactCrescendo advises its readers to refrain from sharing such misleading and communally biased photographs and do a self-check on the true narrative of such incidents before believing them.

Title:Did a Professor from Egypt's Al Azhar University say that Allah gives permission to rape ? Fact Check!
Fact Check By: Nita Rao
Result: False