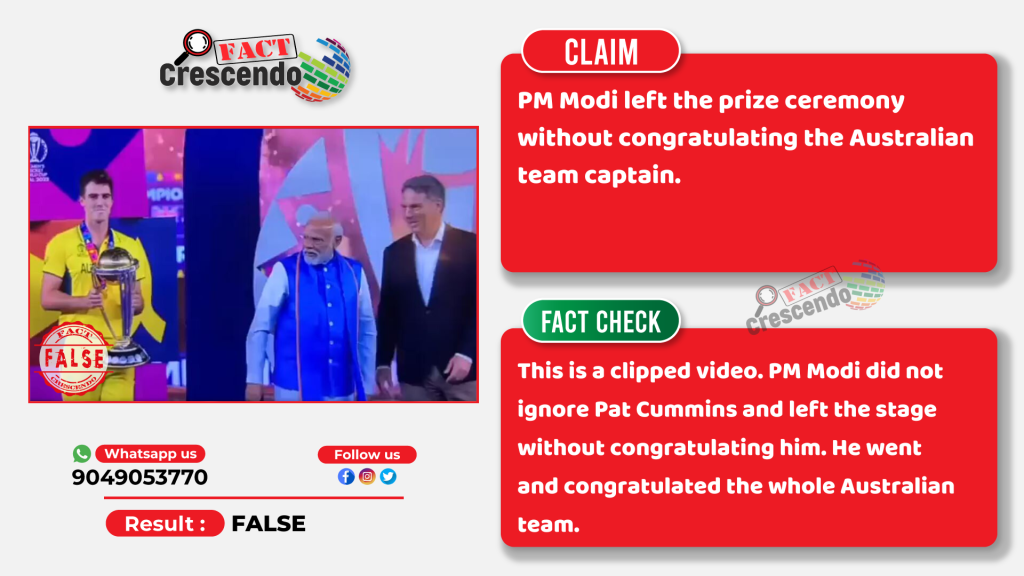 CWC 2023 final was played between India and Australia in Narendra Modi stadium in Ahmedabad on 19 November. Australia won the World Cup trophy defeating India. A video of the post match prize ceremony is going viral on social media. In this video, Australia's captain Pat Cummins can be seen holding the trophy. PM Modi can be seen looking at Pat Cummins and walking away from the stage.
Social media users are claiming that PM Modi left the stage without congratulating and clicking photos with the winning captain Pat Cummins.
However, Fact Crescendo found the claim to be false. Only a small clip from the original video was shared to defame PM Modi.
What's the claim? 
Sharing the video, one social media user wrote that PM Modi is always ready to be photographed but he did not wait to be photographed with the Cricket World Cup winning captain. This kind of hospitality is not an Indian culture.
Fact Check- 
To know the fact, we found the replay of the whole final match between India and Australia in Hotstar. We found that, during the prize distribution ceremony. Around 10.14 hours, we heard Ravi Shastri announcing PM Modi's name and invited him to the stage to present the World Cup trophy to the winning captain Pat Cummins. We could see PM Modi shaking hands and congratulating Pat Cummins.
Hotstar Link
https://www.hotstar.com/in/sports/cricket/icc-mens-cricket-world-cup-2023/993/replay-final-ind-vs-aus/1540025305/replay/watch?filters=content_type%3Dsport_replay
We also found the prize distribution ceremony highlights video uploaded by a YouTube user. In this video at 6.25 minutes timestamp, we could see PM Modi walking towards the stage. He then congratulated Australia's captain, shook his hands and presented him the trophy. After this, he went ahead to congratulate the whole Australia team.
Below you can see the comparison video between the viral clip and the original video.
We also found a tweet by PM Modi in which he congratulated the Australia team. He wrote, "Congratulations to Australia on a magnificent World Cup victory! Theirs was a commendable performance through the tournament, culminating in a splendid triumph. Compliments to Travis Head for his remarkable game today."
Conclusion: 
Fact Crescendo found that the viral video was clipped from the real video. PM Modi did not ignore Pat Cummins and left the stage without congratulating him. He went and congratulated the whole Australian team.

Title:Did PM Modi leave the prize ceremony without congratulating the Australian team captain? Know the truth. 
Written By: Siddharth Sahu
Result: False