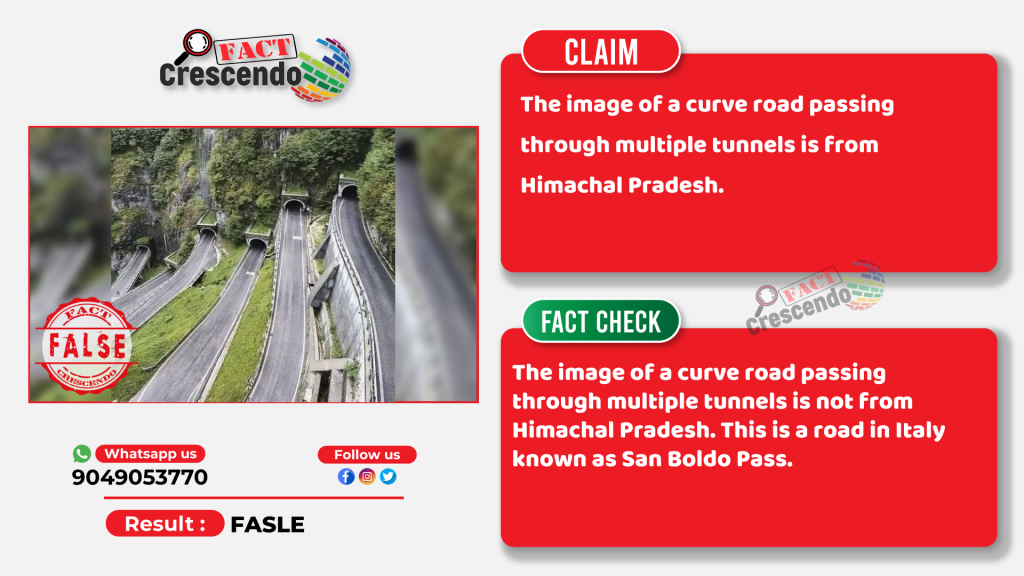 Recently, an image of a beautiful road passing through multiple tunnels in a hilly region is going viral on social media. It was claimed that this road is located in the state of Himachal Pradesh. 
However, fact Crescendo found the claim to be false. This is an image of a road from Italy and not Himachal Pradesh
Fact Check-
A Google Reverse Image Search led us to the same image posted by a user on Facebook in 2020. It was mentioned in the post that this image is of El Paso de San Boldo tunnel which connects Valmareno and Vaneto regions in Italy.
Taking a clue from this, we searched Google using various keywords. We found the same image on a website. According to the information, the San Boldo Pass is a small mountain pass in Veneto in Italy. The total distance of the road passing through tunnels in a curve shape is 17km. This road was reconstructed by the Astro-Hungarian army in 1918 as a part of World War 1 logistical efforts. This road is also known as the 'Road of 100 days' because of the short construction period. Prisoners of war, elderly women, and local children were used for the construction of this road. It was mainly used for military purposes.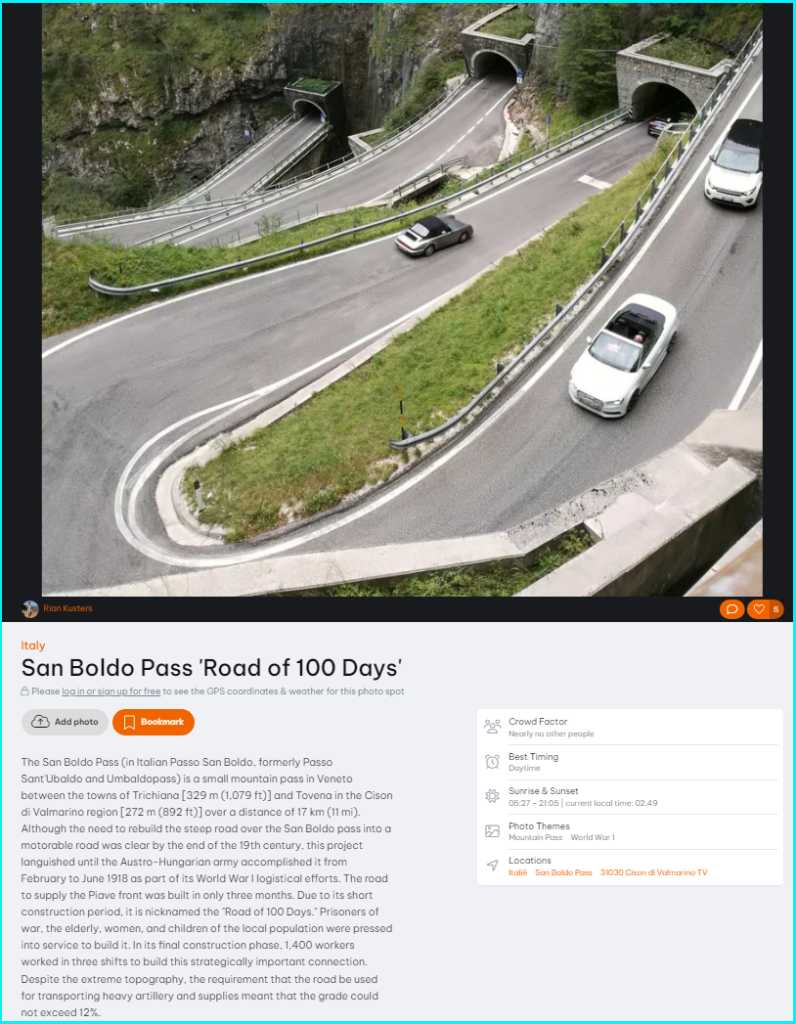 Below you can see the location of the road. 
https://en.mapy.cz/zakladni?m3d=1&height=279&yaw=-176&pitch=-63&source=osm&id=16298160&x=12.1698392&y=46.0044435&z=19
We also found a video on YouTube which was uploaded 6 years ago. After 1.30 minutes' timeframe of this video you can see the different visuals of the San Boldo Pass road. In the description of this video, it was mentioned that this is a 17 km-long road and also known as SP 635. Only one lane on this road is passable and the speed limit is 30km/hr. There are a total of 5 tunnels on this road. 
Conclusion: 
Fact Crescendo found the claim to be false. The image of a curve road passing through multiple tunnels is not from Himachal Pradesh. This is a road in Italy known as San Boldo Pass.

Title:This is not an image of a road from Himachal Pradesh. It is from Italy.
Written By: Siddharth Sahu
Result: False