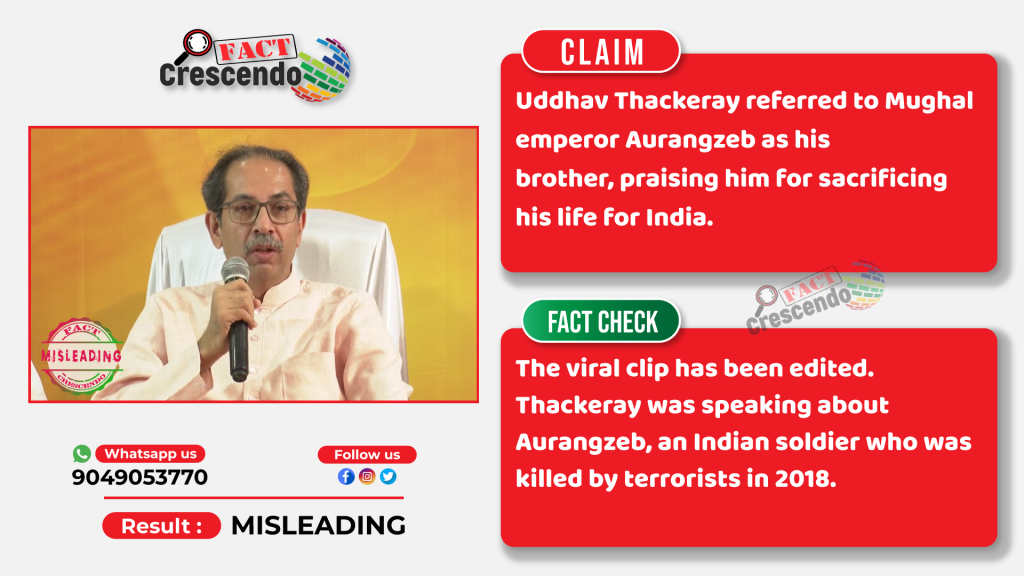 Social media users are sharing a video that appears to show Uddhav Thackeray referring to one Aurangzeb as his brother. It has been claimed that Thackeray praised Mughal emperor Aurangzeb by calling him a patriot and martyr.
Fact Crescendo received the viral video on our WhatsApp Tipline (9049053770) with fact-check requests.
We found that the purported video is clipped and shared out of context. Thackeray did not praise or refer to Mughal king Aurangzeb as 'brother'.
WHAT'S THE CLAIM?
The clip, which was shared on Facebook and Twitter, shows former CM Uddhav Thackeray speaking to a cheering crowd.
"I called Aurangzeb my brother. Though he belongs to a different religion, he died for this country," says Thackeray in the 30-second clip.
"Everyone loses their wits once they come in contact with Congress," reads the text above the clip.
FACT-CHECK
Keyword searches revealed that the viral clip of Uddhav Thackeray is taken from a speech he recently gave at a gathering in Mumbai.
On 19 February, Thackeray held an interaction with members of the north Indian community settled in Mumbai.
The event was broadcasted live on Thackeray's Facebook page. In the video given below, you can listen that Thackeray was talking about an Indian soldier named Aurangzeb who was killed by terrorists in Jammu and Kashmir.
Explaining how his understanding of Hindutva is different from BJP's, he gave the example of a soldier Aurangzeb.
"There was a soldier in Kashmir. He was kidnapped by terrorists when he was going home on leave. He was tortured and after a few days his mutilated body was found," says Thackeray.
"Was he not one of us? He sacrificed himself for the country. If I call him my brother, you would object whether I know his name. His name was Aurangzeb. He was Muslim and he gave his life for India. Isn't that make him our brother? He was our brother. This is my Hindutva."
Further, Thackeray accused BJP of using Hindutva for vote politics and creating needless communal issues. He said he didn't accept BJP's Hindutva which divides people.
In the comparison video below, it is evident that the reference to Aurangzeb being an Indian soldier has been deliberately omitted from the viral clip. By leaving out this significant information, it is unclear which Aurangzeb Thackeray is referring to in the speech.
Hence, the clipped video is misleading and does not provide an accurate representation of the original video.
Who Was Indian Soldier Aurangzeb?
According to NDTV, Aurangzeb was abducted in Pulwama and later killed by armed terrorists on June 14, 2018, when he was on his way back home in Poonch to celebrate Eid with his family. He was a rifleman in the army's 44 Rashtriya Rifles.
CONCLUSION
The claim that Uddhav Thackeray sang praises to Mughal Emperor Aurangzeb and called him his brother is false. Thackeray was talking about an Indian soldier Aurangzeb who was killed by terrorists in 2018.
The selectively clipped clip can mislead people by editing the content and misrepresenting the facts. If you come across any news, videos, or images that seem too good (or bad) to be true, don't hesitate to send them our way. Our team of fact-checkers will look into it and then share our findings with you. Together, we can fight the spread of fake news and misinformation.
Our WhatsApp number is 9049053770. To stay updated, follow us on Facebook, Twitter, or Instagram.

Title:CLIPPED VIDEO: Why Did Uddhav Thackeray refer Aurangzeb as Brother
Fact Check By: Mayur Deokar
Result: MISLEADING