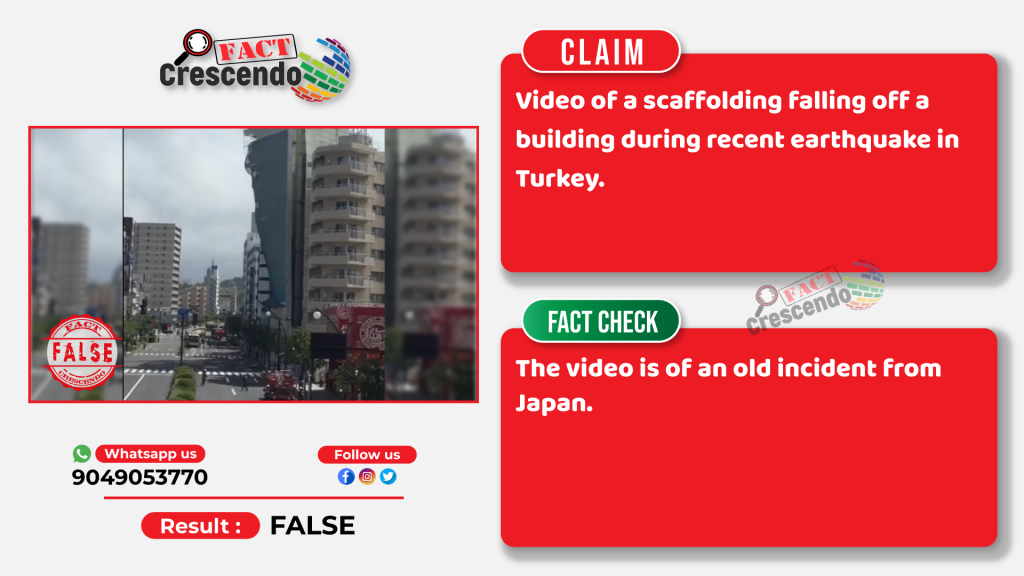 Disturbing visuals continue to surface from Turkey after a series of massive earthquakes hit the Eurasian country and its neighbours like Syria. However, many videos on social media were found to be unrelated to Turkey.
One such video shows a scaffolding falling off a building on a street. However, we found that this video is not from Turkey. In fact, the video is almost 7 years old. Let us check out the misinformation on social media spread along with this video and the actual context of the incident seen in the video.
Viral Video
In the above tweet, you can see a scaffolding falling off a building on a street. The caption accompanying the video says the following: "Horrific videos emerging from #tuerkiye of the devastating earthquake building crumbles down in mere seconds"
However, we can see that in the video the other buildings are unaffected contrary to what would happen during an earthquake. So, is this video actually showing us visuals of an earthquake? Let us fact check this video and find out.
Fact Check
We took some screenshots of the video and did a Google reverse image search with it. From the results, we found out that the video is over 6 years old. Thus, it cannot be the visuals of the recent earthquake in Turkey.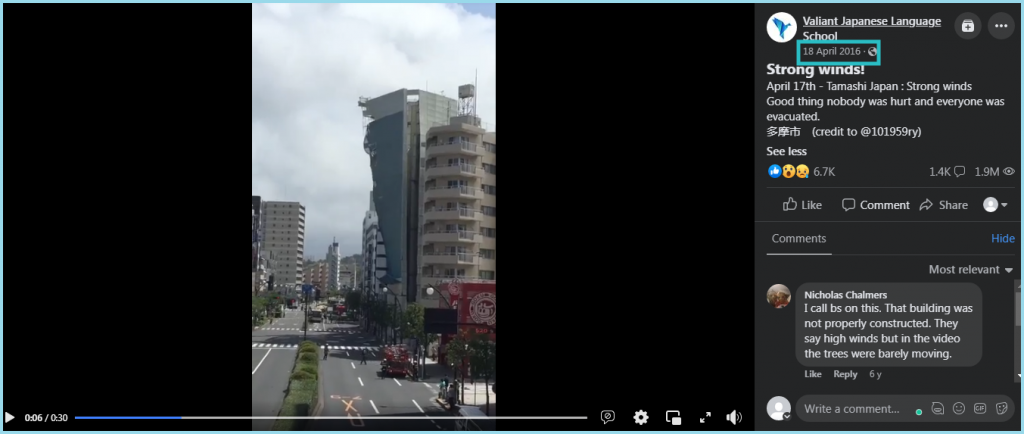 In the screenshot of the Facebook post, we can see that the video was posted in April 2016. Hence, this video cannot be taken during the recent earthquake in Turkey. As per the Facebook post, the video is from Tamashi, Japan where a scaffolding came off a building due to strong winds.
Tama is an area in Tokyo, Japan. Using the information, we did a keyword search on Google. This led us to this news published by a Japanese news website Asahi news. You can watch the incident from another angle in a video published by Asahi news on their YouTube channel.
As per the news, the building was at a demolition site in Tama, Tokyo near Seiseki-Sakuragoaka Station on Keio line. Due to strong winds, the scaffolding of the building came off on April 17, 2016. There is no mention of any loss of life. If we observe closely, we can see a building of what appears to be a food joint similar to the one we see in the viral video. The logo of the food joint has Goku written on it. A comparison of the stills from both the videos can be seen below.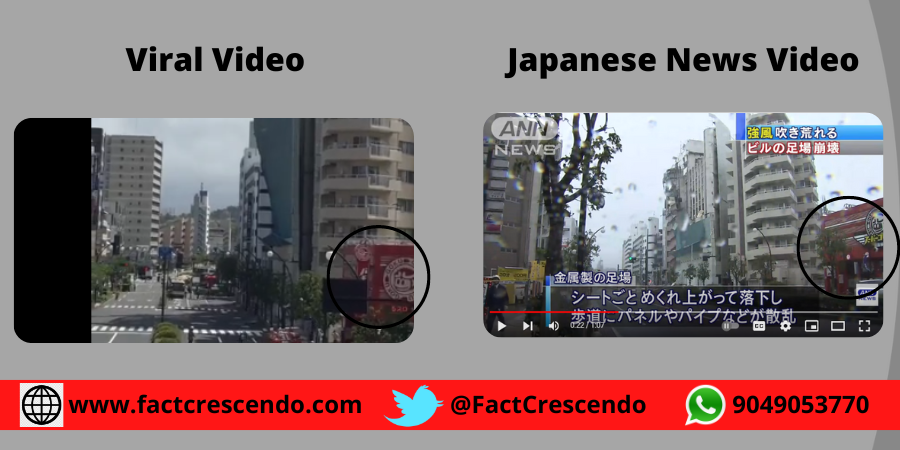 We can see the same red coloured building in both the videos. The building next to it is also similar to the building seen next to the one whose scaffolding fell off. Thus, both the videos are taken at the same location.
Conclusion
The video being shared as scaffolding of a building falling off due to earthquake in Turkey is more than 6 years old. The video is from Tokyo, Japan where a scaffolding of a building fell due to strong winds in 2016.

Title:Old Unrelated Video from Japan Shared as Building Collapse in Earthquake-Hit Turkey…
Fact Check By: Harish Nair
Result: False