A photo was posted on Pakistan's former Prime Minister Imran Khan's official Twitter account in 2014  and does not show the aftermath of the shooting of Imran Khan in November 2022.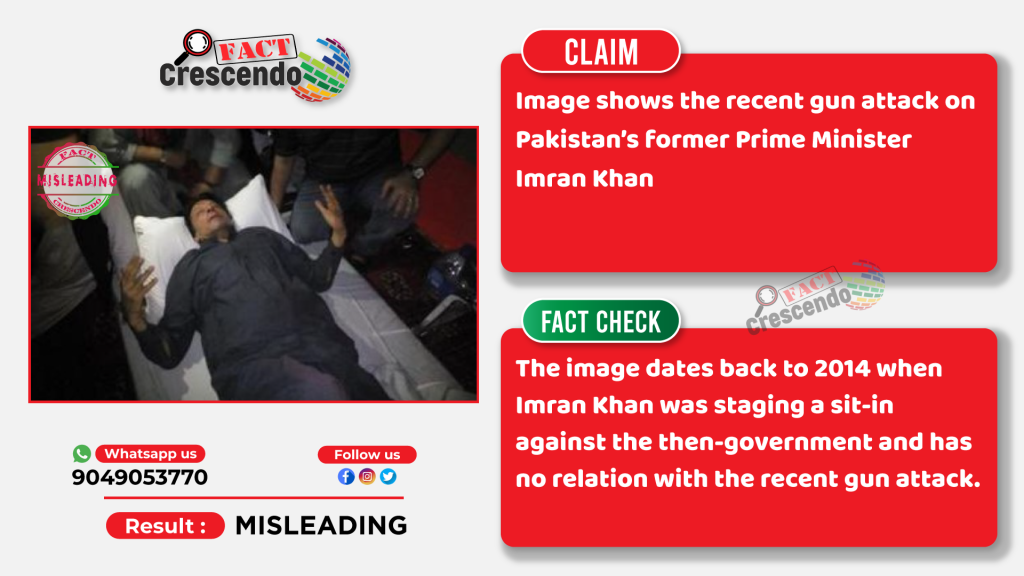 Imran Khan, Pakistan ex-Prime Minister got injured in the leg when unidentified gunmen fired during a protest march rally in Wazirabad in Pakistan. In which he and several of his supporters were hurt. He was rushed to a hospital in Lahore and is now out of danger.
In this situation social media is surfaced with an image of the ex-cricketer in dark clothing laying down on white sheets with his hands raised in the air. It is being claimed that those pictures were taken after the incident.
The caption of the post states, #PTI chairman #ImranKhan shifted to Shaukat Khanam Hospital in #Lahore in injured condition after assassination attempt on him during long march in #Gujranwala. 
Some tweets had the caption "Praying for your speedy recovery. God bless you my leader#Imran Khan 3Firing #PTILongMarch"
Fact Check-
We began our investigation by conducting a reverse image search on Google, which led us to this image shared by former Pakistan Prime Minister Imran Khan on his own verified Twitter handle on August 17, 2014. In it he wrote, "Night at the dharna". You can view that tweet below.
Further search revealed information concerning this image. According to the Economic Times "Khan had launched the protest in Lahore on August 14 and brought thousands of his supporters to sit-in in front of the parliament in Islamabad to force the government to hold an impartial probe in allegations of fraud in the election which his Pakistan Tehreek-e-Insaf party (PTI) lost". On December 17, 2014, he made the decision to end his nearly four-month-long protest against the then Pakistan government following a terror attack in Peshawar.
Conclusion-
Fact Crescendo has found the claim made along with the viral image to be Misleading. The viral image does not related to the recent attack on Former Pak Prime Minister Imran Khan on November 3, 2022, The image dates back to 2014.

Title:Image from 2014 shared as visuals after the recent attack on Imran Khan
Fact Check By: Usha Manoj
Result: Misleading