The first images shows a Metro inauguration in 2019 and another one is Vande Bharat Express inauguration in 2022
A photograph of Prime Minister Narendra Modi launching a train has gone viral on social media. Social media users who shared this image claim that he inaugurates the same train twice: once in 2019 and again in 2022.
The FB post came from the verified account of the National Spokesperson of the Indian National Congress, Rohan Gupta with the caption "Double engine Government's same work double inauguration".(English Translation)
However, when we investigated we found this to be false. Let us look into the truth of this propaganda.
Fact Check
First, we checked the Prime Minister's official verified social media handles, and there was a tweet on September 30 regarding his journey on the Vande Bharat Express, complete with some photographs. The second image in the post post can be seen on PM Modi's tweet.
The tweet reads, "Travelled on board the Vande Bharat Express! It was a delight to meet women start-up entrepreneurs, talented youth, those associated with the Railways team and those involved in building the Vande Bharat train. It was a memorable journey."
Later in our search we found a video of Modi inaugurating the Vande Bharat Express on the YouTube channel of NDTV on Sep 30, 2022 with the caption "PM Modi Flags-Off Vande Bharat Express From Gandhinagar To Mumbai"
The description of the video reads "Prime Minister Narendra Modi today flagged off the Gandhinagar-Mumbai Vande Bharat Express semi-high speed train. PM Modi flagged off the train from Gandhinagar Capital railway station around 10:30 am".
The same viral image was also posted by ANI on 29 September 2022.
Later, we conducted a search for the first picture using the reverse image search and which led us to a report by Deccan Herald on 4 March 2019 with the caption "Modi flags off Ahmedabad Metro phase-1, takes a ride".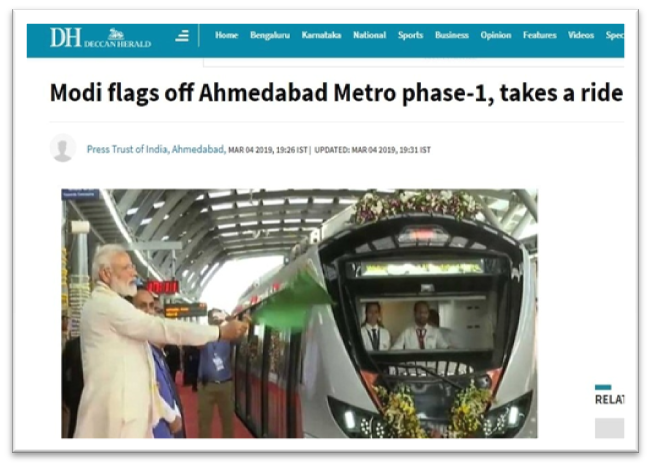 Taking into account of all these information, it is clear that the first picture is the inauguration of the first phase of the Ahmedabad Metro in March 2019, and the second picture is the launch of the Vande Bharat Express in Gandhi Nagar on September 30, 2022. 
The Vande Bharat Express is semi-High speed self-propelled train set of 16 coaches. The train reaches 160 kmph speed in just 140 seconds and is designed for long distances. It was released from Chennai's Integral Coach Factory (ICF). While Metro trains are designed to carry less number of passengers over a short distance.
Conclusion-
Fact Crescendo found that the viral images are of PM Modi's inaugurations in two different years. One is to flag off the Metro in 2019 and another is to flag off the Vande Bharat Express in 2022. Thus the claim made by social media users is misleading.

Title:No, PM Narendra Modi has not inaugurated the same train twice.
Fact Check By: Usha Manoj
Result: Misleading