Video from Poland in 2020 showing starlink satellite shared as one from Uttar Pradesh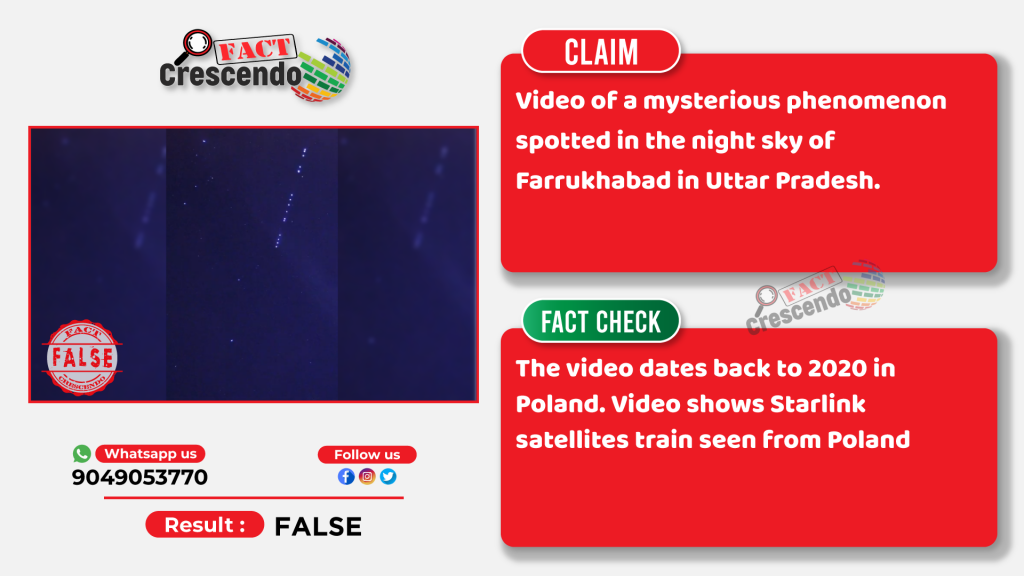 Recently, residents of Uttar Pradesh witnessed a strange and mysterious sight in the night sky. People were surprised to see a line of bright light in the sky. People assumed that the lights were SpaceX's Starlink satellites. Starlink is the name of a satellite network created by Elon Musk's SpaceX Company.
Following this mysterious phenomenon many photos and videos are surfacing on social media. A video of a train of slow moving lights making its way through the in the night sky has gone viral with the claim that it is from Farrukhabad district of Uttar Pradesh caught our attention.
The same video is also being shared on Twitter.
Fact Check-
We started our investigation by running a reverse image search on Google, the results led us to the same video posted on YouTube on a channel named Night Sky. The caption of the video uploaded on 11 January 2021 states, "Starlink satellites train #Shorts." According to the description of the video, it shows the Starlink satellites train seen from Poland.
From this , we can clearly understand that it is an old video from Poland and not from Uttar Pradesh.
In further search, we discovered that the same YouTube channel shared a longer version of the video on August 11, 2020. The only difference between the two is that the video in the shorter version has been sped up. According to the channel, the video was shot on August 10, 2020. The description states, 'Starlink cosmic train passes over Poland! Starlink at night 10.08.2020 at 3:13. Full flight from west to east. Starlink Train admire while satellites are close together.'
What is the Starlink satellite?
Starlink is a satellite constellation n being constructed by SpaceX in order to provide satellite Internet access. According to earth sky the Starlinks are bright and people can see them in the night sky. They create what's being called a mega constellation, that is, groups of satellites moving together. According to BBC, SpaceX started launching starlink satellites in 2019. Starlink project provides internet services via a huge network of satellites revolving around the earth in Low-level orbit.
Recent visuals and media reports about Starlink satellite train spotting in Uttar Pradesh can be seen here, here, and here.
Conclusion
Fact Crescendo found that the video was shot in Poland two years ago, not in Uttar Pradesh. As a result, we can conclude that the claim is false.

Title:Starlink satellite spotted in Poland shared to be from Farrukhabad in Uttar Pradesh
Fact Check By: Usha Manoj
Result: False