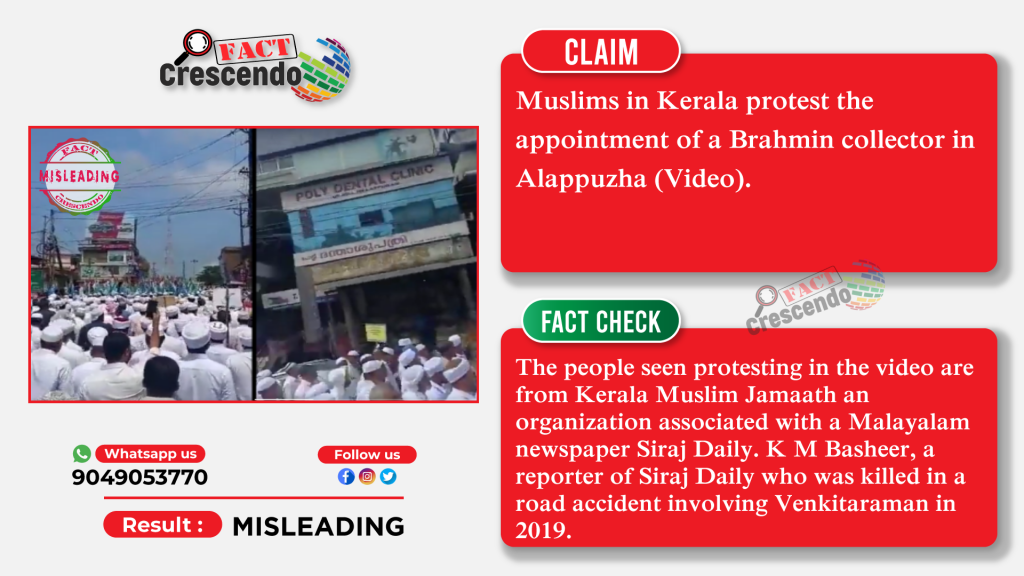 A video of Muslims protesting in Kerala was shared by Twitter account of Indu Makkal Katchi (Offl) alleging that these Muslims are protesting in Alappuzha against the newly appointed collector of the district, Sriram Venkitaraman, because he is a Brahmin.
However, we found that the allegation is untrue and misleading. The protesters took out a march against the collector not because of his caste. The protestors took out a march against Venkitaraman because of a two year old drunk and drive case in which a local journalist in Thiruvanthapuram was killed.
You can see the tweet by Indu Makkal Katchi (Offl) Twitter account below:
In the tweet, it is being claimed that the video is from a protest from 'Allepy' (misspelled Alleppey – old name of Alappuzha) in Kerala. It further alleges these Muslims are protesting against their new collector because he is a Brahmin.
The protestors can also be heard chanting slogans in Malayalam. The slogans can be roughly interpreted as follows: "Take back your decision, government. Call back the drunkard murderer collector…"
Let's find out why was this protest convened and what was their demand.
Fact Check
We did a keyword search using relevant keywords related to the video. We found a news report published by the Hindustan Times. As per the article, Kerala Muslim Jamath organized the protest. The protest was organized across Kerala against the appointment of new Alappuzha collector, Sriram Venkitaraman.
Venkitaraman who assumed office of Alappuzha district collector on July 26, was accused of drunk driving which led to the death of a journalist, K M Basheer in 2019. The collector was returning from a party along with a friend, Wafa Firoz when his car hit K M Basheer's two wheeler. Basheer was a senior journalist, who worked for Malayalam newspaper Siraj Daily. AP Samastha foundation headed by Kanthapuram AP Aboobacker Musliyar, runs Siraj Daily. Kerala Muslim Jamath, who organized protests against Sriram, is also affiliated with Samastha.
In addition, when we observed the video closely, we found that the video is not from Alappuzha but Malappuram. At 0:22, we can see the name board with Beauty Spot written on it. The address is written right below it says, Up Hill, Malappuram.
We were also able to locate Poly Dental Clinic (also seen in the video) in the same locality, i.e., Up Hill, Malappuram. Thus, it is clear that the video was not shot in Alappuzha but Malappuram.
We spoke Kerala Muslim Jamaath State Secretary, Wandoor Abdul Rahman Faizy, who had also inaugurated the protest march in Malappuram. He told us that, "the march was organized to protest against government's decision to appoint Sriram Venkitaraman, as Alappuzha collector. This march had nothing to do with Venkitaraman's caste. The video is also not from Alappuzha but from Malappuram and similar kind of protests were organized across Kerala. We were protesting against Venkitaraman for 2019 incident of drunk driving where journalist K M Basheer was killed after a fatal collision with the car, Venkitaraman was driving."
Conclusion
The video shared by Indu Makal Katchi's twitter account is not of Muslims protesting against appointment of a Brahmin Collector in Alappuzha. The video is from Malappuram and Kerala Muslim Jamaath organized the protest against newly appointed Alappuzha collector Sriram Venkitaraman. Sriram Venkitaraman was involved in a road accident in which, K M Basheer, the Thiruvanathapuram Bureau chief of Siraj Daily – a newspaper associated with the Kerala Muslim Jamaath. Owing to this reason, the Jamaath had organized protests across Kerala against the state government for appointing Venkitaraman as Alappuzha district collector.
Update
IAS officer Sriram Venkitaraman, who was appointed as Alappuzha District Collector last week, has been removed from this post. Instead, he will now be appointed as General Manager, Civil Supplies Corporation.
Source : Onmanorama

Title:Muslim organization protesting against Alappuzha collector S. Venkitaraman shared with misleading narrative…
Fact Check By: Harish Nair
Result: Misleading