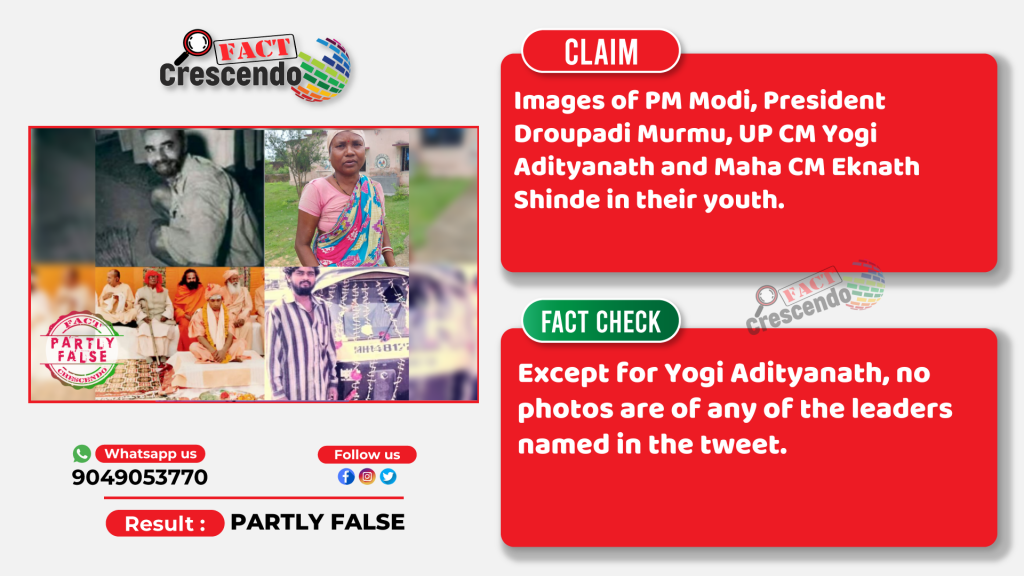 Four images claimed to be of Prime Minister Narendra Modi, President Droupadi Murmu, UP Chief Minister Yogi Adityanath and Maharashtra Chief Minister Eknath Shinde in their youth are going viral on Twitter.
However, we found the images to be either altered or unrelated. Let's check out the reality of these photos.
Viral Photographs
Four photos are going viral on social media. These photos are claimed to be the photos of PM Modi, President Murmu, UP CM Yogi Adityanath and Maha CM Shinde respectively in their youth. You can see one of the tweets on Twitter below sharing these four images.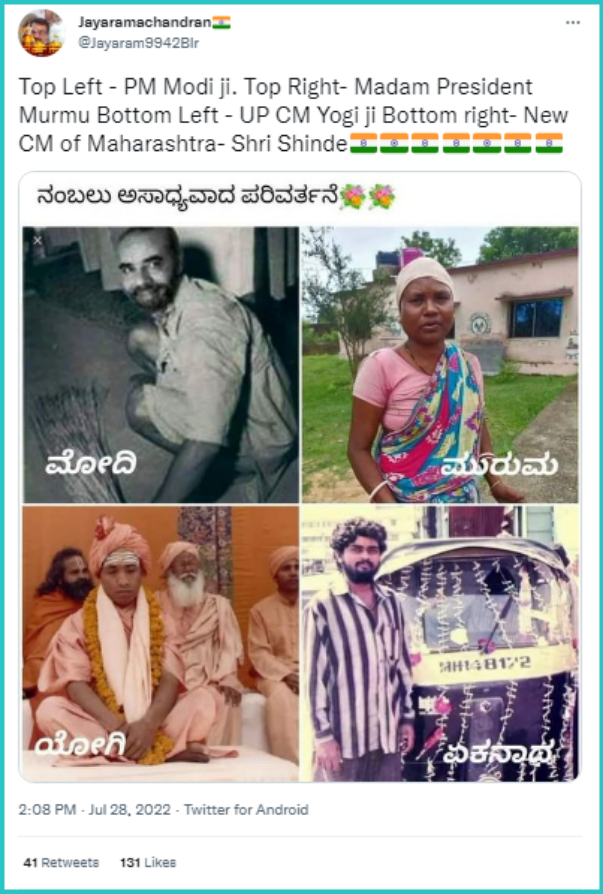 The tweet above claims that these are the photos of young PM Modi, President Murmu, Yogi Adityanath and Eknath Shinde and their humble origins. The text etched on each photo in Kannada also claims these are the photos of Modi, Murmu, Yogi and Shinde respectively. Let us check how much truth these claims hold by verifying the photos.
Fact Check
The first photo claimed to be of PM Modi sweeping the floor is an old photoshopped image that was debunked time to time again by fact-checkers. The image of Modi sweeping the floor is edited. The original photo is an archive photo available on stock image websites.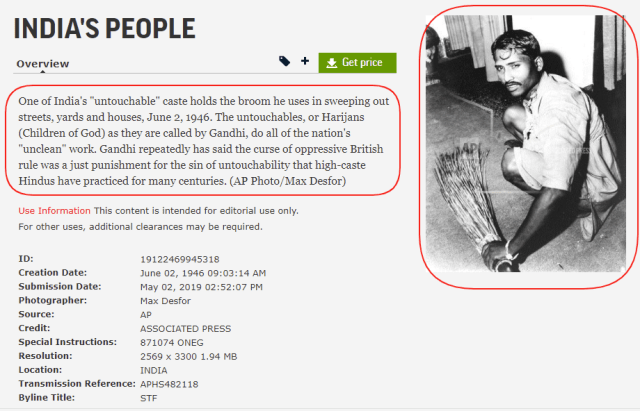 Thus, it is evident that the fake photo was created by editing the above stock image. As per the description on the stock image website, Max Desfor for AP took original photo in 1946. The photo is of a Harijan from pre-independent India sweeping floor of a house.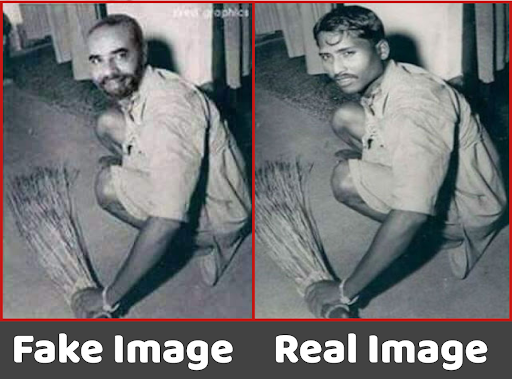 In 2016, an RTI response too confirmed the image allegedly showing PM Modi sweeping in his youth is morphed. We have previously fact checked this image on multiple occasions and you can read our fact check reports on this image in the following languages.
Gujarati | નરેન્દ્ર મોદીના ઝાડુ લગાવતા ફોટોનું જાણો શું છે સત્ય…
Tamil | மோடி பற்றி மீண்டும் மீண்டும் பரவும் போலியான புகைப்படம்!
The second image that is claimed to be of newly elected President of India Smt. Droupadi Murmu is also not related to her. We did a Google reverse image search of the image and found the image in a report published by News18 report by Rupashree Nanda. The report has many interviews of people associated to President Murmu. One of the persons interviewed was Sukumar Tudu, a safai karamchari at a primary health center in Uparbeda, Odisha. Her image is being shared as young Droupadi Murmu.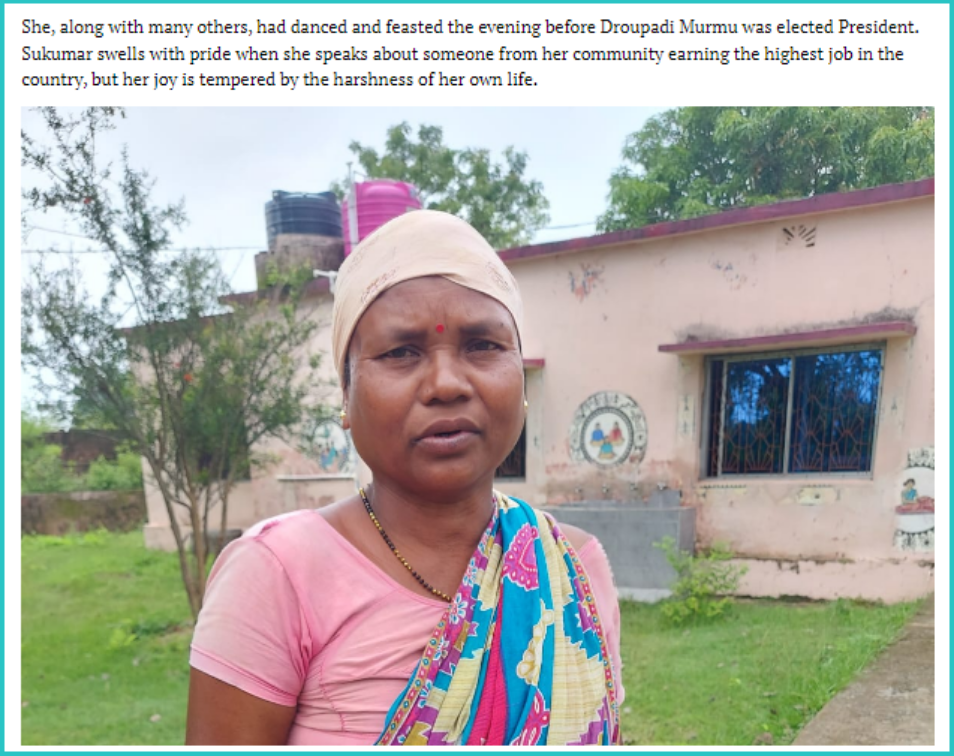 Read the full report here – News18 | Archived Link
The third image in the collage is indeed of Yogi Adityanath. In 1994, a young Ajay Singh Bisht received 'deeksha' and was rechristened as Yogi Adityanath. It was during this ceremony that this picture was taken.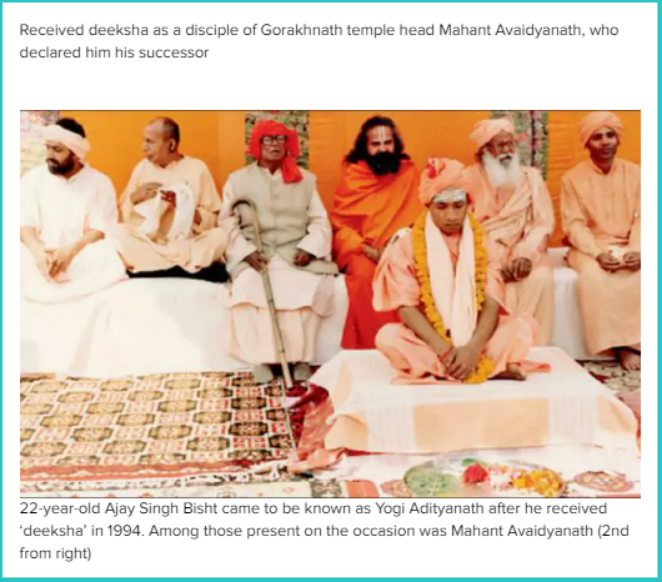 The final photo is not of the current Maharashtra CM Eknath Shinde in his youth. Eknath Shinde used to drive an auto-rickshaw in Thane to make ends meet when he was young. However, the man seen in the photo is not Eknath Shinde but a rickshaw driver in Pune named Baba Kamble.
In his interview to Mumbai Tak, Kamble confirms that the person seen with the auto-rickshaw in the viral photo is he. The photo was taken in 1997, after he had bought the auto-rickshaw and performed a Pooja. You can watch the interview in the video given below.
Conclusion
Three out of the four photos in the collage are not related to the politicians named against them. The photo of PM Modi is an old morphed image. Whereas the photos alleged to be of Eknath Shinde and President Droupadi Murmu respectively are not related to them. They are of different people. Only image, which is accurately labeled, is of UP CM Yogi Adityanath.

Title:Altered and Unrelated Photos go Viral as Photos of PM Modi, Prez. Murmu and Maha CM Eknath Shinde in their youth…
Fact Check By: Harish Nair
Result: Partly False