The viral image is edited and has no relation with Nupur Sharma's remarks on Prophet Mohammad.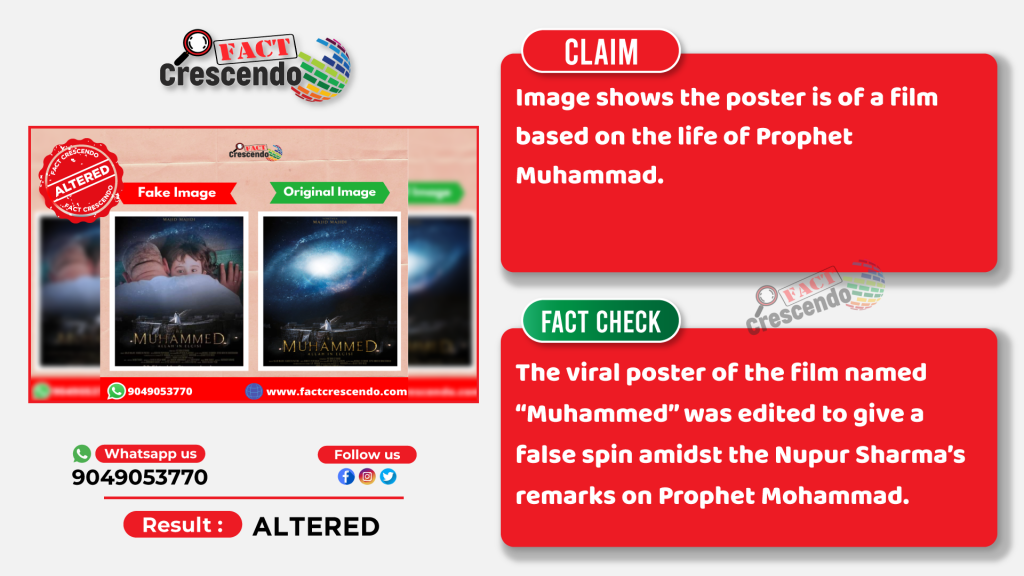 An image of a movie poster named "Muhammed" is widely circulating on social media amidst controversy around former BJP's spokesperson Nupur Sharma's derogatory statement on Prophet Mohammad. Users claim that this poster is of a film based on the life of Prophet Muhammad. The poster shows a man lying on top of a child.
The caption states, "When the trailer and poster is like this imagine how the film will be?"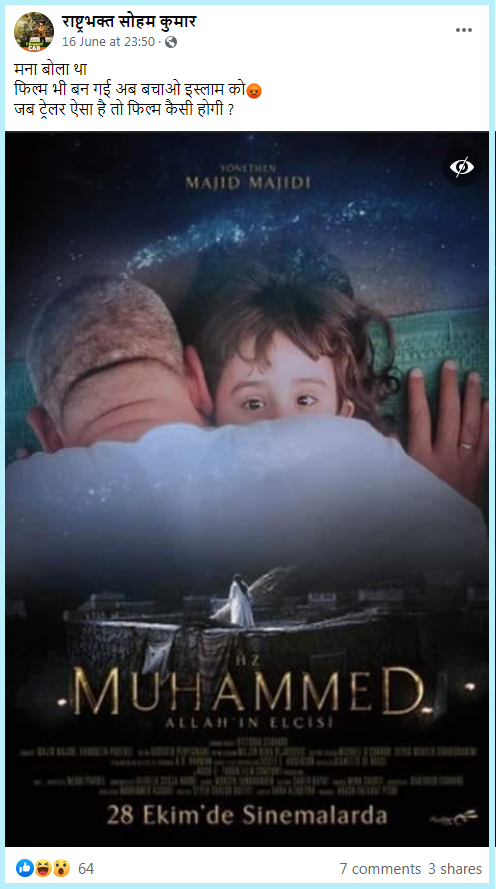 Fact Check-
We started our investigation by running a reverse image search on Google, whose results led us to IMDB's website. The name of the film is "Muhammad: The Messenger of God (2015)" The film shows the events, trials and tribulations of the city of Makkah in 7th century AD directed by Majid Majidi. The film was released in 2015. We found that the poster uploaded on IMDB's website is different from the viral poster. The original image does not show a man on top of a child. You can see the comparison between the viral image and the original image below.
We found the image of the man and child uploaded on Instagram on 5 June 2019 by a user named "Omar ShEkoo Photography." The caption states that "Eid prayer at Al-Tawheed Mosque in Matariya." Omar ShEkoo captured the image. TOI had spoken to Omar Shekoo in 2019 who said that he clicked the image during the Eid prayers at the Al-Tawheed Mosque in Cairo, Egypt.

https://www.instagram.com/p/ByUprdplvHJ/?utm_source=ig_embed&ig_rid=3c76e86f-c34a-4bca-8c94-8eacb185a11a
We also found another image captured by Omar Shekoo on the same day, which was uploaded on Instagram on 9 June 2019. The caption states, "Eid prayer at Al-Tawheed Mosque in Matariya." The image shows the same child and the man.
Conclusion-
Fact Crescendo found the viral image to be digitally altered. The viral poster of the film named "Muhammed" was edited to give a false spin amidst the Nupur Sharma's remarks on Prophet Mohammad.
Title:Fake poster of movie "Muhammed" viral amidst controversy around Nupur Sharma's remark
Fact Check By: Drabanti Ghosh
Result: Altered