On 14 June 2022, Union Cabinet approved Agnipath Scheme introduced by Central Government providing an opportunity to the youth to join the armed forces for four years.
Nationwide protests erupted against the Agnipath scheme. Thousands of young men and women who aspired to join the armed forces have come out on the streets. Some protests even turned violent.
Against the backdrop of this, a video of a burning train is going viral on social media. Users are claiming that the video is from Secunderabad, Telangana where Agnipath Scheme protestors torched the train.
However, Fact Crescendo found that the video is not from Secunderabad but from Bihar.
WHAT'S THE CLAIM?
The caption of the post states, "A train can be seen burning in Telangana's Secunderabad during Agnipath Scheme protest."
FACT CHECK
Various keyword searches led us to the Times Now News YouTube channel. According to the report, the coaches of a train were set ablaze in the Lakhisarai district of Bihar.
Similar incidents are taking place in various parts of the country. From 1.15 minutes onwards the visual of the same burning train can be seen.
Below you can see the similarities between the viral video and the image captured from Times Now.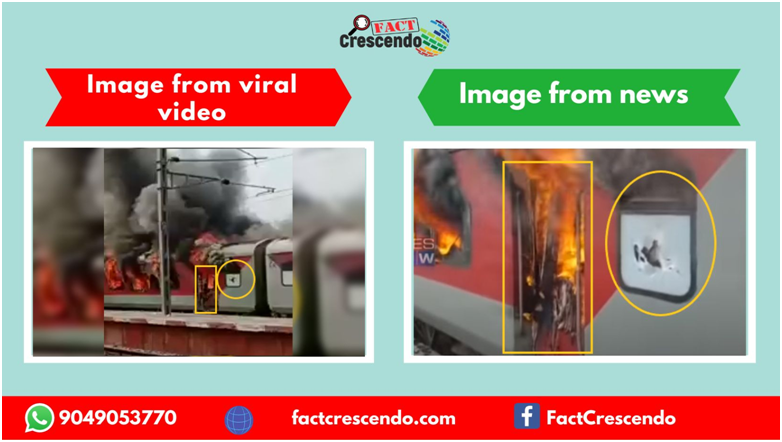 ANI also tweeted the image of the same burning train on 17 June 2022. The report says, "Agitating against Agnipath recruitment Scheme in Bihar, protestors set a train ablaze at Lakhisarai junction."
A police officer's statement was also reported in the tweet in which he mentioned how he was stopped by the mob while taking video of the incident and his mobile was snatched from him. 4 to 5 compartments of the train were torched.
Further, we also came across another tweet from ANI reporting the violence in Secunderabad during a protest against Agnipath Scheme. According to the report, protestors vandalized a train and set it on fire.
NDTV report says that the protestors vandalized the windows of a train and set a two-wheeler on fire on the railway track. Telangana State Road Transport Corporation (TSRTC) bus was also vandalized at Secunderabad bus station.
CONCLUSION
Fact Crescendo found that although there was an incident of train vandalizing in Secunderabad, but the viral video is from Bihar during protests against Agnipath Scheme.
Title:Video of train torched by protestors in Bihar viral as incident from Telangana
Fact Check By: Siddharth Sahu
Result: Missing Context