The image is from January 2021 when Rahul Gandhi had his lunch with women weavers in Erode, Tamil Nadu. He took off his mask after the food was served.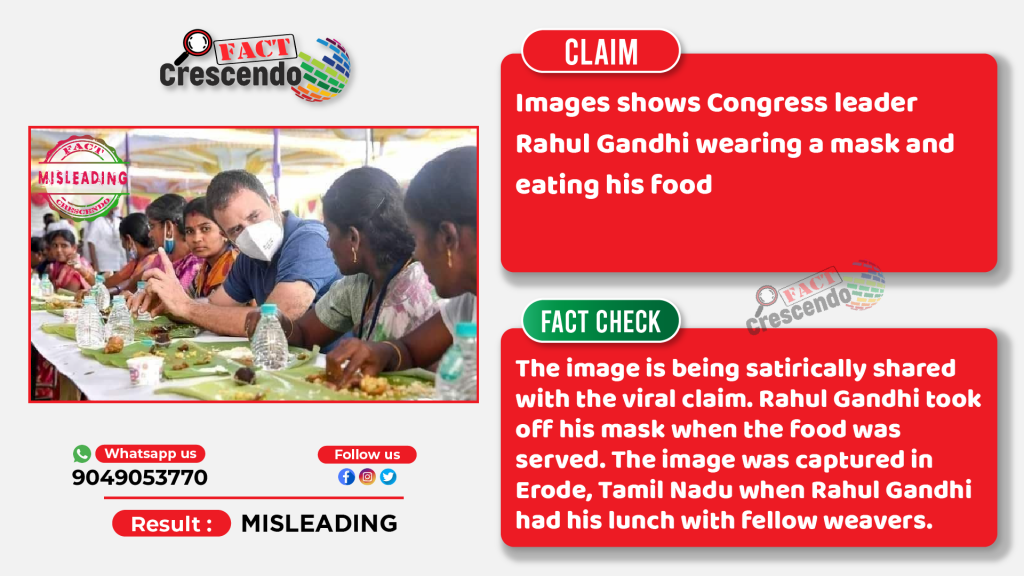 An image showing Congress leader Rahul Gandhi wearing a mask and sitting along with women on a dinner table is widely circulating on social media. Social media users are passing sarcastic comments implying Rahul Gandhi sat with the women only for photo-ops. The image has been shared hundreds of times of Facebook.
The caption of the post mentions, "The first man to eat food wearing a mask!" or "Rahul Gandhi is the only person who can eat food with mask covering his mouth"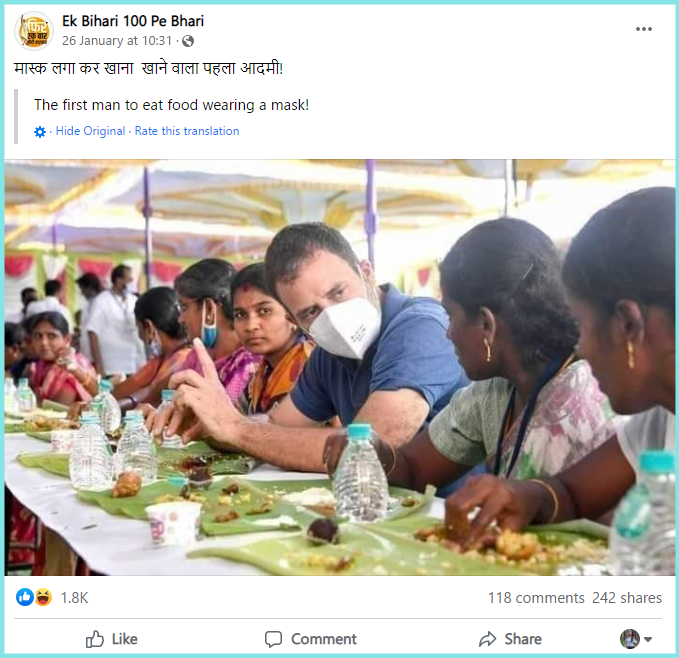 Fact Check-
We started our investigation by running a reverse image search on Google, whose results led us to a set of images published by Tamil Nadu Congress Committee on 24 January 2021, which stated, "It is a pleasure to have food with the loving and kind Tamil people. – President Rahul Gandhi." In this set of images, we can see the viral image along with two other images that shows Rahul Gandhi eating his food with wearing his mask.
With another keyword search on YouTube, we found the video footage of Rahul Gandhi eating without his mask along with the fellow weavers. Puthiyathalaimurai TV has posted this video on 24 January 2021. One can see that Rahul Gandhi is sitting on the dinner table with his mask on and later when the food is served, he takes off his mask and proceeds to eat.
After completing his meals, he put his mask on and interacted with the women. He can be seen folding the leaf after the interaction. Folding the banana leaf after finishing one's meals is customary to Tamil Nadu and Kerala. Thus, it is evident that Gandhi had finished his meals.
We found a news report about this event published in The Hindu on 25 January 2021, it reports that Rahul Gandhi addressed a gathering during a reception organised in Perundurai, Erode. The image is from Rahul Gandhi's lunch with weavers in Odanilai during his visit to Erode.
Read in Malayalam: FACT CHECK: രാഹുല്‍ ഗാന്ധി തമിഴ് നാട്ടില്‍ നെയ്ത്തുകാര്‍ക്കിടയില്‍ ഇരുന്ന് ഭക്ഷണം കഴിക്കുന്നതുപോലെ നാടകം നടത്തിയതാണോ? സത്യാവസ്ഥ അറിയൂ…
Read in Tamil: FACT CHECK: மாஸ்க் போட்டு சாப்பிடுவது போல ராகுல் போஸ் கொடுத்தாரா?- விஷம பதிவு
Conclusion-
Fact Crescendo found the claim made along with the image to be misleading. The image of Rahul Gandhi wearing a mask was taken after he had completed his meals and was having food with his mask on. Rahul Gandhi took off his mask when the food was served. The image was captured in Erode, Tamil Nadu when Rahul Gandhi had his lunch with weavers.
(If you also have any suspicious messages, posts, photos, videos or news, send them to our WhatsApp Fact line Number (9049053770) for Fact Check. Follow Fact Crescendo on Facebook, Instagram and Twitter to read the latest Fact Check.)

Title:Did Rahul Gandhi pretend having meals with women weavers in TN for photo-ops? Here's the truth…
Fact Check By: Aavya Ray
Result: Misleading