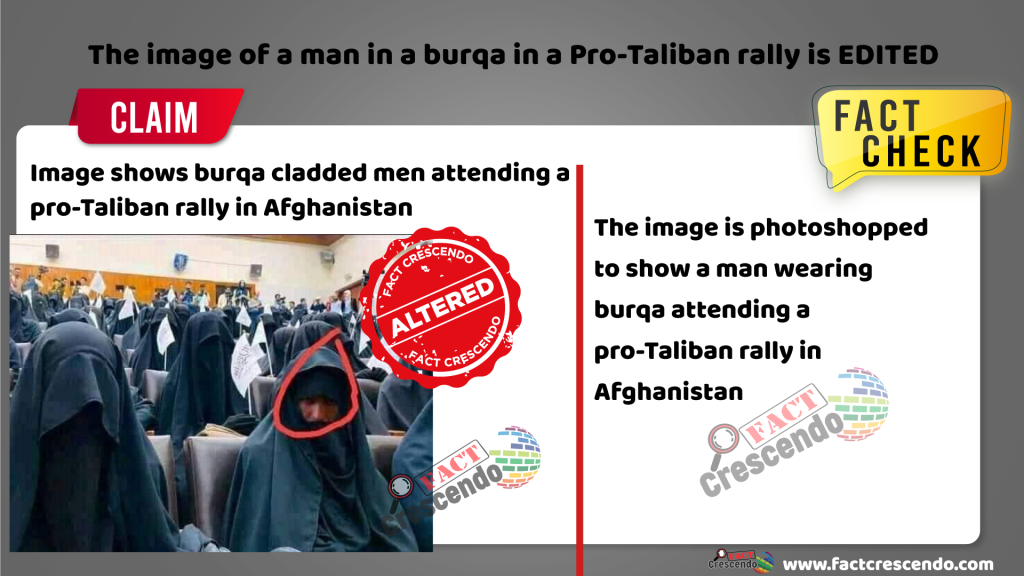 Several news reports coming from Afghanistan mention that women in Afghanistan are supporting the Taliban Government. On 11 September 2021, around 300 Afghan women organised a rally in support of the Taliban and attended a lecture at Shaheed Rabbani Education University in Kabul. Amidst this, an image showing burqa clad women holding the Taliban flag sitting inside a hall is circulating on social media with the claim that a bearded man can also be seen wearing burqa which implies that the Taliban are dressed as women to fool the world that they are maintaining peace and that they are getting support of women in Afghanistan.
The caption of the post mentions the following "what are Taliban trying to proof by bringing men with women's Burqa to announce their support? I was wondering what the hell is wrong with these women? Now I saw Only a few of them are women the rest is all men wearing Burqa (Verbatim)
An Afghan diplomat with the name Hadeia Amiry posted the image on Twitter and wrote that, "Can someone explain this to me? Why #Taliban women have beard? Or they are undercover men, costumed as #women? Even in this platform, #Talibans are using women to show the world otherwise."
Fact Check-
We started our investigation by running a reverse image search on Google that led us to an image posted by Lotfullah Najafizada, the head of TOLO News TV based in Kabul. He mentioned that the image shows pro-Taliban protests by women in Kabul. While observing the image carefully we found that there is no man with a beard or moustache in the image. This makes it very clear that the image is digitally edited.
Pro-Taliban women gathering in Kabul. pic.twitter.com/G9GYNpzjNl

— Lotfullah Najafizada (@LNajafizada) September 11, 2021
This image was also published by a news organization named Khaama Press on 11 September stating that the university students gathered in support of the Taliban.
Below you can see an image comparison between the viral image on social media and the original image posted by news organizations. The original image is digitally altered to claim that the men dressed in a burqa show support to the Taliban in Kabul.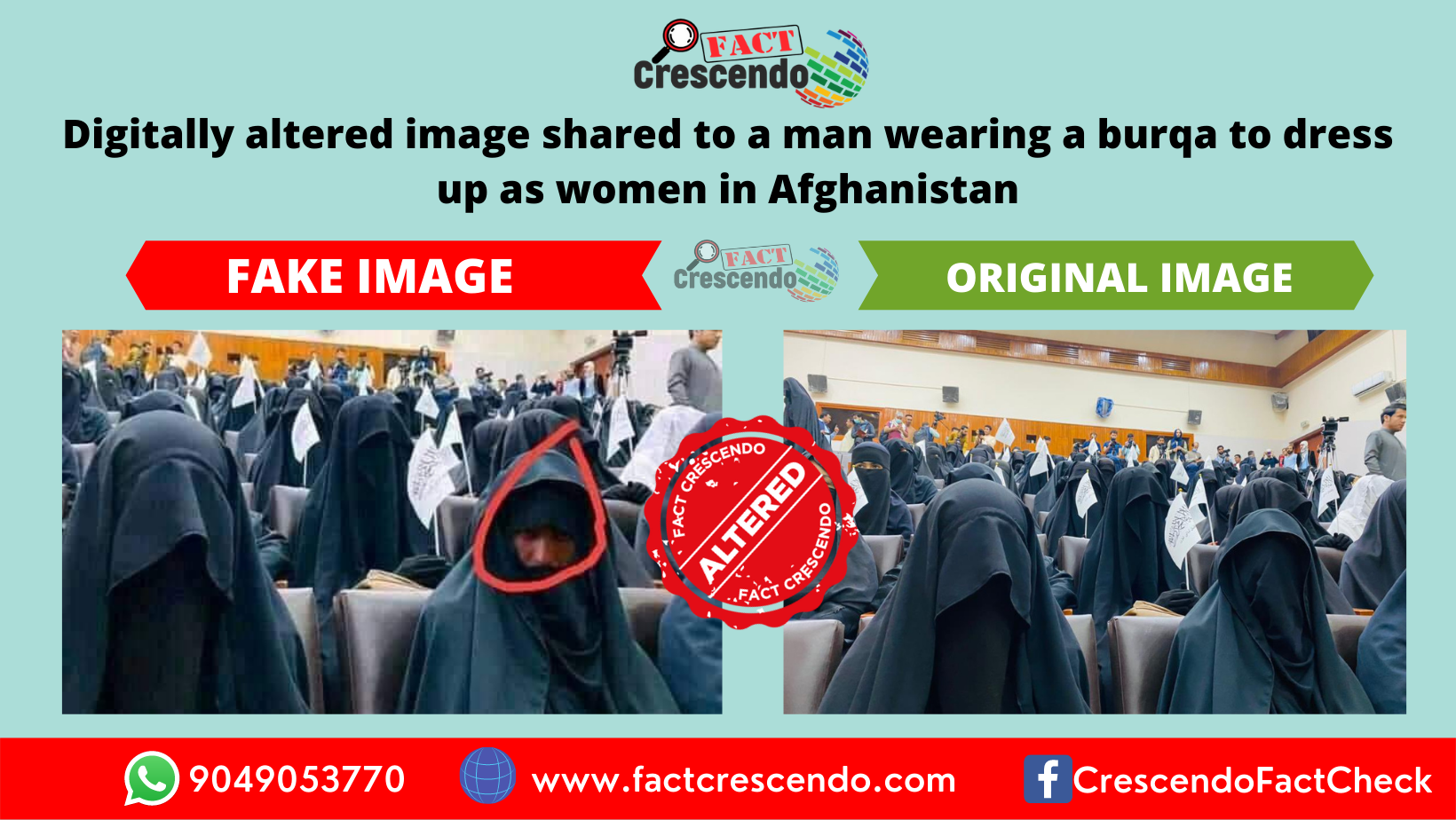 Social media is flooded with misinformation related to the ongoing unrest in Afghanistan post the Taliban take over. You can read more fact checks related to this incident below-
Conclusion-
Fact Crescendo found the claim made along with the above-mentioned image to be False. The image is Digitally Altered. The image of a woman wearing a burqa has been photoshopped to depict that men are wearing burqas in a pro-Taliban support rally.
Title:The image of a man in a burqa in a Pro-Taliban rally is EDITED
Fact Check By: Aavya Ray
Result: Altered