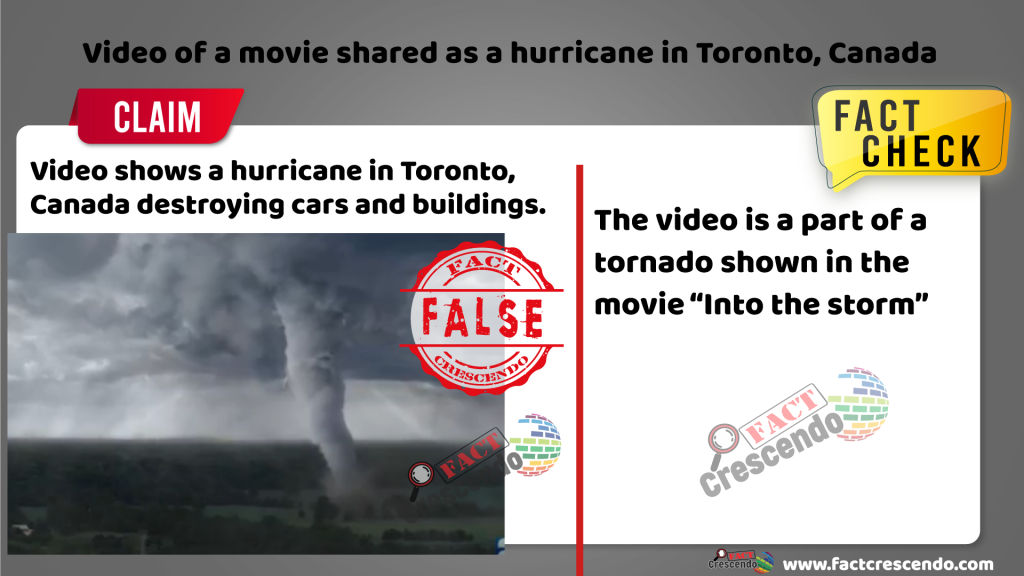 A video of a horrific storm swirling around like a rattlesnake, destroying cars and buildings is being shared on social media claiming it to be a hurricane that struck the Canadian city of Toronto.
The caption of the post mentions "The hurricane in Toronto, Canada, was even rolled up at the airport. Terrible! China National Geographic magazine bought $1 million to buy this video, don't miss the opportunity to watch! Video duration: 4 minutes and 10 seconds"
Fact Check-
We started our investigation by using the InVid-We Verify tool to break the video into small keyframe and ran a reverse image search on the same. The results led us to a website which showed similar images as seen in the video. According to the website, the scene is from the movie 'Into the Storm'. The film was released in 2014 and it was produced by 'Warner Brothers Pictures'. In this film, the devastation caused by a sudden storm in a city named Silverton was shown.
We found that the viral video uses footages from this movie. Below you can see the trailer of the movie "Into the storm" which also shows similar footages as seen in the viral video.
Also, we need to note that the storm seen in the viral video was mentioned as a hurricane. While Amazon's streaming site 'Prime Video' and the film data database website IMDB– both described the storm of the film as tornadoes.
Hurricane is a type of water storm that arises from the surface of the water, while Tornado is a storm that rises from the land. The difference between these storms is explained in detail on LiveScience.
We found that it is true that there was a recent Tornado in the Canadian province of Saskatchewan. According to Wion News, meteorologists call this type of tornado – 'rope tornado'.
Conclusion– Fact Crescendo found the above-mentioned claim along with this video to be False. The video from the film, 'Into the Storm and is being falsely shared as a hurricane storm in Canada.
You can read more such Fact Checks below-
1.COVID-19 Rapid Antigen Test Results Are Not Pre Decided
2. Fake Message Claims That Singapore Found That Thrombosis Is A Major Cause Of Covid Deaths
3. EXPLAINER: Has Live Coronavirus Been Found In Sabarmati River Of Gujarat?
Title:Video of a movie shared as a hurricane in Toronto, Canada
Fact Check By: Aavya Ray
Result: False