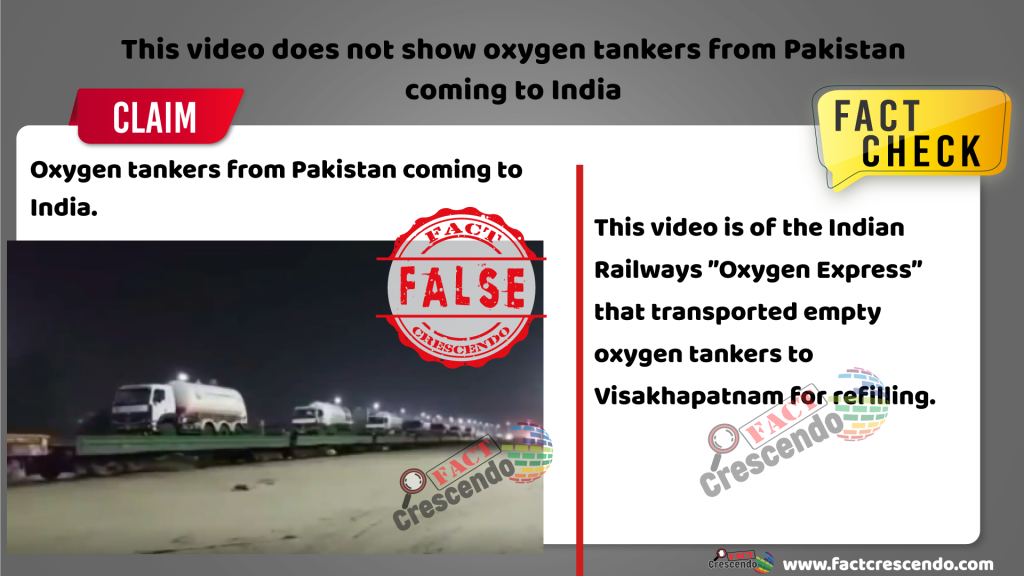 Amidst the ongoing pandemic, India has been one of the worst hit countries, where thousands of people are testing positive each day and are struggling to get oxygen supplies for covid patients . India is currently going through a massive shortage of hospital beds, oxygen cylinders and medicinal drugs used in the treatment of COVID-19. Coronavirus has claimed thousands of lives due to this shortage.
During this difficult time, Pakistan offered support to India to tide over the COVID-19 crisis. On April 24, Pakistani Prime Minister Imran Khan expressed solidarity with India against the "global challenge confronting humanity".
Soon after, a video of a train carrying tankers started circulating on social media with the claim that it shows oxygen tankers from Pakistan making their way to India. The video was posted with the caption,
"Oxygen Supply India. Well done Prime Minster Of Pakistan Imran Khan Shb. #pakistanzindabad #IndiaNeedsOxygen #COVID19."
Fact Check-
We started our investigation by running a keyword search on Google and found the viral video to be posted by Hindustan Times on April 20, 2021. According to the video description, the Oxygen Express left for Vizag with seven empty tankers from Kalamboli Goods Yard in Navi Mumbai. The train left for Vizag where it will be loaded with medical oxygen. This comes at a time when Maharashtra is facing shortage of medical oxygen. The service was announced by railways minister Piyush Goyal. The empty tankers were to be filled with medical oxygen in Vizag and returned to Maharashtra.
We ran a further keyword search which led us to news reports publish by "The Financial Express" and "Firstpost" which mentioned that the tankers were to be filled with oxygen at the Visakhapatnam Steel Plant and brought back to Maharashtra, which is facing a shortage of oxygen to treat critical COVID-19 positive patients. Further it states that ramp was developed overnight by Central Railway Zone, Mumbai division, at Kalamboli to facilitate loading and unloading of the tankers.
We found the same video tweeted by the Railways Minister Piyush Goyal on April 19, stating that seven empty tankers departed from Kalamboli to Vizag to load liquid medical oxygen.
Did Pakistan send supplies to India's aid?
We ran a keyword search on Google to find out news reports on other countries reaching out to help India during these difficult times. We found that with India is facing an acute shortage of medical oxygen and other Covid-related supplies, several countries such as Australia, China, Germany, France, UK, Saudi Arabia, Singapore and Pakistan have stepped up to provide relief facilities to India. The Foreign Office in Pakistan in a statement said Pakistan was ready to send specific items quickly once the modalities were worked out. According to the statement "As a gesture of solidarity with the people of India in the wake of the current wave of COVID-19, Pakistan has offered to provide relief support to India including ventilators, Bi PAP, digital X ray machines, PPEs and related items."
In a tweet, Pakistan PM Imran Khan wished "speedy recovery to all those suffering from the pandemic in our neighbourhood & the world". Several politicians, celebrities and sportspersons from the neighbouring country also took to Twitter with hashtags such as #PakistanstandswithIndia.
Conclusion- Fact Crescendo found the above-mentioned claim to be False. The viral video is not of oxygen tankers from Pakistan coming to India. It was taken a few days back when the Indian Railways' Oxygen Express was transporting empty oxygen tankers to Visakhapatnam for refilling.
Title:This video does not show oxygen tankers from Pakistan coming to India
Fact Check By: Aavya Ray
Result: False