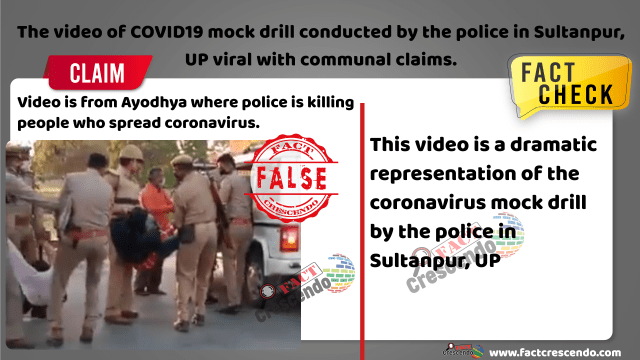 A video has been found in considerable discussions on social media due to various rumors and misleading claims about coronavirus. A group of policemen are seen in the video killing the people who are running during the blockade. Through this video, it is being claimed that this video is from the city of Ayodhya in UP.
The title of the post reads "baba ke Poilce ki dhamaake daar kaamgiree #UttarPradesh ke chor baajar ki ghatna…jai #Yogi raaj #Corona #jehadiiyon kya tumhen nahee pata tha ki ye UP ka #Ayodhya maryaada purushottam Shree Ram ki dharatal hai good job UP Police"
We started the investigation by contacting SSP Ashish Tiwari of Ayodhya, who told us that the scenes shown in the video are not of any real incident. This video is actually a mock drill which is being spread on social media with false claims. There is no communal angle to this incident."
After this, we searched keywords on YouTube, as a result of which we found a video of VK News aired on April 7th, 2020. The title of this video reads, "What is happening on the border of Ayodhya amidst lockdown?" Police Mock Drill at Ayodhya Sultanpur border."
According to this video, it is actually a mock drill that was done at the Sultanpur border. This mock drill was conducted by the Uttar Pradesh Police.
Apart from this, we found several tweets in this regard through the official Twitter account of Ayodhya Police. Ayodhya Police clarified that this is a 'demo' video. He has also shared another tweet dated 4th April 2020, which shows that the video is part of an 'anti-terror demo', and explains how the police control the blockade violators. He also informed that this mock drill was conducted by Bikapur police. The tweet also contains a news report of the mock drill conducted by the Bikapur police.
Conclusion: We found the above post wrong after checking the facts. A video of a mock drill conducted by the UP police is being shared with a false claim. The aforementioned claim on social forums that the police arrested people whose purpose was to spread coronavirus is false.

Title:The video of COVID19 mock drill conducted by the police in Sultanpur, UP viral with communal claims.
Fact Check By: Aavya Ray
Result: False