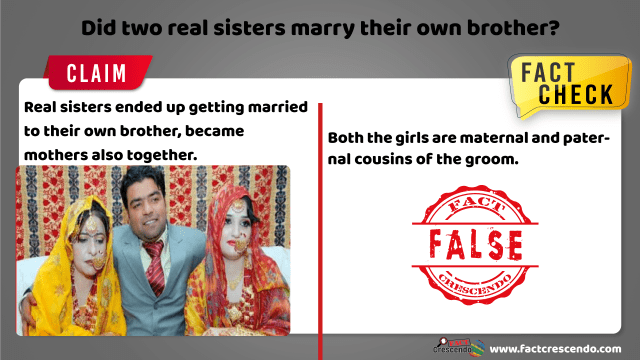 A Facebook page named 'Apni Khabren' shared a post on 8 June 2019. The post headline as translated from Hindi quoted "Real sisters ended up getting married to their own brother, became mothers also together." The post claims that the two women seen in the photograph are real sisters and have got married to the man seen sitting in the centre, who is their brother. Let us see what the facts are!
NARRATIVE ON SOCIAL MEDIA:
FACT CHECK:
We searched the photograph using 'Google Reverse Image Search'. What we got in the search is below: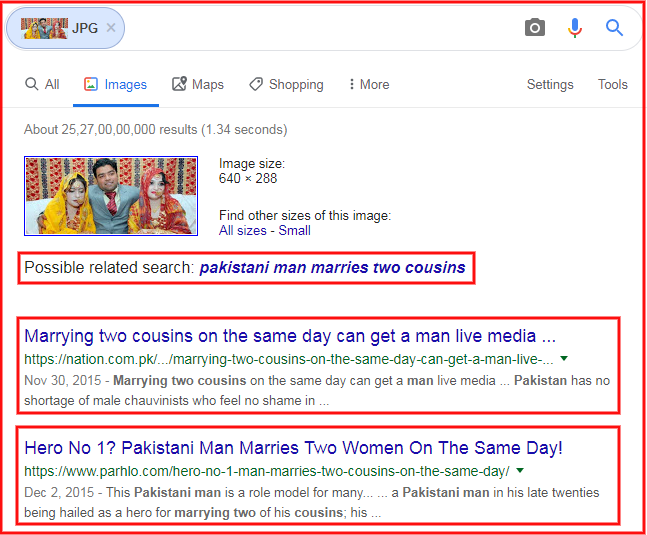 With this result, we got an article circulated by 'The Nation'. In this article dated 30 November 2015, we found a similar picture as the above post. The headline of the article states that the person who gets married on the same day with two cousins ​​gets live media coverage and a hero worship in Pakistan. This article explicitly states that the two girls whom he got married to are his cousins, not his real sisters.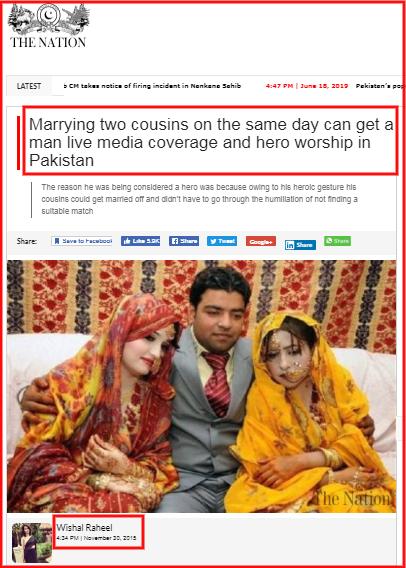 Apart from this, we also got a tweet of a columnist Tarek Fateh. In this tweet dated 20 October 2018, he has clearly stated that in Pakistan, a man married his two cousins on the same day.
Let us see what 'Apni Khabren' writes in the news.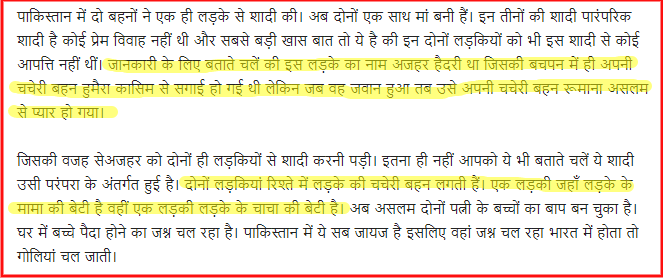 It is clearly stated in the news that, "For information, this man's name is Azhar Haidari, was engaged with his cousin Hummara Qasim in his childhood. However, when he grew up, he fell in love with his cousin Rumana Aslam. Both girls are this man's cousin. While one girl is the daughter of his maternal uncle, the other girl is the daughter of the paternal uncle."
This makes it clear that, the two girls who have married Azhar Haidari are his maternal and paternal cousins. That means these two girls are not real sisters.
The news clearly states that both the girls are not real sisters of the groom, but the headline states that two real siblings have married their brother, which is misleading and has a FALSE Headline.
IN CONCLUSION:
Fact Crescendo has fact checked and confirms that the photograph is being share in the post with a wrong narrative. We categorise the story as FALSE HEALDLINE.
FactCrescendo advises its readers to refrain from sharing such misleading and communally biased photographs and do a self-check on the true narrative of such incidents before believing them.

Title:Did two real sisters marry their own brother? Fact Check!
Fact Check By: Nita Rao
Result: False Headline