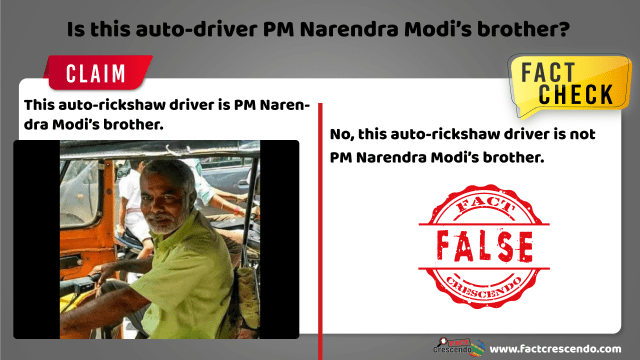 A Facebook page named 'Politics Solitics' shared a post on 3 June 2019. The post shares a photograph of an auto-rickshaw driver. The post as translated from Hindi quoted "Whose elder brother is the prime minister of India and the younger brother, an auto driver, to such a great son, hearty gratitude." As per this post's claim, this auto-rickshaw driver is PM Narendra Modi's brother. Let us see what the facts are!
NARRATIVE ON SOCIAL MEDIA:
FACT CHECK:
First, we did a reverse image of the shared photo in the post using Yandex. What we got in the search is below: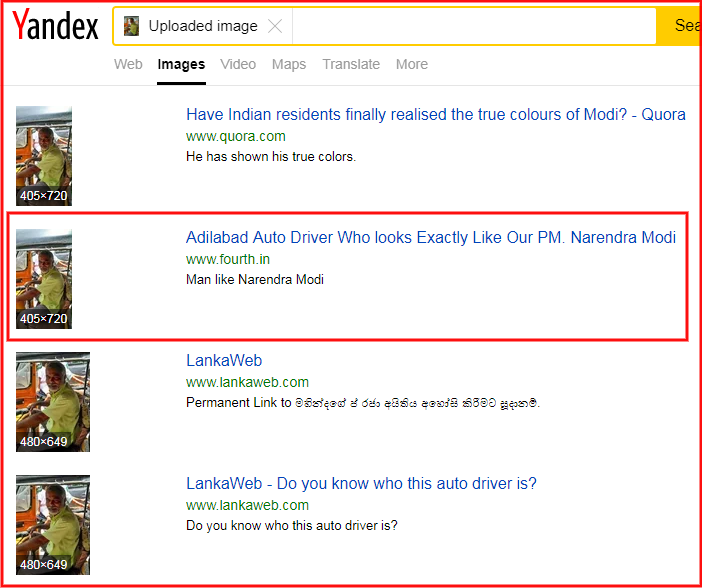 This search result gave us a news broadcast by a website named 'Fourth' dated 29 June 2016. In the news, written is an auto rickshaw driver, who is the doppelganger of Prime Minister Narendra Modi.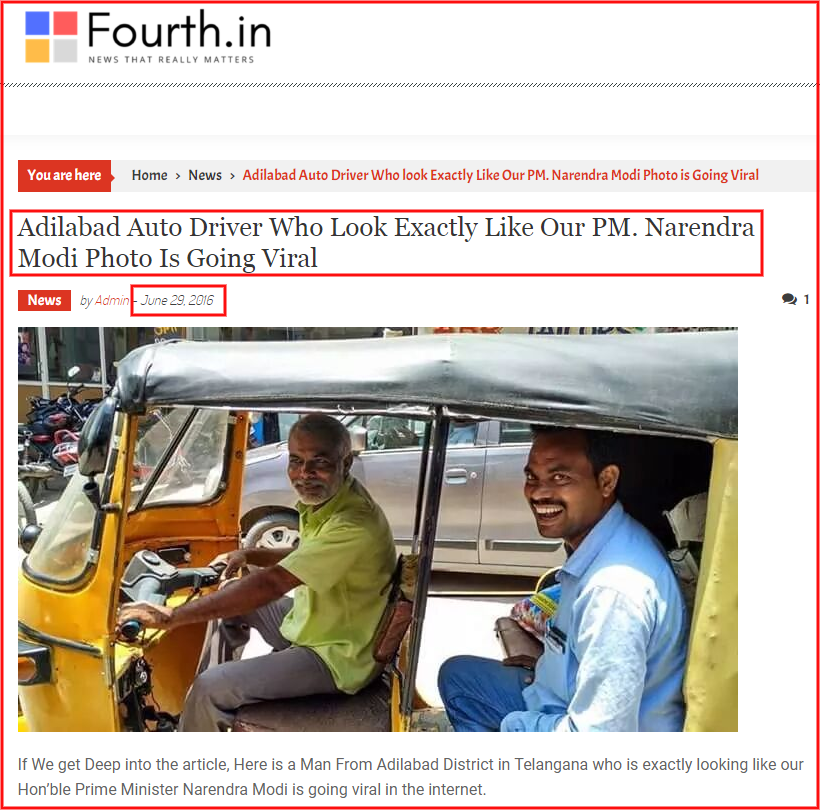 We got a video from Bing Search. A user named 'Royal Tech' uploads this video dated 8 January 2017, on YouTube. The video is in Telugu language. The headline of this video is 'In Adilabad, an auto driver looks like Narendra Modi. You can see this video below.
After this, we searched Google with these keywords 'PM modi's look alike in adilabad' and the search result is below.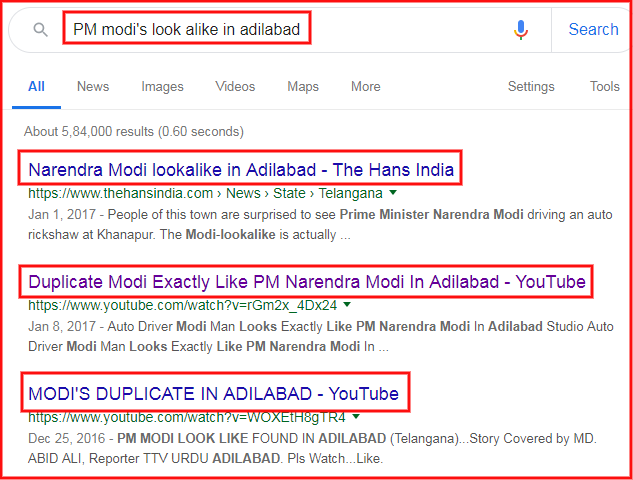 In this result, we received a news from 'Hans India' dated 2 January 2017. In the news, it is said that in Khanapur area of the city of Adilabad, a man looks like the Prime Minister Modi. His name is Sheikh Ayub. People are surprised to see him. Some even click photos with him.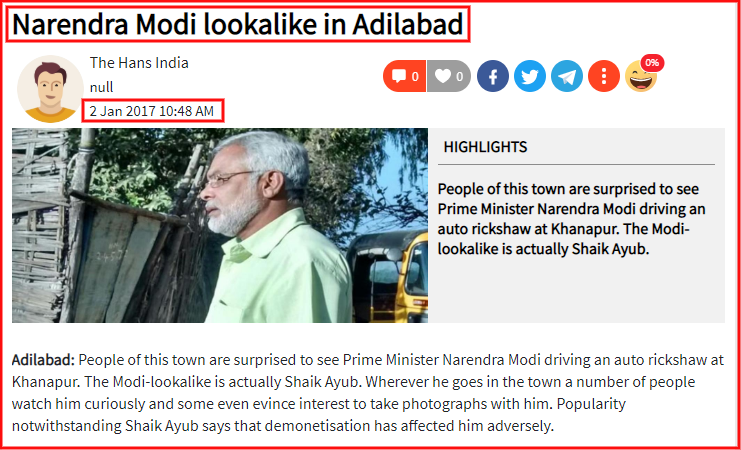 From the same search, we got a video dated 25 December 2016. 'Adilabad News on ttv Urdu' uploaded on YouTube. This video is in Hindi. The title of the video says 'Modi's duplicate in Adilabad'. You can see this video below.
From this same search, we got another doppelganger of Prime Minister Modi. This person is from Uttar Pradesh. His name is Abhinandan Pathak and he filed election form against Modi from Varanasi. ANI has uploaded a video on YouTube dated April 30, 2019. You can see this video below.
After this, we searched for Narendra Modi's family members and what their occupation. From Google search, we got an article circulated by 'INDIA TODAY' dated 9 January 2017. This article has given the information about his entire family. After reading this news, it becomes clear that none of his brothers in Modi's family is an auto driver.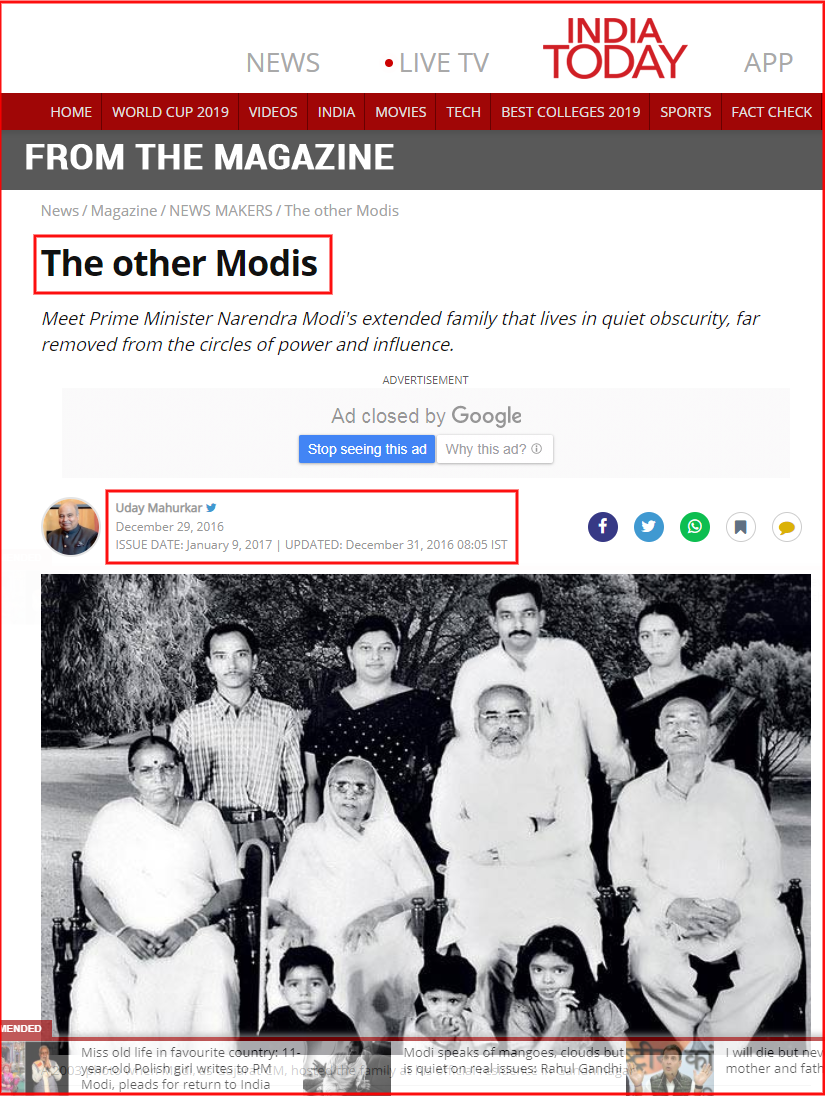 IN CONCLUSION:
Fact Crescendo has fact checked and confirms that the photograph is being share in the post with a wrong narrative. We categorise the story as FALSE.
FactCrescendo advises its readers to refrain from sharing such misleading and communally biased photographs and do a self-check on the true narrative of such incidents before believing them.

Title:Is this auto-driver PM Narendra Modi's brother? Fact Check!
Fact Check By: Nita Rao
Result: False